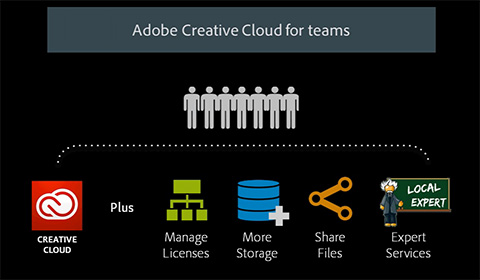 True to our forecast, today Adobe released Creative Cloud for Teams – a new offering for groups and organizations who want to easily manage volume purchases of Creative Cloud licenses for multiple seats or users.
The new Team product provides everything that Creative Cloud for Individuals does, which means open access to the world's best creative tools – plus workgroup capabilities for enhanced file sharing and collaboration (with 100GB of online space for each user), flexible license management (for adding, removing, or reassigning users as needed), usage tracking and reporting, centralized billing, and included Adobe Expert Services (with one-on-one direct access for each person on your team).
Here are the key customer needs that Creative Cloud for Teams addresses:
Immediate access
Always up to date
Lower cost of entry
Predictable budgeting
Dynamic license management
Easier compliance management
Customized distribution packages
Workgroup collaboration
Increased support
The new virtual workgroup capabilities allow you to share your work and collaborate privately within your team, or publicly for clients to view and comment. Provided storage capacity is 100GB per person – that is five times the amount given for standard Creative Cloud member­ships, which are getting five-star reviews from most users.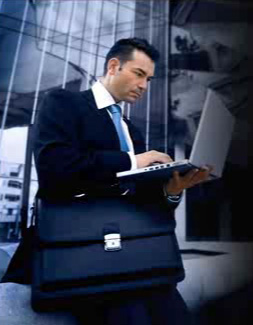 The new Creative Cloud Team Admin Console makes it easy to monitor and flexibly administer your seats and available resources, and shift or add more at any time. Losing a designer but gaining a video editor? No problem – the product makes it a snap to purchase and manage your creative software, so you can simply float and reassign seats as the team changes… Licenses are not fixed or tied to a single person as they are with the Cloud for Individuals. License manage­ment and billing are completely centralized, while your team members can be either inside or outside of your company or organi­zation.
What's more, exclusively with the Teams edition you receive access to Adobe's new Creative Cloud Packager (CCP) utility to download and create your own customized install packages for distrib­ution and deploy­ment throughout your enter­prise, as well as the impressive new Team Projects capability for shared workflows.
And the best Adobe support is included at no extra charge – with a Teams membership you benefit from two deep-dive support sessions with product experts (per seat per year), to address any topic or issue you wish.
Pricing for the new Team product is $69.99/month per seat on an annual basis, or discounted to $49.99/month as an upgrade for current CS customers (any release from CS3 or later). Education pricing (schools, students and teachers) is $39.99/month. Pricing in other countries is lower by similar percentages. You can also upgrade from any number of current Individual Creative Cloud memberships or Team Ready licenses to a consolidated Creative Cloud Team membership.
It is available directly from Adobe, and there is no minimum or maximum on number of seats you can purchase for your group. As such, Creative Cloud for Teams will be replacing the TLP (Transactional Licensing Program) volume licensing for small and medium sized businesses. As with TLP and Creative Cloud, each user on your Team can choose to run on either Windows or Mac operating system platforms.
Free ebook: Download the Creative Cloud for Teams Getting Started Guide.
One of the top advantages of Creative Cloud is always having access to the latest and greatest releases of any Adobe product. However if you or your company prefer to wait a while before using a free upgrade, that's possible as well since installing Creative Cloud feature updates is always optional – and you can continue to use older versions of the software for as long as you want. You have control of when your team upgrades.
Available languages now for launch include English, German, French, Dutch, Spanish, Italian, Swedish, and Japanese, with more coming next year.
Do you have any questions about Creative Cloud for Teams? Check out our extensive Creative Cloud FAQ, or just ask them below and we'll get you answers fast!
See Also

Keep up with the latest on Adobe software — follow us on Facebook or Twitter, or subscribe to our RSS feed… You can also enter your email and have new articles sent directly to your Inbox. We are reader-supported; when you buy through links on our site, we may earn an affiliate commission.