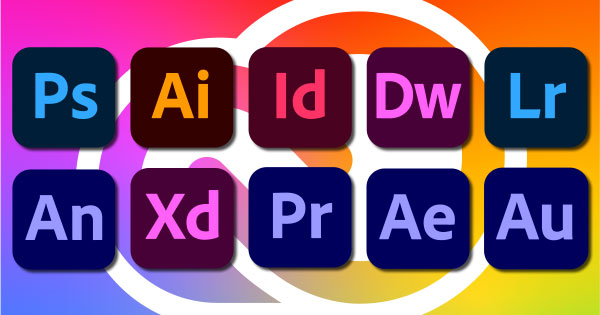 With the fast-growing adoption of Adobe's Creative Cloud and the recent release of the all-new CC 2023 versions of creative applications, some readers are telling us they're not certain if they need all the tools that are included in the complete Creative Cloud offering, or aren't ready or able to join for ~US$55 a month…
The complete (or All Apps) Creative Cloud membership gives you the latest-and-greatest versions of Photoshop, Illustrator, InDesign, Acrobat, Animate, Premiere Pro & Rush, After Effects, Audition, Character Animator, Dreamweaver, Adobe XD, and others – together in a well-integrated suite with ongoing product upgrades included as soon as they're available.
But if you don't need or aren't ready for Adobe's entire creative collection on your desktop, then there is another option. This alternate route is called a Single-App Membership Plan – also known as a single-tool subscription. This plan gives you full access to the latest version of any single Adobe creative application for just US$10-20 a month (paid annually) – and you can choose any tool you want. And as with all Creative Cloud products, no previous purchase is necessary and no prior software is required to buy or use them.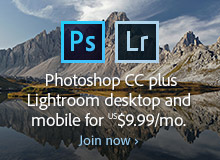 One of the most appealing offerings here is the popular Photography Plan where for the regular price of only $9.99/month you can get both Photoshop and Lightroom on desktop – plus their iPad and mobile versions – together with other benefits.
And yes, you can combine or stack multiple Single App plans together, if you want more than one tool. So, for example, you could purchase the CC Photography plan, plus the Illustrator or InDesign or Acrobat (or another) plan, and come out to around US$30/month.
What You Get with the Single-App Plans
Included in all single-app plans you get 20-100 GB of online storage and the ability to sync and share your work on virtually any device. All single-app subscribers also receive Adobe Portfolio to publish and host your own customized online work portfolio website. You also get full access to Adobe Fonts – a.k.a. the entire Typekit library of 22,000+ fonts – for use in desktop applications and websites (an over $25,000 value if purchased normally).
The premium versions of Creative Cloud Express, Premiere Rush, and Photoshop Express are also included with all single-app plans over $20/month. These three apps together normally cost $9.99/month by themselves.
Special: Legally download dozens of free Adobe books for a limited time!
Importantly, none of these CC programs run online or "in the cloud" (that's a common myth) – your single-app member­ship lets you download and install the software directly on your own desktop, providing you all the functionality that Adobe's Creative Suite products have in the past, and much more… In fact, performance continues to improve and is significantly better than CS6, plus thousands of new features have been added since then.
You can run the new Creative Cloud software on up to two of your computers, including both a Windows PC and a Mac. For more than two machines, a multiple-user edition of the single-app membership is sold via the Creative Cloud for Teams plan.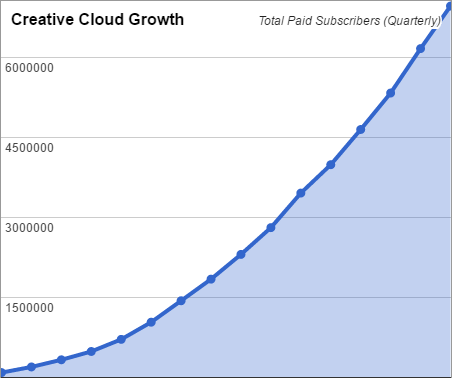 The single-app option is now available in 94 countries, making these tools more affordable to everyone without the large upfront cost… The best news is all major new releases plus ongoing upgrades are included and are immedi­ately available for you to download and use as a member at no additional cost – there's no waiting or paying extra to upgrade. You can always be running the best and most current version and be your most productive.
Install now: Get all new Creative Cloud 2024 direct download links and free trials.
Which Creative Cloud Apps Are Available?
Over a dozen different Adobe applications are now offered this way – see the complete list of products you can get. And if you want to upgrade from a single app to the full Creative Cloud down the line, that's no problem as Adobe will automatically credit your account for any unused amount.
There are both annual and month-to-month plans for increased flexibility. The month-by-month option costs more, but you can stop and start access as needed. So if there's a period of time where you won't need to use the software, you can simply turn it off and pay nothing – then reactivate when you want to run it again, without needing to reinstall. For the annual plans, prepaying the year upfront will often get a discount over paying monthly. And in some regions, you can even pay using PayPal instead of a credit card.
Generally, the math works out pretty attractively – for example, instead of the old days where you needed to come up with $1000 for a static version of After Effects CS6, you can get over four years of the latest and most powerful releases of After Effects (today's 2023 version and beyond) with the annual Single-App plan.
All of the standard free trial downloads can also be converted to single-app memberships without reinstalling the software. And if for some reason you should decide within 14 days of joining that it's not for you, you can easily cancel for a full refund. So there's a money-back guarantee with no hassle.
What are the Differences Between the Photography, Photoshop and Lightroom Plans?
We wrote a post just on this topic! Please see the article here for the complete answer on what's different between these plans.
Do you have any questions about Adobe's single-app subscription editions, or Creative Cloud in general? Just ask them below and we'll get you answers fast!
See Also

Keep up with the latest on Adobe software — follow us on Facebook or Twitter, or subscribe to our RSS feed… You can also enter your email and have new articles sent directly to your Inbox. We are reader-supported; when you buy through links on our site, we may earn an affiliate commission.