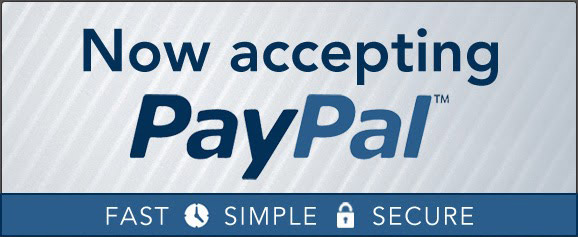 For years it was difficult if not impossible to buy Adobe software online (especially the newer CC subscriptions) and pay with PayPal instead of a credit card or debit card… In fact, not even Amazon accepts PayPal. But finally, great news: Adobe has just made it possible to purchase all software using PayPal in many countries worldwide, so you can now buy Creative Cloud without a credit/debit card.
These countries include the US, Canada, Mexico, United Kingdom, Brazil, Korea, Singapore, Thailand, Malaysia, Indonesia, Philippines, and much of Europe (Austria, Belgium, Czech Republic, Finland, France, Germany, Ireland, Italy, Luxembourg, the Netherlands, Poland, Portugal and Spain). Alternatively, payment using Switch or Solo is also supported in the UK.
[UPDATE – Adobe says: "We no longer have a published list of countries where PayPal is accepted. Instead, the customer will see the payment types that apply to their country on the Plans page."]
This welcome new development has been quietly rolled out this week, and added to Adobe's online FAQ under the question: "Which payment options can be used to purchase your Creative Cloud membership?"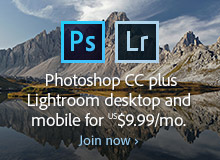 PayPal is now accepted for monthly, annual, or prepaid memberships as full payment for all Creative Cloud plans, even the $9.99/mo. Photoshop + Lightroom CC Photography Bundle. Note however that the PayPal payment method is available only directly at the online Adobe Store, and not through phone sales.
And there is no longer any trick or technique that you need to use in order to sign up or pay using PayPal… Just click the "PayPal" button on the checkout page (instead of Visa or Mastercard or American Express), and then Adobe's system will transfer and help complete the process using the email address linked to your PayPal account. Once completed, you will have selected PayPal as your preferred payment method with Adobe:
Special: Legally download dozens of free Adobe books for a limited time!
Also now possible: If you are already subscribed to Creative Cloud with a credit card then you should be able to change it over to pay with PayPal by following these directions, and then you can remove the credit card information from your Adobe account if you like.
If you use PayPal, then Adobe would not have any access to your credit card details, and you could control funding from the PayPal side using their "Manage pre-approved payments" page, to view and update all your PayPal subscriptions and automatic payments:
Manage automatic payments now, all in one simple place.

With automatic payments, you can choose PayPal as your preferred payment option for monthly subscriptions, installment plans, recurring payments, and even one-time payments to certain merchants.

Because editing your info for payments one-by-one is a chore, PayPal lets you make changes and control all your automatic payments from one convenient hub.
Adobe CC is now broadly available in over 80 countries worldwide, and we're told by Adobe that they're working to make Creative Cloud as widely available as possible including expanding PayPal support to other regions including Asia, Africa and South America.
This is good to hear because the recent CC 2023 release of creative desktop tools is seeing strong adoption, but some folks either don't have a credit card or still prefer not to use one. Now, with Adobe's new acceptance of PayPal, both of these solutions are now both possible and easy.
See Adobe's complete "Payment Options" table for all countries globally. If you want to try the latest products before buying, then you can easily download them using our CC 2019 direct links.
Do you have any further questions on how this works?  Just ask them below and we'll get you answers fast!
See Also

Keep up with the latest on Adobe software — follow us on Facebook or Twitter, or subscribe to our RSS feed… You can also enter your email and have new articles sent directly to your Inbox. We are reader-supported; when you buy through links on our site, we may earn an affiliate commission.