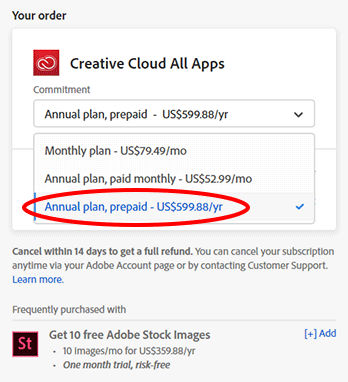 A lot of people have been asking for this, and now there is a solution for all customers worldwide…  Adobe's CC 2023 release of creative desktop tools has been well-received, but some folks prefer not to have a monthly payment on their credit cards or would rather prepay for their Creative Cloud member­ships upfront, a year (or more) at a time. This used to be tricky, but fortun­ately there is now a very easy way to do it for all products available.
For each different Adobe subscription plan, you'll now find a dropdown menu with a One-Year Prepaid option when buying or renewing your Creative Cloud subscription. These prepaid plans are offered in 94 countries and allows you to make a one-time charge in advance of each year, rather than a smaller amount each month… It solves the problem for those who may have difficulties with month-by-month recurring pay­ments, and it's avail­able for all different types of memberships: Individual, Educa­tion, or Business; including upgrades from older software.
If you look at the various CC plans available, the new choice reads: "Annual plan, prepaid – One convenient payment with no monthly billing."  So anyone can get this arrangement going forward, including for the popular $9.99 Photoshop/Photography Plan – and the total cost will be the same – or less – than the standard CC payment options:
Something even better: In almost every region of the world (except Europe for some reason), prepaying one year at a time will give you a discount over paying monthly… In the North American countries, for example, the paid-yearly discount you get is 9% less than the paid-monthly price, for the annual All Apps (best) plan.
The only thing to keep in mind about prepaid memberships is that cancellations are not possible before the year is up, once the initial 14-day refund period has passed. By contrast, the alternative monthly-billed annual plans are cancellable, but with a termination fee.
Special: Legally download dozens of free Adobe books for a limited time!
How to Lock in Your Future Price, or Buy without a Credit Card
There are a couple of interesting points about being able to prepay your CC subscription. First, it means you do not have to keep your payment information on file with Adobe if you don't want to – instead you can simply make/authorize individual annual purchases as needed to maintain your member­ship. The second aspect is important for those customers who are worried about possible future price increases for Creative Cloud… While we believe that concern is not a huge one, if you are uncertain about it then you can easily use the prepay ability to lock in your price for the future.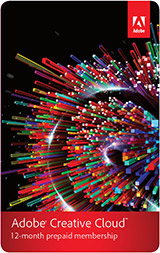 How to set/fix your future pricing? Well, the new Adobe prepaid plan only goes up to one year forward, however there are also special Prepaid CC Key Cards you can buy (as many as you want) to guaran­tee your costs for years to come… These cards are not available from Adobe direct. However, you can get them from Amazon.com as an option. Each one comes with a unique 24-character redemption code that will add a year to your member­ship. By applying and stacking multiple cards now, you can extend and run your subscription for as far as you like into the future. Here are the different types of these prepaid cards:
Keep in mind, however, that any products not purchased direct from Adobe are not covered under the company's ironclad 14-Day Full Refund Policy, which even extends to software that has been opened, installed, activated, or used. By contrast, opened computer software is generally not returnable to retailers, resellers, or e-tailers… And in Amazon's case, those products are definitely non-returnable and non-refundable under any circumstances, and only work in the geography of the storefront where purchased.
Lastly, if you are concerned about your credit card details being stored in your Adobe account, then please know that as part of their data security standards, Adobe does not store your actual credit card information on its servers, but instead uses an encrypted token number to process your payment(s).
Regardless, in many countries Adobe recently also started accepting PayPal and debit cards for Creative Cloud subscrip­tions, including prepaid/gift Visa and Mastercards with limited balances (but potentially reloadable or rechargeable to add funds as needed) – so it is often possible to purchase CC direct from the company without using a credit card and with charging limits.
Do you have any further questions on how all of this works?  Just ask them below and we'll get you answers fast!
See Also

Keep up with the latest on Adobe software — follow us on Facebook or Twitter, or subscribe to our RSS feed… You can also enter your email and have new articles sent directly to your Inbox. We are reader-supported; when you buy through links on our site, we may earn an affiliate commission.