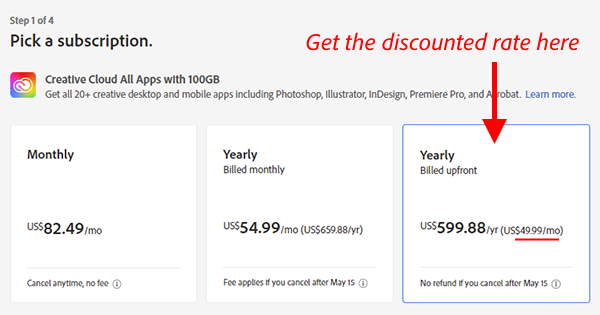 Here's a quick tip on how to save up to 9% on Creative Cloud subscrip­tions… The discount applies to the main "All Apps" membership, as well as almost all Single-App subscriptions – and it works in most countries, with no coupon or promotion code needed, and no expiration date.
The trick is to choose the prepaid option rather than the billed-monthly option on a Yearly plan. It's not widely advertised, but Adobe will give you an automatic 4-9% discount on subscriptions where the full year is paid in advance, and this lower price is offered in almost every region of the world.
In the North American countries, for example, the paid-yearly discount you get is 9% less than the paid-monthly price – from $54.99/mo. to $49.99/mo. – for the All Apps (best) plan. The annual cost then becomes US$599.88, which is the same price as when Creative Cloud first launched in 2012. Zero inflation!
The only thing to keep in mind about prepaid 12-month memberships is that cancellations are not possible before the year is up, after the initial 14-day refund period has passed. By contrast, the alternative monthly-billed annual plans are cancelable, but with an early termination fee.
Month-to-month plans are also an option. They cost more per month than the Yearly plans, but there is no commitment and you can cancel at any time without a fee. Compare monthly vs. yearly: which should you choose?
Is the discount available for all Creative Cloud plans?
For Individuals (the most common type of membership), the discounted rate is offered for the All Apps plan and for most of the single-app plans, except for Acrobat and Photography.
This savings is not available for the already deeply-discounted Student/Teacher education plans, nor for the more business-oriented Teams plans.
Bottom line, all standard Individuals plans of $20/month or higher qualify for this price reduction.
I'm already a subscriber. Can I still get the discount?
Yes, you may be able to. Whether you currently have an full year or month-to-month plan, you should be able to upgrade or change your plan online here, at any time during your subscription, to get the discount:
Look for the "Annual, prepaid" option for the product(s) you want, and then change your plan to that. If for some reason you are unable to complete the switch online, then you can contact Adobe Customer Support to make the change – via live chat is usually fastest/easiest, and is typically available 24/7.
Adobe will cancel your paid-monthly Creative Cloud plan (and waive any fees), issue you a refund for the remaining days in the current month, and then sign you up for a prepaid annual plan to secure the lower CC price. You'll see two transactions (one refund and one charge) on your credit card, and the updated plan starts right away, with no break in service.
In sum: the advantages of saving with the prepaid discount
While not everyone can afford to make the upfront payment, this trick can provide a savings rate that is better than most anything else you'll find these days for the funds. And again, this discount does not expire. You can renew it again the same way next year if you like.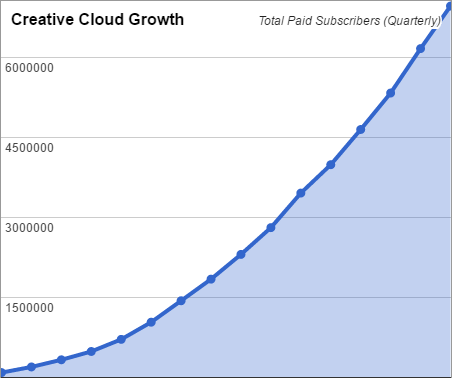 Another advantage with the prepaid option is that you don't have to keep an eye on monthly payments and don't need to check if your credit or debit card is under its max – and therefore, you don't have to worry about your subscription being canceled and being assigned a penalty for early termination.
As noted above, the only aspect to keep in mind about prepaid memberships is that cancellations are not possible before the year is up, once the initial 14-day refund period has passed. Whereas the alternative paid-monthly Annual plans can be cancelled, but a termination fee may apply.
However, if you can take advantage of it, using this hidden technique can save a bunch of dollars from Adobe's pocket and put them back into yours.
Install now: Get all new Creative Cloud 2023 direct download links and free trials.
See Also

Do you have any questions about Creative Cloud? Just ask below and we'll get you answers fast!
Keep up with the latest on Adobe software — follow us on Facebook or Twitter, or subscribe to our RSS feed… You can also enter your email and have new articles sent directly to your Inbox. We are reader-supported; when you buy through links on our site, we may earn an affiliate commission.