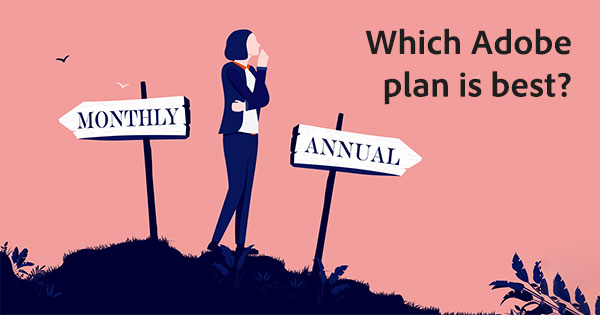 Most – but not all – Creative Cloud app subscriptions from Adobe offer either Annual (yearly) or Monthly (month-to-month) plans. As with most things in life, buying in larger size and making a longer commitment gets you a lower average cost – but is the Annual option always the best deal? The answer is: most (but not all) of the time…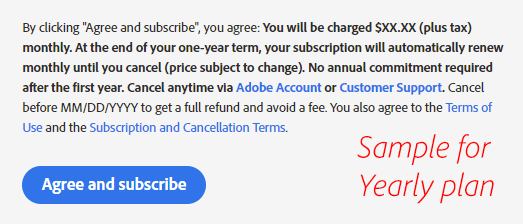 So the question customers usually have is this: The Monthly plans cost more (50% higher per month) but the Annual plans have a termination fee if you cancel before 12 months is up (50% of the remaining term), so which works out better for your needs?
We've done the math and the solution is clear:
If you need the software for six months or less, then getting a Monthly plan (month-to-month but cancel at any time) works out better.
If you need the software for more than six months, then getting an Annual plan (12-month commitment) is better, even if you cancel in the second half.
The tools and services you receive are the same in all cases, and ongoing upgrades come with all included products at no additional charge.
So all things considered, the breakeven point is right at the six-month mark because the 50% higher cost of the Monthly plans balances out against the cancellation fee of 50% of remaining contract obligation for the Annual plans. [See the complete Terms and Conditions for all subscriptions.]
Note that Adobe will waive any cancellation fees if you switch to a different Creative Cloud plan (like changing from Acrobat or Photography to All Apps or Single App)… So typically cancellation fees only apply on Annual plans if you stop subscribing entirely before your year is up. In which case, if the cancella­tion fee is waived, then an Annual plan is always a better value than a Monthly plan for the same products.
The takeaway is that Adobe wants to make sure you have the plan that's right for you. Further, thanks to the company's Money-Back Guarantee, you can cancel any Creative Cloud plan within 14 days of initial purchase via your online account… Your subscription will end immediately and you will receive a full and complete refund, with no questions asked.
Lastly, some plans do not offer month-to-month options, such as the Student and Teacher plans ($19.99/month) or the Photography plans ($9.99/month). That's because these subscription bundle offers are already significantly discounted. In these cases, only 12-month (full year) plans are available.
Special: Legally download dozens of free Adobe books for a limited time!
So month-to-month subscription plans certainly have their place, for short-term or flexible use at any time – basically for any duration up to six months, or for subscribing only when you need the apps. By contrast, Annual plans (as you'd expect) are always better for longer timeframes.
Undoubtedly, the best way to start with any plan is with a fully-functional free trial, to download, install, and get going right away. Or even easier: begin with the free level of Creative Cloud that Adobe offers to everyone at no cost.
If you still haven't decided before the free trial is up, then consider signing on for just a month or two with the Monthly plan… That will give you more time without a yearlong commitment. Or, go ahead with the Annual plan knowing that you can still get a full refund within two weeks of your order, if desired.
Hope this article has helped make sense of the different options available and helped make your choice easier! Get started:
See Also

Do you have any questions about these plans? Just ask them below and we'll get you answers fast!
Keep up with the latest on Adobe software — follow us on Facebook or Twitter, or subscribe to our RSS feed… You can also enter your email and have new articles sent directly to your Inbox. We are reader-supported; when you buy through links on our site, we may earn an affiliate commission.