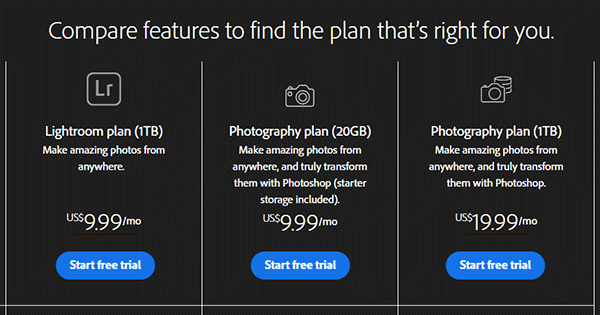 One sometimes-confusing aspect of Creative Cloud is the different plans for Photoshop that Adobe offers… What do you get with each one? When is Lightroom included and when is it not? Are the same versions of the programs included in the various Photoshop, Lightroom, and Photography plans?
Most commonly, customers want to know: What the difference is between the Photoshop Single-App subscription and the less-expensive Creative Cloud Photography Plan?
So here are the answers.
Adobe's US$9.99/month Photography plan includes the full Photoshop for both desktop and iPad, the premium version of Photoshop Express on mobile, as well as Lightroom – both the cloud-based and Classic versions for desktop, plus Lightroom mobile and web.
With the $20.99/month single-app Photoshop plan, you get the same Photo­shop apps but not Lightroom… However, it comes with the full, premium versions of Adobe Fresco for natural digital painting and drawing, as well as Adobe Express – both normally costing $9.99/month on their own. You also get more online cloud storage, with 100 GB instead of 20 GB. And there is a monthly option (higher-priced; subscribe month-to-month and cancel at any time) in addition to an annual plan.
Alternatively, for $9.99/month, you can choose the Lightroom-only plan, which includes the cloud-based Lightroom on desktop, but not Lightroom Classic nor Photoshop. You'll also get 1 TB of online cloud storage, rather than 20 GB.
The final option is to get the Photography plan as described above – including both PS and LR – but also with 1 TB of storage, for $19.99/month.
Importantly, the programs themselves are the same in all cases. There are no differences between the apps nor any limitations on their functions in any plan.
The following table should help make everything clearer:
Compare All Photoshop & Lightroom Plan Features
| | | | | |
| --- | --- | --- | --- | --- |
| Feature | Lightroom Plan (1 TB) | Photography Plan (20 GB) | Photography Plan (1 TB) | Photoshop Single-App |
| Cost per month (US) | $9.99 | $9.99 | $19.99 | $20.99 or $31.49 |
| Type of plan offered | Annual | Annual | Annual | Annual or Monthly |
| Photoshop on desktop | | Included | Included | Included |
| Photoshop on iPad | | Included | Included | Included |
| Photoshop Express (full) | | Included | Included | Included |
| Lightroom (cloud-based) | Included | Included | Included | |
| Lightroom Classic | | Included | Included | |
| Adobe Fresco Premium | | | | Included |
| Adobe Express Premium | | | | Included |
| Cloud photo storage | 1 TB | 20 GB | 1 TB | 100 GB |
| Adobe Portfolio | Included | Included | Included | Included |
| Adobe Fonts (full) | Included | Included | Included | Included |
| Adobe Bridge (100% free) | Included | Included | Included | Included |
And Included in All Creative Cloud Plans
So with all of the above plans, you get these other tools and services included:
Adobe Fonts, a massive library of over 22,000 high-quality fonts that you can search, browse, and use everywhere you need them. You don't have to worry about installation, licensing, or limits, because it's automatic and all personal and commercial use is covered.
Adobe Portfolio, which gives you a quick and intuitive way to create a beautiful portfolio website to show off your work, without having to write a single line of code.
Spark Premium was removed from plans on October 26th, 2021, and replaced with the full version of Premiere Rush for existing customers as of that date.
Adobe Bridge – although this is actually a completely free application available to everyone with no subscription required.
Ongoing upgrades and updates for all included applications and services.
Access to hundreds of exclusive online video tutorials in Creative Cloud Learn.
Flexible and budget-friendly payments through monthly or yearly subscription options.
You can install all of the desktop programs on up to two of your computers, and easily move the software between different systems as needed.
Get going! Download the free 314-page guide to Digital Photography, Photoshop & Lightroom.
If you'd like to try out any of the desktop applications first, then just download the fully-functional free trials to get started:
See Also

Do you have any questions about these plans? Just ask them below and we'll get you answers fast!
Keep up with the latest on Adobe software — follow us on Facebook or Twitter, or subscribe to our RSS feed… You can also enter your email and have new articles sent directly to your Inbox. We are reader-supported; when you buy through links on our site, we may earn an affiliate commission.