Some exciting news for photographers: Adobe has just brought back a special offer that opens up the popular Photoshop Photography Program to any customer worldwide who would like to participate… This was Adobe's big "Black Friday Deal" that is now making a surprise return – meaning for the next few months, this new discounted plan is available to everybody!
The Photoshop Photography Program includes all of the following for only US$9.99/month with an annual membership (Adobe's best deal ever on PS):
Adobe says this is the regular ongoing price for anyone who signs up for the program by June 30, 2014. So if you join now, then if/when you renew in a year's time, the price will still be $9.99 per month. They do not have plans to change this price.
In other words, this is not an introductory rate, it is the standard price for customers who sign up by June 30th. Internationally, the monthly cost is £9.98 GBP, €11,99 EUR, A$14.94 AUD, and ¥1,078 JPY (international prices are inclusive of VAT/local taxes).
What's this promotion worth? Well, the list price of Photoshop Extended just by itself (quoting 2012's CS6 version) is $999. Adobe Lightroom 5 (full) sells for $149. Behance ProSite costs $100 a year. Plus you get the online storage and product training. Add it all up, and to buy a software bundle like this upfront would cost well over US$1,300 for static versions. That's over a decade of paying just $10 a month instead with this special offer, where you'll also receive ongoing upgrades to new desktop releases with the latest features!
What's new is that with this unprecedented deal, now anyone can participate (see the FAQ). When the original Photoshop Plan was launched in September, some were unhappy because Creative Suite, education, and new customers were not eligible. But now for a limited time, Adobe will open the Program to all who would like this incredible offer, with no prior purchase necessary. Now everyone can get it – Suite customers, Lightroom and Photoshop Elements users, Students & Teachers, and even those who have never bought any version of Photoshop or Lightroom.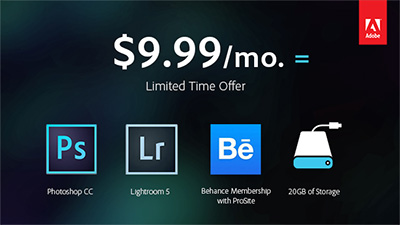 So if you'd like to have Adobe's industry-leading professional imaging tools plus other benefits at a low monthly cost, it's a one-time opportunity… And if you want to take it up a step further and get the full Creative Cloud including all 15 of the new CC tools, then existing CS customers can receive upgrade pricing for $29.99 a month.
While the company is continuing to offer last year's CS6, at the same time they are seeing 80% of purchasing customers using their desktop tools in the Creative Cloud. The Cloud recently accelerated past 30 million paid members and receives nearly 5-star reviews from customers, and so the company is now putting all of their resources into it – with new tools, added services, and included upgrades.
For students and teachers there's another way to save – Adobe is offering complete Creative Cloud memberships with all their creative tools for 60% off to education customers ($19.99 a month in the US), also with no previous software ownership required. And if you want to prepay your membership, the price reduction is even greater with up to 70% off.
Wondering about file compatibility with older versions of Photoshop? Check out:
» Can You Save/Open Adobe CC Files on CS6, CS5, CS4 & CS3 – and Vice Versa?
See Also

Do you have any questions about CC or the Creative Cloud? Just ask them below and we'll get you answers fast!
Keep up with the latest on Adobe software — follow us on Facebook or Twitter, or subscribe to our RSS feed… You can also enter your email and have new articles sent directly to your Inbox. We are reader-supported; when you buy through links on our site, we may earn an affiliate commission.