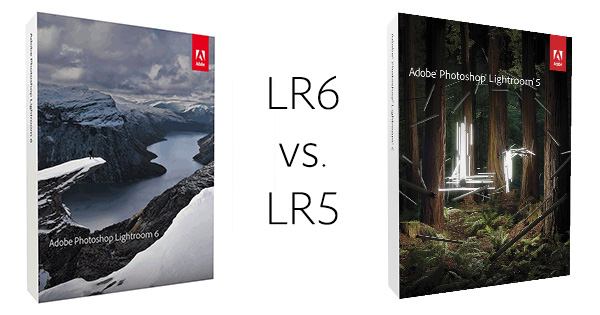 The long-awaited Adobe Lightroom 6/CC began shipping this week, and has got some folks pretty excited about the new features and capabilities… There's a long list of them given further below, but some of the highlights include much improved performance, facial recognition, photo merge for both HDR and panorama, advanced video slideshows, improved web galleries, new Pet Eye tool, touch-enabled PC support, plus GPU acceleration and native 64-bit architecture on Windows and Mac.
One big change is the naming difference and what you get with the two options (Lightroom 6 vs. Lightroom CC). You can still buy a standalone perpetual version as before (either full or upgrade from an older release) – the product is then called Lightroom 6 and it will still receive bug fixes and new camera/lens additions, but will not get ongoing new feature updates and does not have access to online LR features and apps such as Lightroom Mobile and Lightroom web.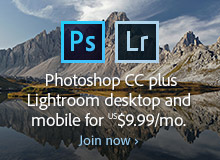 Lightroom CC is the same core program running on your desktop but in a subscription version that comes with the CC Photography Plan together with Photoshop CC, as well as included in all complete Creative Cloud offerings. CC subscribers will receive ongoing product upgrades (such as the new Dehaze tool), plus full access to Adobe's family of Lightroom mobile apps & services for on-the-go use, sharing and syncing.
For more details on these differences and the two options, see the Lightroom 6 vs. CC Comparison Guide.
The brand new Lightroom free trial download always starts off as Lightroom CC, but after installation it can be converted to Lightroom 6 if that's what you decide to buy instead… After you make the standalone purchase, the product branding will transform to Lightroom 6 and you will lose access to the mobile app and web features, as well as included future upgrades. Generally you can run the fully-functional free trials on your computer for 30 days, but it is possible to extend this longer if you need more time to evaluate the software.
Importantly, the minimum system requirements for Lightroom have changed a bit. A 64-bit system is now required both on Windows (here's how to tell) and on Mac OS. For Macs, you need to have OS X version 10.8 "Mountain Lion" or above (here's how to upgrade free). Adobe has posted the official LR system specifications here if you want to double-check your computer to be sure.
Note that Adobe is switching to an annual major release schedule with Lightroom now, and today's version is officially known as Lightroom CC 2015. We don't know yet what will happen next year with Lightroom CC 2016 and/or Lightroom 7; as always Adobe has not preannounced any future product plans.
Special: Legally download dozens of free Adobe books for a limited time!
As far as product pricing goes, all prices for perpetual licenses remain the same, whether for full or upgrading from LR1-LR5… New, however, is that LR6 upgrades are available for purchase only through Adobe's website direct. In other words, the discounted Lightroom 6 upgrade version is not being sold via retailers or resellers, but can be purchased online.
Also, there is no longer any education or academic discount for the standalone Lightroom 6… According to Adobe, "There isn't a student/teacher version of Lightroom 6 but you can purchase the regular LR6 upgrade if you have any prior version (student or commercial). You can also get the new release via the CC Photography Plan ($9.99/month) or as part of the Creative Cloud Complete Student/Teacher Edition ($19.99-$29.99/month). See the different options here."
What's the Difference between Lightroom 6/CC vs. Lightroom 5?
So here's a punch list of what's changed – the top-level new features in LR6 vs. LR5… Click on the chart below to enlarge the version comparison: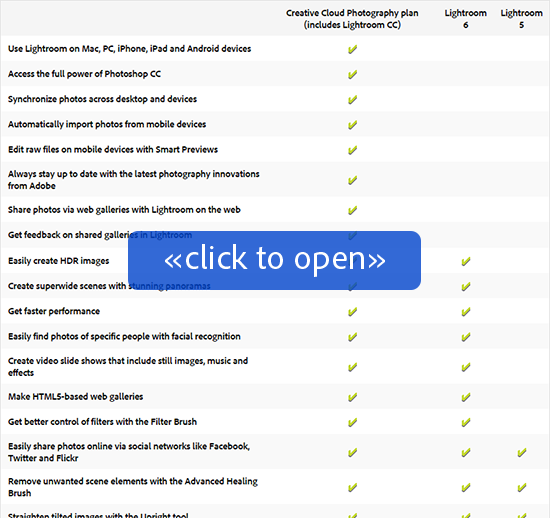 Top New Features in Lightroom 6/CC
In terms of what's new, check out this terrific video overview and demo of the best new features in Lightroom 6/CC, from the ever-popular Adobe evangelist Terry White:
Free Stock! Download 1,000,000+ premium assets from the new Adobe Stock Free Collection
Comparing Performance: Lightroom 6/CC vs. Lightroom 5
Finally, one really big gain here is performance. The last two major releases of Lightroom (LR5 and LR4) were notoriously slow for some users, especially for folks with a lot of images in their catalogs and/or on older systems. Lightroom 6 has made huge strides with better performance, even on older (but still compatible) hardware.
Here are some performance benchmark comparisons for Lightroom 6/CC (measured as percentage improvement over LR5) when performing common operations: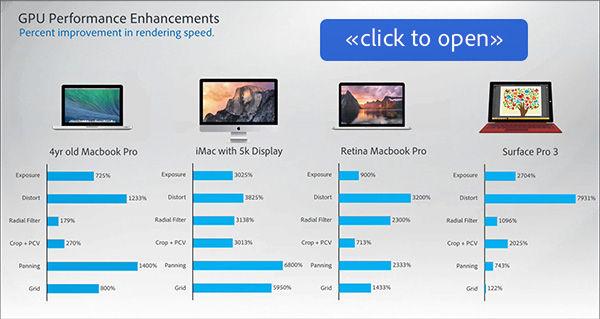 For further information on the new release, you can learn more or download a free trial instantly:
See Also

Do you have any questions about Lightroom 6/CC? Just ask them below and we'll get you answers fast!
Keep up with the latest on Adobe software — follow us on Facebook or Twitter, or subscribe to our RSS feed… You can also enter your email and have new articles sent directly to your Inbox. We are reader-supported; when you buy through links on our site, we may earn an affiliate commission.