Adobe has been hinting at introducing a new "photographer's offering" in Creative Cloud since the launch of the all-new CC release in May:
"Photographers and photo-enthusiasts are looking for a more tailored Creative Cloud offering that focuses on their particular needs… We are looking at potential CC bundles to recognize this."
So now, an incredible new package called the Photoshop Photography Program was just announced by Adobe at the Photoshop World conference today:
Since introducing Photoshop CC we've listened to feedback from a spectrum of our customers, from advanced pros to casual enthusiasts. One common request was a solution specifically tailored for photographers. We listened and are announcing a special offer for our loyal Photoshop customers. Beginning today, all customers who own Photoshop CS3 or higher are eligible for a special Creative Cloud membership offer that includes all of the following for just $9.99/month (available worldwide; pricing varies outside the US):

This is the ongoing price for anyone who signs up by June 30, 2014. So if you sign up now, then when you renew next year, the price will still be $9.99 per month. We do not currently have any intention of raising this price.
Note this is not an introductory price, it is the standard price for customers who sign up by June 30, 2014. Internationally, the monthly cost is £9.98 GBP, €11,99 EUR, A$14.94 AUD, and ¥1,078 JPY (international prices are inclusive of VAT/local taxes). Meanwhile, customers who already have a CC single-app membership for Photoshop at the $9.99/month level (or corresponding local pricing above) will be auto­matically transi­tioned to this new plan when it ships, with the additional benefits and lower ongoing price.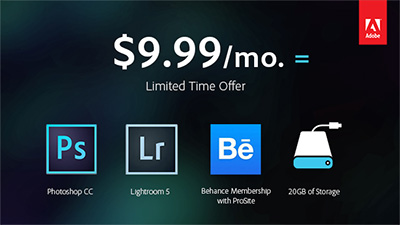 So now if you'd like to move up to the latest & greatest tools plus other benefits at a low monthly cost, it's become a fantastic deal… And if you want to take a step up farther and get the complete Creative Cloud including all 15 of the new CC tools, then existing CS customers can also get upgrade pricing there too for $29.99 a month.
While the company is continuing to offer last year's CS6, at the same time they are now attracting 80% of purchasing customers to using more of their tools in the Creative Cloud. The Cloud has gained millions of users already and receives nearly 5-star reviews from customers, and so the company is now putting all of their resources into it – with new tools, added services, and included upgrades.
For students and teachers there's also a great savings – Adobe is offering complete Creative Cloud memberships for 40% off to education customers ($29.99 a month in the US), with no previous software ownership required.
Existing volume licensing customers also get a two-year discount of $30 per month with the new Creative Cloud for Teams.
And if you need another tool in addition to Photoshop, then you can get any other CC app for US$19.99 a month with a Single-Tool Subscription.
Check this helpful FAQ for 90 frequent questions about the Creative Cloud:
The Adobe Creative Cloud FAQ – Your Top Questions Answered
See Also

Do you have any questions about the Creative Cloud? Just ask them below and we'll get you answers fast!
Keep up with the latest on Adobe software — follow us on Facebook or Twitter, or subscribe to our RSS feed… You can also enter your email and have new articles sent directly to your Inbox. We are reader-supported; when you buy through links on our site, we may earn an affiliate commission.