[UPDATE – See all of Adobe's current deals & discounts!]
It's been over two years now since the initial launch of the Adobe CC release (replacing CS6) and we've seen over 1,000 new features added and included since that time – so recently Adobe confirmed they will be ending their popular Creative Cloud 40%-off discount upgrade offer for existing customers of CS3, CS4, CS5, CS5.5, or CS6:
"Don't miss out on 40% savings. For a short while longer, Adobe will provide Creative Suite customers worldwide (CS3 and later) the option of joining Creative Cloud Complete for 40% off or $29.99 / £27.34 / €36,89 / A$29.99 a month for the first year."
The updated terms and conditions show that this upgrade discount offer for CS3 through CS6 to CC will only be available until May 29th, 2015:
Note that this offer is limited to one (1) purchase of one (1) discounted Creative Cloud Complete annual membership per customer – and may not be assigned, exchanged, sold, transferred, or redeemed for cash.
If you don't feel you're ready for the full Cloud or would just need/use one Adobe tool at this time, there's also the option of individual product subscriptions such as getting InDesign CC or Illustrator CC or After Effects CC (historically costing $600-$1000) for $19.99 a month with a Single-App Membership. And if you just need Photoshop by itself then you'll definitely want to consider the new CC Photography Bundle which gives Photoshop CC + Lightroom 6/CC for just $9.99 a month (regular price), and also now includes the new Lightroom Mobile app – a total value of over US$1,300.
So if you're trying to decide which path to choose, there are different pros and cons to consider. If you prefer traditional licensing, then the 2012 release of CS6 is still being sold by Adobe but is the end-of-the-line – the last Creative Suite version which will not be updated further, even for new operating systems. If instead you want to check out the Creative Cloud (even with a lifetime free level of membership), Adobe will continue to focus all ongoing and future innovation there – with new tools, added services, and ongoing upgrades included.
Here's a guide to help compare the pros & cons:
Compare Your Options: Creative Cloud (CC) vs. Creative Suite (CS6)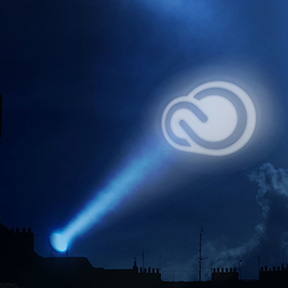 While the company is continuing to offer the older CS6, at the same time they are now seeing the vast majority of purchasing customers using more of their tools with the Creative Cloud. Adobe CC has already gained millions of customers and gets strong reviews from users, and so the company is putting all of its resources there.
What does Creative Cloud contain? Well, in addition to the entire CC "Master Collection," you also get new Acrobat DC for creating & editing PDF documents, Lightroom 6/CC for photography, Behance ProSite for building a professional online portfolio, Market for free creative assets, Typekit web & desktop fonts, Muse code-free website creation, Edge tools & services, … – and Adobe will be adding more value there on a regular basis.
Which path is right for you is a question only you can answer. If you go with the the older perpetual licensing, you pay a higher upfront cost for a static version of the software. If you go with the Creative Cloud, there's a world of the latest & greatest tools plus other benefits at a lower monthly price point.
For students and teachers the introductory deal is even better – Adobe is offering 60-70% off Cloud member­ships to education customers but with no previous software ownership required.
If you've got multiple users, then existing customers also get a two-year discount of $20 per month with the Adobe's solution for group CC licensing, Creative Cloud for Teams.
Special: Legally download dozens of free Adobe books for a limited time!
Check this helpful FAQ for 90 other frequent questions about the Creative Cloud:
The Adobe Creative Cloud FAQ – Your Top Questions Answered
See Also

Do you have any questions about the Creative Cloud? Just ask them below and we'll get you answers fast!
Keep up with the latest on Adobe software — follow us on Facebook or Twitter, or subscribe to our RSS feed… You can also enter your email and have new articles sent directly to your Inbox. We are reader-supported; when you buy through links on our site, we may earn an affiliate commission.