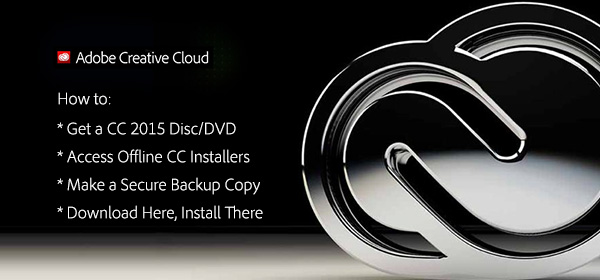 The Creative Cloud is cool because it offers access all major tools that Adobe makes at an affordable price… But here are four recurring challenges we still see out there since Adobe discontinued boxes and switched over to Cloud-only application downloads:
Folks with slow or limited Internet connections who need to complete large (multi-gigabyte) downloads to get started with their Creative Cloud memberships.

Customers who'd like to download the CC software using one computer with a high speed network, but install it on another, different machine (or more) without redownloading.
Users who just want to maintain secure backup copies of the offline CC 2019 installers should they ever be without connectivity and need to quickly reinstall their products.
People who have difficulties with the new Creative Cloud Desktop application manager (maybe not showing apps or updates) and want to download their tools without using it.
We run into each of these situations often enough that it's become high time to write an article about them… And fortunately, we've got solutions to all four of these problems for you, though these are somewhat insider tips and not widely publicized.
How to Get the Adobe CC Installers for Offline Use or Backup
OK, this is the easier one so we'll take it first. It solves problems 2, 3, and 4 above. Normally when using the Creative Cloud you don't have the opportunity to see or store/make copies of the application installer files that are downloaded to your computer – everything happens automat­ically and behind the scenes.

But if you use our collection of Adobe CC 2019 Direct Download Links then you can easily get around that if you want… In other words, you can still download, copy, move, install, and back up all your installation files the traditional way when you want or need to – e.g., burn to a disc, put on a USB flash/thumb drive, use on another system, download once and install multiple times on networked computers, etc.
You're still downloading and using the exact same CC program installers from the same Adobe servers, but now you're doing it without using Adobe's Creative Cloud Desktop App or Download/Application Manager (AAM) – and taking care of it yourself so that you have more options and greater flexibility with file management and reuse. This works for either the CC trials (the free level of Creative Cloud), or for a paid membership of any kind. You can get the standalone CC 2019 installation files here:
Special: Legally download dozens of free Adobe books for a limited time!
How to Get or Order a Creative Cloud Disc/DVD from Adobe
IMPORTANT: Please see this update from Adobe about the DVDs.
So maybe you thought when Adobe stopped selling boxed software, you might never see another disc from them again, right? Fortunately they realized that not everyone (yet) has the available bandwidth to download large multi-gigabyte files error-free over slow or unsteady Internet connections – especially in rural, remote, or less-developed areas of the world… So good news, Adobe does actually offer the option for Creative Cloud customers to receive free disc media with all the CC 2015 desktop tools on it, whenever and wherever necessary (worldwide).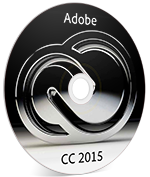 All you have to do to get it is join to be a Cloud member at any level – even if only for one single month… Then contact Adobe's Customer Service Team (Instant Live Chat works well, click "Still need help? Contact us"), explain the situation, and they'll send you out a DVD right away contain­ing all the CC applications for Windows or Mac OS, at no extra charge. Once you get the tools installed from your disc and running locally on your computer, the software will need to connect online very briefly to validate your member­ship – and then annual members can run for up to 99 days offline without having to revalidate or reconnect.
See this discussion for further details (or this one for even more information) on the free Creative Cloud disc option, or sign up here to get started now:
IMPORTANT: Please see this update from Adobe about the DVDs.
And remember, for requesting a DVD if you need one, Adobe's online chat is fastest! (Just click "Still need help? Contact us" and make sure you get the Customer Service Team.)
Do you have any further questions on the Creative Cloud?  Check out our extensive Creative Cloud FAQ, or just ask them below and we'll get you answers fast!
See Also

Keep up with the latest on Adobe software — follow us on Facebook or Twitter, or subscribe to our RSS feed… You can also enter your email and have new articles sent directly to your Inbox. We are reader-supported; when you buy through links on our site, we may earn an affiliate commission.