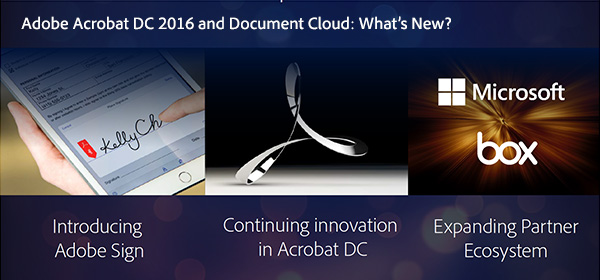 One of the most frequent upgrade questions we get is what's new, what's different, or what's changed between the new release of Acrobat and previous versions? Adobe Acrobat DC 2016 just launched today, and if you're counting numerically (… 9, X, XI, DC 2015, DC 2016), then this is the 13th major release of one of Adobe's biggest products with over 30 million customers. So put simply, what are the major new features and advance­ments in the 2016 Release of Acrobat DC (Pro or Standard), versus DC 2015, or 2012's Acrobat XI or even 2010's Acrobat X?
When the Document Cloud first arrived a year ago – and Acrobat DC 2015 along with it – there were some significant changes to how the software was purchased… While the desktop Acrobat Pro/Standard tool is still sold standalone with a perpetual (or "Classic") license, many of the newer capabilities and services are only available via the Acrobat DC subscription (or "Continuous") bundle. It's called "Continuous" because subscribers receive all ongoing product upgrades as soon as they are available, ensuring you are always running the latest-and-greatest software with the complete featureset.
And just to clear up three very common misconceptions about Acrobat DC (and Reader DC) for Windows and Mac: Many folks seem to believe that the programs run online in the cloud (rather than on your desktop), can only work when your computer is connected to the Internet, or that users are required to store their PDF files online in the Document Cloud. But just like with the Creative Cloud, all three of these myths are false.
[ What's the difference between the editions? See: Acrobat DC Pro vs. Standard vs. Reader ]
But anyway, back to the facts. Below are some of the key changes to the upcoming Acrobat DC 2016 release compared to DC 2015. See this page for all changes to the Acrobat product line since Acrobat XI and X, or scroll further down this page for a detailed version-by-version comparison… All current subscribers to either Acrobat DC or the Creative Cloud All Apps plan will automatically receive these new updates when they are released in May:
| Acrobat DC 2016 New Features | Subscription | Standalone |
| --- | --- | --- |
| Modern user interface (new dark gray option) | X | |
| New storage integrations with Box and OneDrive | X | X |
| Modern commenting and annotation experience | X | |
| Next-generation Adobe Sign mobile companion app* | X | |
| Modern interface for Scan tool | X | |
| 64-bit thumbnail previews in Windows | X | X |
| PDFMaker for PowerPoint 2016 (Mac OS) | X | |
| Accessibility improve­ments for menus & dialogs | X | X |
| Enhanced OCR capabilities around the world | X | |
| Change default font for PDF editing | X | |
| Camera Scan to PDF improve­ments | X | X |
| Get started with quick tips and walkthroughs | X | |
| Deploy using Creative Cloud Packager (CCP) | X | |
* Note: The eSign/EchoSign services and capabilities within Acrobat and the Document Cloud have been rebranded to Adobe Sign, and simplified in both the name and the experience. Adobe Sign delivers a significantly upgraded and modernized companion mobile app.
For more information on each of these new features (and more), you can get the details here. As you can see, most of the latest features are available only on the subscription (continuous) track.
For those who wish to try before buying, be sure to take advantage of the free 30-day tryout of the new tools. The minimum system requirements for Acrobat DC 2016 remain the same as before. On Mac, Acrobat DC is a native 64-bit application – while on Windows, Adobe supports both 32-bit and 64-bit systems.
Special: Legally download dozens of free Adobe books for a limited time!
And as promised, here is the itemized version-by-version, feature-by-feature compar­ison of Acrobat Pro/Standard DC 2016 vs. previous releases – just click to see the complete chart below: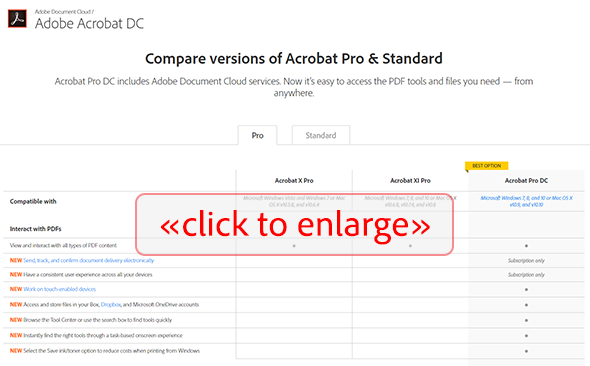 Bottom line, Adobe Acrobat DC looks like a smooth and solid upgrade that will make your life easier, help you get more done, and save you some time. Want to see for yourself? Just download and install the free 30-day trial.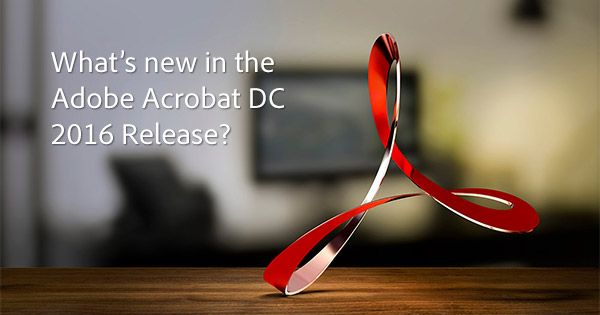 To learn more see the excellent Acrobat DC FAQ or check out the free Acrobat DC tutorials.
Finally, in honor of Earth Day, we present "Twelve Ways to Make your Office Paperless" – which offers some terrific ideas, including the Resource Saver Calculator:
See Also

Do you have any questions about Acrobat? Just ask them below and we'll get you answers fast!
Keep up with the latest on Adobe software — follow us on Facebook or Twitter, or subscribe to our RSS feed… You can also enter your email and have new articles sent directly to your Inbox. We are reader-supported; when you buy through links on our site, we may earn an affiliate commission.