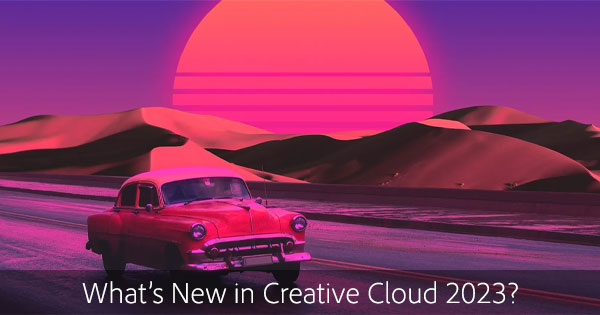 UPDATE – Creative Cloud 2024 is out now! See what's new and improved in this latest major release.
Last week at the annual MAX conference, Adobe launched the new 2023 release of Creative Cloud – and customers want to know what's new, what's different, and what's changed between CC 2023 and the earlier releases. In other words, what are the key new features and advancements in the 2023 upgrade versus prior versions?
With the new release, everyone is entitled to either a free update or a free trial for seven days. Ongoing access to these tools requires a Creative Cloud mem­ber­ship (either for one app or for all), with discounts available for education custom­ers. In the ten years since Creative Cloud first came out, Adobe has added tens of thousands of new and enhanced features plus perfor­mance improve­ments across their flagship creative products.
There are now 21 desktop appli­cations included in Creative Cloud: Photoshop, Illustrator, InDesign, InCopy, Acrobat DC, Animate, Dream­weaver, Adobe XD, Premiere Pro, Premiere Rush, After Effects, Audition, Character Animator, Media Encoder, Prelude, Dimension, Bridge, Camera Raw, Lightroom and Lightroom Classic. Almost all the apps received upgrades – see the table below for what's new in each Creative Cloud application.
Install now: Get all new Creative Cloud 2024 direct download links and free trials.
Other top tools and services continue to be included in Creative Cloud 2023 as well, such as Adobe Fonts with over 22,000 premium fonts for unlimited use (a $100/year value), the premium version of Creative Cloud Express, your own Adobe Portfolio website, plus the full capabilities of Behance to show­case (and even sell) your work and talents online.
If you want to try any of the CC apps out, then just sign up for a free level of Creative Cloud membership to gain access. For learning how to best use the products, there are plenty of free tutorial videos, and even dozens of completely free books that you can download for all of the most popular applica­tions. And don't forget that all products include ongoing upgrades at no extra cost, so you can always be running the latest and greatest versions.
Special: Legally download dozens of free Adobe books for a limited time!
Feature Comparison: Creative Cloud 2023 vs. Previous Releases
So here they are, the feature breakouts by individual product – what's new including version comparisons and differences between Creative Cloud 2023 vs. the 2022, 2021, 2020, 2019, 2018, 2017, 2015, 2014, 2013, and CS6 releases:
For more details on the essentials and differences, don't miss our Creative Cloud 2023 Review Guide.
The System Requirements Have Evolved
You should also know that the minimum system requirements have changed meaning­fully on both Windows and Mac, in order to take advantage of the latest operating system features and technologies… On Macs, the CC 2023 release now requires macOS 11.0 (Big Sur) or later. If you're not yet running a compatible version of macOS, then you can get a free upgrade directly from Apple. macOS 13 (Ventura), which is due out very soon, is supported by Adobe as well. Be aware, however, that since Catalina, Apple dropped support for any older 32-bit programs you may have.
On PCs, Windows 10 64-bit (version 1909 or higher) and Windows 11 continue to be fully-supported platforms for all Creative Cloud applications. Importantly, except for Acrobat DC, the CC 2023 apps do not support 32-bit or Windows 7 or Windows 8 operating systems.
Adobe explains that focusing their efforts on modern OS versions allows them to develop the features and functionality most requested by customers, while ensuring peak performance that takes advantage of newer hardware. For more details, please consult the complete CC 2023 System Requirements. If these specifications don't work for you for some reason, then you can continue to use the older CC 2022 applications, or even CC 2019 or CC 2018.
What's New in the Creative Cloud 2023 Release? [Video – In Two Minutes]
See Also

Do you have any questions about Creative Cloud? Just ask below and we'll get you answers fast!
Keep up with the latest on Adobe software — follow us on Facebook or Twitter, or subscribe to our RSS feed… You can also enter your email and have new articles sent directly to your Inbox. We are reader-supported; when you buy through links on our site, we may earn an affiliate commission.