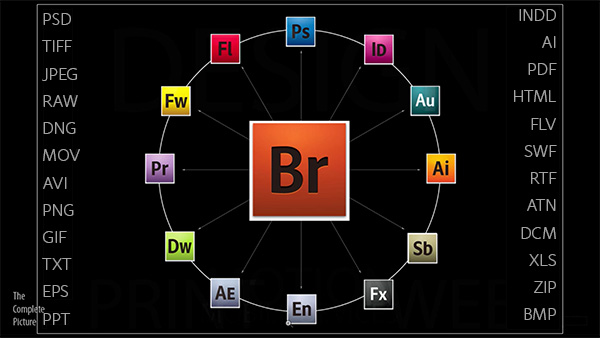 In response to our post on How to Join Adobe's Creative Cloud for Free, we received this question from a reader:
Hi – is it really true that Adobe Bridge (the full version) is totally free to download and use forever, and I don't have to pay for it or have a subscription?
The answer is yes, it's absolutely true – although not that many people know about it because Adobe has not publicized it widely…
Bridge 2023 is Adobe's flagship desktop media browser and powerful digital asset manager that allows you to efficiently locate, organize, browse, preview, and batch process your content files – including most image, vector, audio and video files. You can view (in fullscreen) and manage Photo­shop PSD, Camera RAW, Illustrator AI, InDesign INDD, Adobe XD, Acrobat PDF, Flash SWF/FLV, and many other types of files and documents, all without paid programs.
While Bridge won't edit the content of these files on its own, it works beautifully as an easy-to-use visual gateway to all your creative assets – a universal file manager and very handy utility for quickly viewing and working with your creative files in many different formats (Adobe and otherwise). Bridge can also manage & set file metadata, create collections, add image watermarks, rate & label photographs, do slideshows, perform batch file operations including renaming, browse directories without importing, support multi-user workflows, and more. And it's available worldwide in dozens of languages for both macOS and Windows: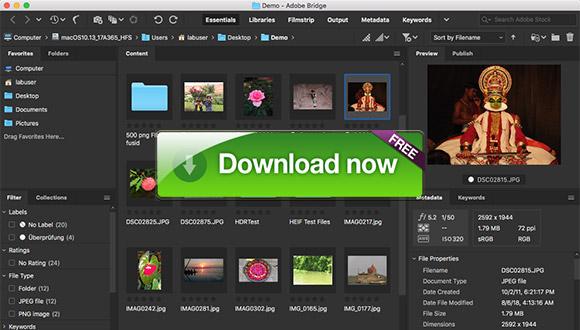 What's less known is that the license to run/use Bridge is completely free from Adobe and never expires! It doesn't matter whether you're running a Creative Cloud free trial or a paid subscription (or even any other Adobe software at all). Regardless, Bridge will legally continue to work and be able to manage and view your media and Adobe files even if/when your trial or subscription ends.
Surprised? Well, it used to be (with CS6 and older) that Adobe Bridge was bundled together with paid programs like Photoshop and After Effects. But Adobe decided to unbundle Bridge and make it a separate download for Creative Cloud, so now this product doesn't even require a paid subscription. This basically means that Bridge comes with all CC plans – including the popular Photography Plan – and even the 100% free level of Creative Cloud.
Free Stock! Download 1,000,000+ premium assets from the new Adobe Stock Free Collection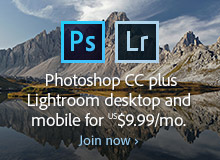 You can install Bridge 2023 either standalone by itself, or together with other applications like Photo­shop (and all the rest), or even Photoshop Elements… Either way, Bridge requires no purchase, no paid membership or subscrip­tion, and not even any other Adobe tools on the same system. It installs and runs fine, and even allows updating to the latest version of the app itself plus the ACR (Adobe Camera Raw) plugin for the display and previewing of raw files within Bridge.
Adobe recommends that photographers use the more sophisticated Lightroom ecosystem to manage their photos, and that's a product and workflow which work very well for many customers. But folks who want a simple solution – including designers who work with many different applications and file types – will still want to use Bridge. Plus, you can install and use it on as many computers as you like, your friends and colleagues can use it, your clients and customers can use it, all at the same time (and even with the same files collabor­atively) – there is no cost or limit or restriction.
So how to take advantage of it? To get your permanently-free Adobe Bridge (100% legitimate and authentic full version), you can download and install it here – look for the big blue "Download" button at the top, which will give you Bridge via the Creative Cloud Desktop App. Alterna­tively, you can use the CC direct download links. Either way works fine – and it's not a free trial, nor has any expiration date – as described above!
Special: Legally download dozens of free Adobe books for a limited time!
If you're not yet running the most recent release of Photoshop, then you can easily get it (plus Lightroom, and all ongoing upgrades to both products included) through Adobe's Photo­graphy bundle for just $9.99/month. If you'd like to try out the latest Creative Cloud 2023 software first at no cost, then just download the free trial to get started.
Watch: Adobe Bridge in One Minute
Adobe's Julieanne Kost: Should You Use Lightroom or Bridge?
This policy could change at any time, so don't miss this exceptional opportunity to quickly grab the full working version of new Bridge 2023 legally from Adobe at no cost now or ever:
See Also

Do you have any questions about Bridge? Just ask them below and we'll get you answers fast!
Keep up with the latest on Adobe software — follow us on Facebook or Twitter, or subscribe to our RSS feed… You can also enter your email and have new articles sent directly to your Inbox. We are reader-supported; when you buy through links on our site, we may earn an affiliate commission.