Sometimes even after using Adobe's free trial downloads to try out the software before buying, customers may wish to return an Adobe product or exchange for something different instead – say swapping the Photography Bundle or returning an individual Creative Cloud tool and getting the "All Apps" plan instead (which includes 21 applications instead of one).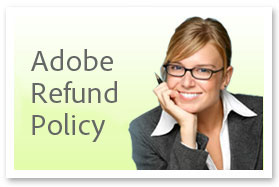 In which case, did you know that Adobe offers a full money-back guarantee on all current products? This goes for both subscription products as well as non-subscription products, including Creative Cloud (CC), Acrobat, Captivate, Elements, and so on. This offer applies even after you've already downloaded and installed the software on your computer(s), or after a free trial has expired. However, you can take advan­tage of this refund policy only with purchases made directly from Adobe.com (worldwide) – not with anything bought from resellers or retailers, and never from auction sites.
Yes, it's true – for non-subscription products, simply contact Adobe within 30 days of your order – via live online chat is usually fast and convenient. Then, just follow the correct procedure and they will take it back (after being unin­stalled and deactivated from your computers, if applicable) and issue you a complete refund.
For subscription plans, it's even easier – in most cases, you can simply change or cancel your plan online yourself for any reason) within 14 days of your initial payment, usually without needing to contact Adobe at all. Refunds are typically processed within a week. Note that after the 14-day window has passed, a fee may apply for early termination of Annual plans; the fee is typically half of the remaining 12-month subscription commitment.
How the Policy Works
For all Adobe subscription products (such as Creative Cloud 2023 or Acrobat DC, and even for the month-to-month plans), the return period for a full refund is 14 days from the date of your initial payment. For all Adobe perpetual products (like the standalone/desktop versions of Acrobat 2020, Captivate 2019, or Elements 2023, whether buying full or upgrading from an older release), the return period for a complete refund is 30 days from the date of your order.
So this means all your purchases are protected right out of the gate – and effectively you've got 21-60 total days (7-30 days of a trial + 14-30 days of a "warranty") to make sure the product is right for you and definitely the one you want! If not for some reason, then you can cancel your purchase for a no-questions-asked refund.
In other words, even after clicking "buy" and fully activating the software, you still have the chance to change your mind later. Returns can be processed whether you originally paid via credit/debit card, PayPal, bank transfer, or purchase order.
This is one reason why we recommend buying direct from Adobe whenever possible – it's simpler, faster, and cleaner – and you can always be 100% certain your software is genuine, safe and authentic – plus you can download & use the products instantly and return them easily if needed.
Free Stock! Download 1,000,000+ premium assets from the new Adobe Stock Free Collection
What If It's Beyond the Return Period?
If you bought a subscription plan and it's already past the 14-day return/refund period for your purchase and you still wish to cancel, then we have an inform­ative guide for you here:
What You Should Know Before Canceling Your Adobe Trial or Subscription
Please see that article for your options, which may save you some time or money.
"Grace Period for Free Upgrades"
What's especially interesting is that you can use the exchange policy above to create your own "grace period" when buying any Adobe product, so that if a major new release comes out within a month of your purchase, you can simply trade what you have (return it for a refund) and get the newer release instead… This means you basically have got some "insurance" for a free upgrade, which is a nice side benefit.
You can read more about this here:
» Do I Qualify for a Free Adobe Upgrade?
For More Information
There are some conditions and fine print, so you may want to read the full return policy in detail which includes the step-by-step procedure that you need to follow to get your money back. And be sure to simply contact Adobe Customer Support if you have any questions about it.
Here are more helpful tips for managing your software investment:
Do you have any questions about the details in this article or how Adobe's Return Policy guarantee works? Just ask them below and we'll get you answers fast!
See Also

Keep up with the latest on Adobe software — follow us on Facebook or Twitter, or subscribe to our RSS feed… You can also enter your email and have new articles sent directly to your Inbox. We are reader-supported; when you buy through links on our site, we may earn an affiliate commission.