Sometimes people post on the Adobe Forums asking how to change or cancel their Creative Cloud subscriptions… Their reason could be because they aren't using the software as much as before, or if they need different tools in the collection that aren't included in their current plan.
But the response from fellow Forum users invariably goes like this:
This is primarily a user-to-user Forum – so we don't really have the power to help you here, unfortunately. The only folks who have this ability are you (via your online account) or Adobe Customer Care.
…and the people who posted are then directed to their online account where they can manage this themselves, or are given the contact information for Customer Service.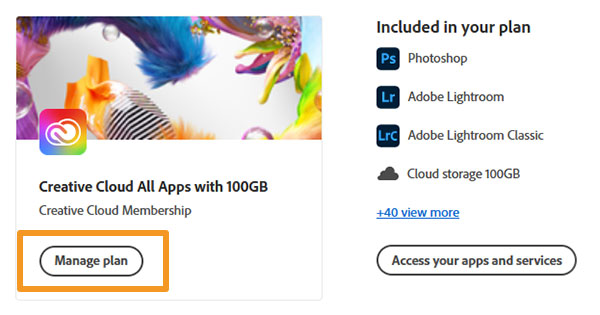 But Before Doing That, Know This First
First off, if it's a trial that you're canceling but you ran over the seven free days, then you still have 14 additional days after the trial ends to get a full refund.
If you already have a paid subscription, then the most important thing to know is what type of plan it is… Is it a Monthly (month-to-month) or Annual (12-month) plan? Annual plans cost less per month because of the one-year commitment, whereas Monthly plans can be stopped at any time without a cancellation fee. So there are pros and cons of each; see: Monthly vs. Annual – which is best for you?
If you have an Annual (yearly) plan, then it can be cancelled in the last month of your one-year term with no early termination fee. Your service would then continue until the end of that month's billing period, and you would not be charged further. This is effectively the same as turning off the auto-renewal of the plan, because by default it will auto-renew every 12 months.
But if you cancel or quit an Annual plan prior to the last month of your term, then you'll encounter a screen like this one detailing the potential fee: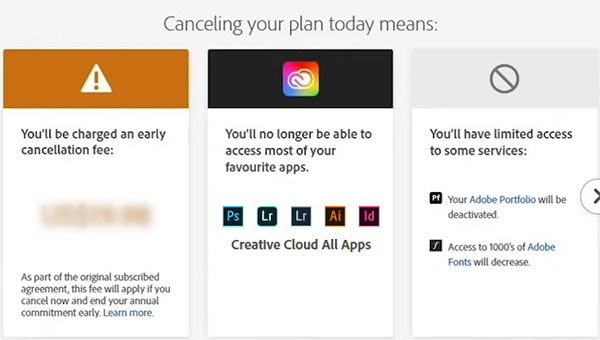 So, What Next? What Options Do You Have?
Annual Creative Cloud subscriptions cannot be paused or suspended, so there are really only two possibilities: on or off. However, there is a third option which avoids both canceling and paying the fee: You can change to a different plan.
The new plan could be for different tools, and could cost more or less than your current plan. Creative Cloud offers a wide variety of different plans ranging from $9.99/month to $54.99/month.
In any case, there is typically no charge to change your plan. You'll start on the new plan immediately, and a new 12-month term will begin, as well as a new 14-day refund period.
This solution is a win-win for both you and Adobe, because you'll be switching to a plan which better suits your needs (plus avoiding a cancel fee), while the company keeps a customer and retains your business. Per Adobe, "Find a better plan: Not enough apps in your plan? Monthly payment too high? Let us help you find the right plan for your needs, and make the switch quick and easy:"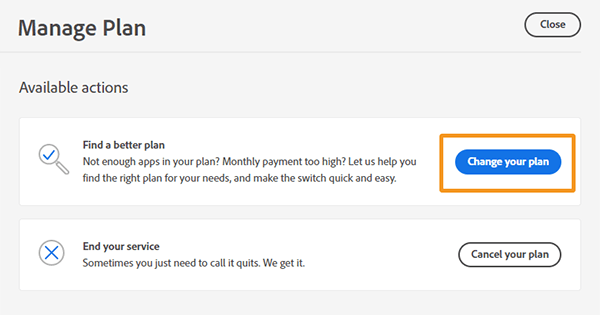 What Happens When You Change Your Plan?
If you want to change your membership, you'll see a screen like this offering the different plan options you can switch to: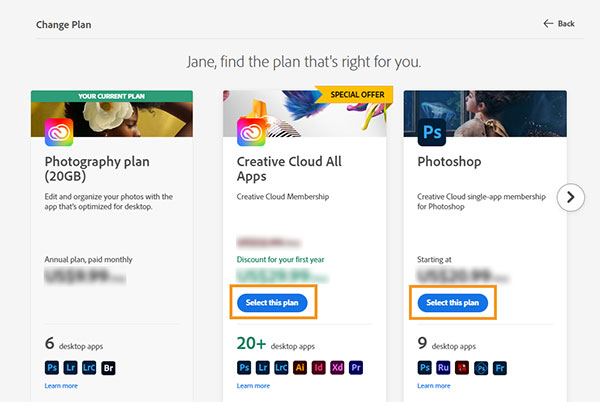 What Happens If You Cancel Your Plan?
If you wish to cancel entirely, you may see a screen like this first: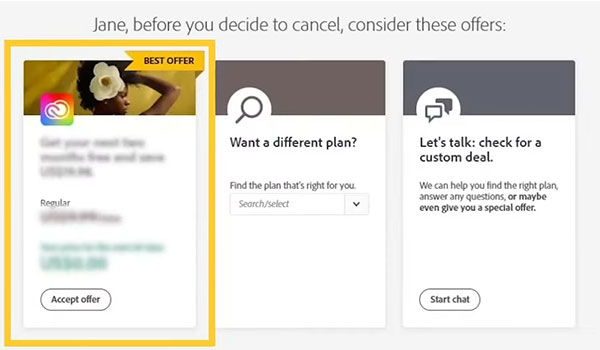 How to Manage Your Paid Subscription
To change your plan, follow these instructions from the Manage Plan page. Here's a helpful video walking you through the steps:
To cancel instead, follow these instructions from the Manage Plan page. Here's a video going through the process:
Without a paid plan, you will revert to the free level of Creative Cloud. If you ever need full access to the CC desktop apps again in the future, you can resubscribe, even if just for a month.
For more details, see Adobe's Cancellation FAQ. Or learn more about the pros and cons of Annual vs. Monthly plans, and which is better for you.
What If You Can't Access "Manage" or "Change" Plan?
If your account is behind in payments, it's possible you could receive a message like this:
You must resolve an issue with your payment details before making any changes to your plan.

If you take no action, your plan will automatically be cancelled.
In this case, you have up to 30 days to follow the instructions given here:
How to Fix a Failed or Missed Payment
Adobe also suggests contacting your payment provider directly, as you may have hit your credit limit or had a fraud protection check.
If you wish to contact Adobe Customer Support, then visit this page for live online chat, which is the primary way to get in touch. Or to reach them by phone, see the comprehensive list of phone numbers by geography, including hours and languages.
Do you have any questions about the tips in this article or how Adobe's plans work? Just ask them below and we'll get you answers fast!
See Also

Keep up with the latest on Adobe software — follow us on Facebook or Twitter, or subscribe to our RSS feed… You can also enter your email and have new articles sent directly to your Inbox. We are reader-supported; when you buy through links on our site, we may earn an affiliate commission.