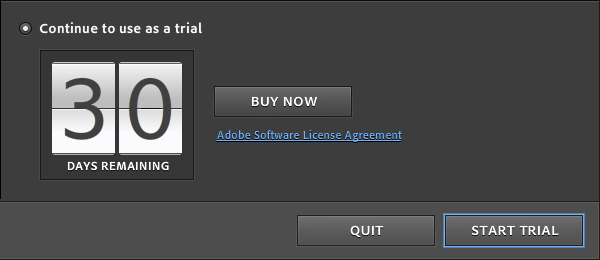 [UPDATE (May 2016) – Adobe just reduced the length of all CC free trials from 30 to 7 days… So the approach below will still work, but would triple the period from 7 to 21 days.]
How long are the free trials for Adobe software? Most people would say 30 days – but practically speak­ing, it's actually almost 50% longer, at 44 days.  Here's why, and how you can do it…
After downloading and installing Adobe's free trial software – whether it's the latest major release CC 2015 (have you tried it yet?), CS6, Acrobat, Captivate, or Lightroom – your official free trial will begin for 30 calendar days from the date you first run the application (like Photoshop) on your computer.
Once you reach the end of that month – if you haven't already purchased the product – then that free trial period will end and all the files you created will still be yours, but the software itself will no longer start on your system. And redownloading or reinstalling it won't give you a new free trial.
So, if your initial trial has expired but you haven't decided yet whether you want to keep the tools, then what do you do? Well, aha – there's a little-known tip, and it goes like this:
So with this easy technique, you effectively extend your Adobe free trials to 44 days because you have up to 1.5 months to make a final decision on the products. In other words, you increase the length of time that you can try out and use them without any financial commit­ment. And of course if you want to keep on using the tools after that, even for a short time, then you'd only be paying by the month – because with CC's straight­forward Month-to-Month Plan, you pay only for the months you use the software (as long or as short as that may be).
Adobe clearly states: "If you cancel within 14 days of your order, you'll be fully refunded" for all memberships, for both individuals as well as for teams.  And we have done this so we can confirm that it does work! Just make sure that you get the software directly from Adobe in order for this process to work, and not from a reseller or retailer.
[UPDATE: Adobe requests that you not use this approach if you aren't serious about continuing with CC… In other words, please don't sign up with the express intention of cancelling. For that, you can just use the pay-by-the-month plan for as long as you need.]
This basic approach can also be used even if you have already completed your 30-day free trial at any time in the past. So it's especially good to know with the CC 2015 release being out, where all CC app trial periods were reset anew.
Special: Legally download dozens of free Adobe books for a limited time!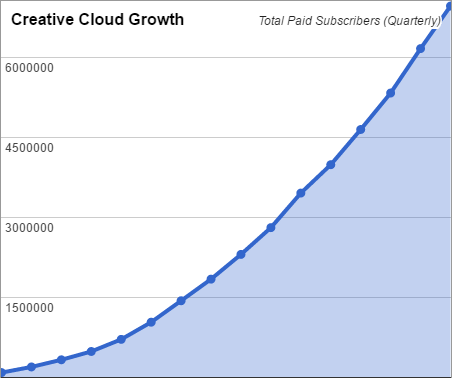 Note that all CC 2015 trials are fully functional and can run side-by-side on your system with older CS versions, without interference. The Windows or Mac OS downloads can also be installed on multiple computers if desired – and easily converted to full versions without having to reinstall the software.
No license key, serial number, or credit card is needed to download or run the initial free trials. And importantly, even after the final expiration of any free trial period, you can still keep and maintain the free level of Creative Cloud membership with permanent benefits for life, at no cost.
Addendum: The strategy described above is also helpful if you buy a perpetually-licensed product and a new version comes out within this time window, then you can simply trade what you have and get the next release instead…  So for example, customers who bought Acrobat XI right before Acrobat DC came out were able to easily return it for a refund and get the new version instead (or the Creative Cloud, which always includes it) – meaning there's some "insurance" (or a grace period) for a free upgrade, which is a nice side benefit – so long as you're aware of it.
See Also

Keep up with the latest on Adobe software — follow us on Facebook or Twitter, or subscribe to our RSS feed… You can also enter your email and have new articles sent directly to your Inbox. We are reader-supported; when you buy through links on our site, we may earn an affiliate commission.