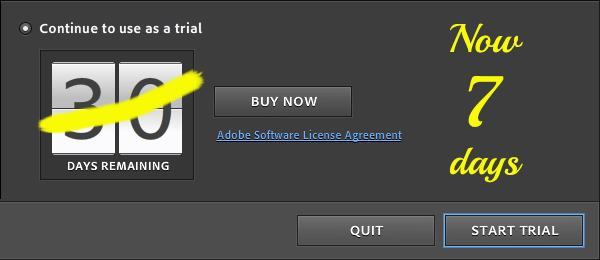 After decades of 30-day free trials for its flagship creative applications such as Photoshop, Illustrator, InDesign, and all the others, today Adobe announced that going forward, the length of the trial period for Creative Cloud (i.e., the CC desktop apps) will be standardized worldwide at 7 days.
The company has been running some tests over the past couple months, and says the changes better align with how individuals are actually using the trial software – meaning the degree and duration of time they use them the most after initial installation. By moving to seven days, Adobe feels they can follow up better with the customer when the experience is freshest than if it happened a month later. It also gives users greater incentive to bump up the priority of the new software evaluations. Given the accelerating pace of change in technology (and pretty much everything else moving faster these days), these findings aren't entirely surprising.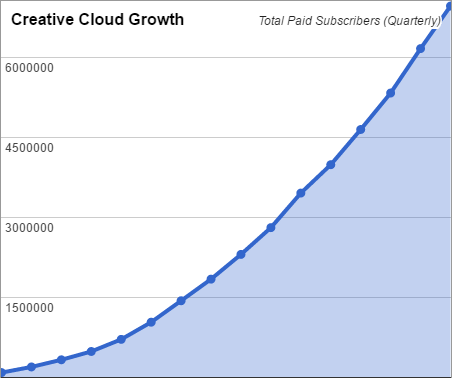 The other big reason is because long trial periods are somewhat a holdover from the old days where purchasing Adobe software was a huge upfront cost and major investment… Adobe CS6 (released in 2012) used to cost many hundreds or often thousands of dollars to purchase. Now, by contrast, after your free first week, CC offers monthly or annual subscription plans for as little as US$9.99 a month (for Photoshop & Lightroom), with ongoing upgrades included.
Special: Legally download dozens of free Adobe books for a limited time!
It may also be that too many people were taking repeated month-long free trials without paying for the software. Adobe suggests the primary goal of a free trial is to confirm that the software works on your computer.
Nevertheless, you can actually use the products for up to 21 days and still get a full refund. Additionally, a free 14-day trial of the Creative Cloud for Teams plan (even if just for a single user) is available with no credit card required.
Regardless, even after the final expiration of any free trial period, you can continue to keep and maintain the free level of Creative Cloud membership with permanent benefits for life, at no cost.
See Adobe's full announcement here.
If you want to get started today (and at least for the next full week!) with the latest Creative Cloud desktop tools, check out the download links here. All of the CC trials are fully functional and can run side-by-side on your system with any older CS versions, without interference. The Windows or Mac OS downloads can also be installed on multiple computers if desired – and easily converted to full versions at any time, without having to reinstall the software.
Please pass this news along and spread the word!
See Also

Keep up with the latest on Adobe software — follow us on Facebook or Twitter, or subscribe to our RSS feed… You can also enter your email and have new articles sent directly to your Inbox. We are reader-supported; when you buy through links on our site, we may earn an affiliate commission.