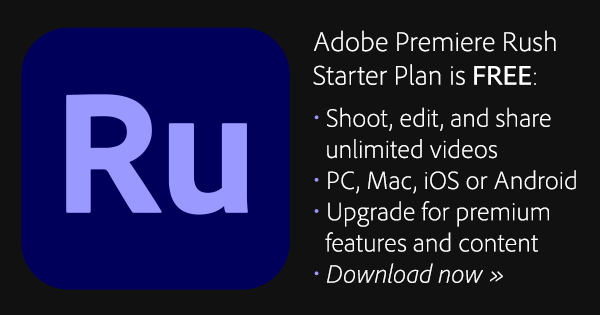 Premiere Rush is the mobile and desktop video editing app for creativity on the go. It's Adobe's all-in-one tool to quickly create HD and 4K videos across devices, and share on social media and beyond. It's a terrific new addition to Creative Cloud as the intuitive, easy-to-use younger sibling of Premiere Pro – but the best part is, it's a completely free download with no cost to get started!
Wait, what? Premiere Rush is free?
The Starter Plan for Premiere Rush is free and available for everyone worldwide. This includes the Rush desktop and mobile apps – you can use either or both. The free version gives you access to Rush on desktop plus the highly-rated Rush mobile apps, both with most features and content enabled.
This free plan is available to everyone with a free Creative Cloud membership and includes Premiere Rush, 2 GB of cloud storage, a library of royalty-free audio, fully-customizable animated titles, and unlimited free video exports on both mobile and desktop. Get the Starter Plan for Rush here:
No credit card is required to access and download the free version of Rush. All that you need is a free Adobe ID, if you don't already have one. Just download it at no charge and start making as many videos as you want.
What can Premiere Rush do?
Premiere Rush is the first all-in-one, cross-device app for creating and sharing online videos – fast. You can edit, adjust color, fix audio, add titles, and more with simple-to-use tools, customizable motion graphics templates, and integration with Adobe Stock – including over 75,000 free Stock videos. Save or share your final creations to your favorite social channels right from the app.
So wherever you are, on your phone, tablet, or computer, you can create and share high-quality videos.
So how is the free Rush different from the paid plans? Are there limitations?
The free Starter plan allows you to download and use Premiere Rush on desktop, Apple iOS, and Android devices. With this plan, you can shoot, edit, and share unlimited videos on mobile or desktop, with no watermarks.
Rush on mobile has the same features and capabilities as Rush on the desktop, plus the ability to capture videos and photos right from within the Rush mobile app. The free Starter plan has slightly reduced functionality, as features like the Advanced Audio tools, Auto Reframe, exporting in 4K, Advanced sharing, and extra content (hundreds of animated titles, loops, overlays, graphics, sound­tracks, and sound effects) are available only with premium or paid plans.
Lastly, project syncing between mobile and desktop is not available with the free Starter Plan, so your Rush projects will remain where you start them.
So Rush is a "freemium" model. See a comparison chart of the differences between all plans offered.
What is an export? How many do I get for free?
An export is the way a Rush project becomes a video that can be saved or shared. Any time that you want to save a video you've created in Rush on your computer or mobile device, or share it to social media, you must export it first. With the Starter plan, you can export unlimited projects with Premiere Rush on both mobile and desktop.
There used to be a three-export limit for the Starter Plan on desktop; however, as of November 2021 and the release of Rush version 2, Adobe now allows you to export unlimited videos on desktop for free.
On both desktop and mobile, videos created using Rush's premium features or content require a paid plan in order to export.
Is the free Premiere Rush time-limited? Is it a trial?
No, once you download and install Premiere Rush on your computer or device(s), there is no expiration date or time limitation. Adobe intends to continue offering this free plan going forward.
If needed, you can upgrade at any time from the Starter Plan to a paid plan, without losing any work. You can also open Rush projects in Premiere Pro to take them even further.
How do I get the free Premiere Rush plan?
All you need is a standard Adobe ID, which is just a few fields to fill out and free to sign up. Alternatively, you can sign in using your Google, Facebook, or Apple credentials. Then download Premiere Rush on desktop and/or mobile at no cost, and get going right away.
For the desktop version, you'll need a computer that meets Adobe's minimum system requirements for Rush… This means macOS 10.14 ("Mojave") or later, or Windows 10 64-bit version 1903 or later (note Windows 7 is not supported). Rush is currently available in English, French, German, Japanese, Korean, and at least ten other languages.
Does anything else come with the free Premiere Rush tier?
Yes, you also get 2GB of free cloud storage. In addition, the Rush Starter tier is part of the free level of Creative Cloud membership, which also includes free Adobe Fonts (over 1,000 to choose from), Adobe Bridge at no cost, over 3,000 free design assets in Creative Cloud Libraries, the free version of Adobe XD, the starter version of Adobe Express, access to over 1,000,000 free Stock photos, and much more.
Can I use the free version of Rush for commercial purposes?
Yes, you can use any version of Rush (starter, premium, desktop or mobile) to produce videos for commercial use – e.g., monetized via YouTube, promoting your business, sales and marketing, etc.
How do I get started and learn Premiere Rush?
For starters, check out the excellent free training content on Creative Cloud Learn. That should get you rolling with Rush, as it's a breeze to learn.
What premium/paid plans are available?
If you wish, you can upgrade from the free plan to a premium or paid plan. Upgrading to a paid plan gives you access to all premium features and content.
You can choose from these different plan options:
How much do these plans cost? Compare video editing plans and pricing here.
Is Premiere Rush included in the Creative Cloud Photography plan?
It depends. Adobe removed Spark premium from the Photography and Lightroom plans on October 26th, 2021 – and for all subscribers as of that date, the company added premium access to Premiere Rush and Photo­shop Express to replace it.
However, the full version of Premiere Rush is not ordinarily included in the Photography plan; it's just that existing subscribers were "grandfathered in" to gain access to it… Thus, new subscribers to the Photo­graphy plan will get the Starter version of Rush instead.
So the answer to the question is yes, Rush is included with the Photography plan – but which version of Rush you get (starter or premium) depends on whether you were a subscriber to Photo­graphy before October 26th, 2021.
Note: All Photography plan subscribers also now receive the Starter version of Adobe Express, which is the new product that evolved from Adobe Spark. However, older Photography subscribers who previously had access to Spark Premium may request that Adobe reinstate Express Premium in their plans at no extra cost.
Adobe sums it up
Use Premiere Rush to create videos anywhere. Shoot, edit, and share videos with this free all-in-one video editing app for mobile and desktop: Easy editing with an intuitive interface, simple timeline, customizable titles, powerful audio controls, one-click share to social, and available cross-device.

Premiere Rush is available for free as a Starter plan, with paid plans also offered. Visit the compare plans page to see the different plan options.
Premiere Rush intro and overview videos
See Also

Do you have any questions about Premiere Rush? Just ask below and we'll get you answers fast!
Keep up with the latest on Adobe software — follow us on Facebook or Twitter, or subscribe to our RSS feed… You can also enter your email and have new articles sent directly to your Inbox. We are reader-supported; when you buy through links on our site, we may earn an affiliate commission.