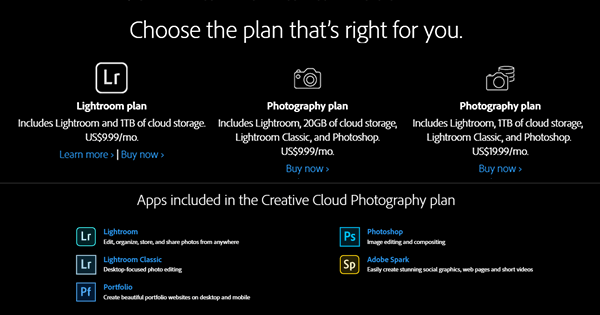 This morning, there was a widely-shared post on a photography blog with a headline stating that Adobe's $9.99/month Photography Plan (including Photoshop, Lightroom, and 20 GB of storage) was gone.
This has led a lot of folks to worry that it might no longer possible to buy or renew this popular bundle at a price lower than $19.99/month. Or, that they'd have to scramble to find a third-party reseller who might still be offering the lower price.
Fortunately, this is not the case. Adobe says they are currently running some tests, is all – so that not all product configurations may be shown on their website for all visitors:
Q: I see that the Creative Cloud Photography Plan (20GB, $9.99) is not available on Adobe.com. What is happening?

"From time to time, we run tests on Adobe.com which cover a range of items, including plan options that may or may not be presented to all visitors to Adobe.com. We are currently running a number of tests in the US."

Q: Is this plan still available for purchase?

"Yes, the plan is still available for purchase from Adobe during this test."

Q: Does this mean that (Product name: Lightroom Classic / Photoshop / Lightroom) is no longer available?

"This test has no impact on the availability of any desktop application. The Lightroom Classic, Lightroom, and Photoshop desktop apps all continue to be available."
You can read more of the Q&A here.
So although it might be a bit confusing, the bottom line takeaway is that the longstanding $9.99/month Photography Plan (with the 20 GB storage tier) is actually still available for purchase or renewal, directly from the company:

With the US$9.99/£9.98/€11,99/A$14.94 per month CC Photography Plan, you get the latest versions of Lightroom, Lightroom Classic, and Photoshop. Here's a list of everything included:
Interestingly, Adobe's current testing activities aren't necessarily a price hike, but rather a package bundling of the 1 TB storage upgrade (which normally costs $9.99 per terabyte) together with the longtime $9.99 Photography plan (20 GB with Photoshop and both Lightrooms)… Add the two together and you get to $20/month. But again, the $10/mo. option is still offered.
Trying to buy from a reseller may be another possible option, but often their software support and return/refund policies are significantly less than what Adobe provides directly.
See Also

Do you have any questions about Creative Cloud? Just ask them below and we'll get you answers fast!
Keep up with the latest on Adobe software — follow us on Facebook or Twitter, or subscribe to our RSS feed… You can also enter your email and have new articles sent directly to your Inbox. We are reader-supported; when you buy through links on our site, we may earn an affiliate commission.