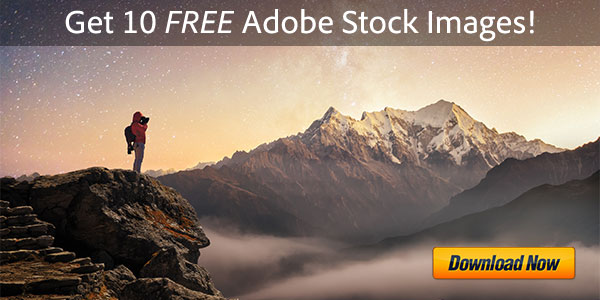 Here Only! Save 20% on the Adobe CC Photography Plan, Worldwide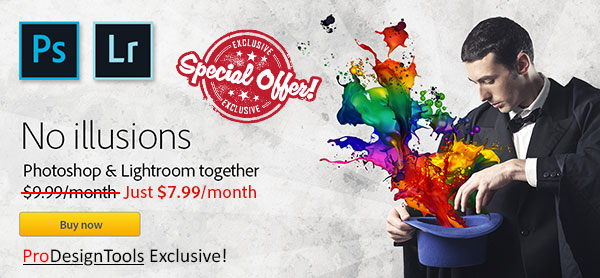 U

PDATE
– This special one-time promotional offer has ended. Please join through one of the current CC membership plans:
— See Latest Offers »
— Try for Free »
____________________
We've got a terrific new deal for you, one that is only available here to readers of ProDesignTools… For a limited time and while our allocation lasts, you can get an annual membership to the CC Photography plan – which includes the latest-and-greatest releases of both Photoshop CC and Lightroom CC – for 20% off the regular price worldwide. That works out to just US$7.99, £5.71, €7.99, or A$7.99 per month (plus applicable taxes or VAT) in several major currencies.
This is the best price ever offered on the full Photoshop! To take advantage of this savings, you must sign up with this special link. This promotion is available in all countries where Creative Cloud is sold direct from Adobe, with no previous purchase or software ownership required. It is an introductory offer good for your first year, after which the price shifts to the regular ongoing rate (currently US$9.99 a month). The 12-month discount offer ends November 28, 2015.
Special: Legally download dozens of free Adobe books for a limited time!
What Does It Include?
The Creative Cloud Photography Bundle comes with complete desktop releases of both Photoshop CC 2015 and Lightroom CC 2015, plus other integrated tools and services. It includes all of the following components now for only US$7.99/month with an annual membership:
See more of what's included with the CC Photography plan here.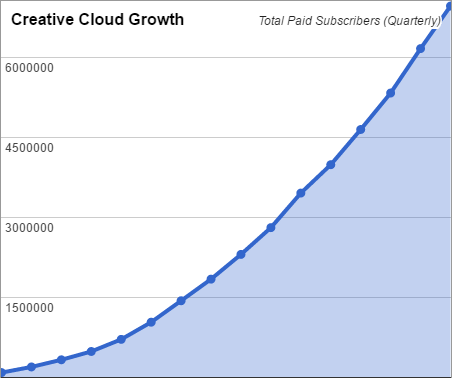 What's this package worth? Well by comparison, the list price of Photoshop Extended just by itself (quoting CS6 from 2012) is $999 – although many new features have been added since then. And then Adobe Lightroom 6 (standalone full) sells for $149. But with the CC plan you also get the Portfolio website, online storage, mobile/web apps, and product training. Add it all up, and to buy a software bundle like this upfront would cost over US$1,250 for static versions that never improve. That would be over a decade of subscribing to this special plan instead, but here you'll also receive ongoing support and upgrades to new desktop releases with the latest features!
So if you'd like to have those industry-leading professional imaging tools plus other benefits at a low monthly cost, and don't want or need the Complete Creative Cloud, then this is a great package. Offer time and quantities are limited, so don't miss out!

For students and teachers there's another way to save – Adobe is offering Complete Creative Cloud memberships with all their creative tools and services for up to 70% off to education customers (beginning at $19.99 a month in the US) plus two months free, also with no prior software ownership necessary.
Want to get started today, for free? You can download the CC 2015 trials which will install and run fully-functional for 30+ days. Those free trials can then convert to full versions if you decide to sign up. If you don't wish to continue once the trial is up, simply uninstall the programs.
Then once you have the CC software installed on your computer (either trial or purchase), just follow this free 11-step tutorial series to learn how to best import, organize, and edit your photos with confidence.
Wondering about file compatibility with older versions of Photoshop? Check out:
» Can You Save/Open Adobe CC Files on CS6, CS5, CS4 & CS3, and Vice Versa?
See Also

Do you have any questions about this special offer? Just ask them below and we'll get you answers fast!
Keep up with the latest on Adobe software — follow us on Facebook or Twitter, or subscribe to our RSS feed… You can also enter your email and have new articles sent directly to your inbox.
Share This
GET FREE ADOBE BOOKS
Sign up for our popular newsletter and we'll send you 30 great ebooks to learn all major Adobe tools at no cost!