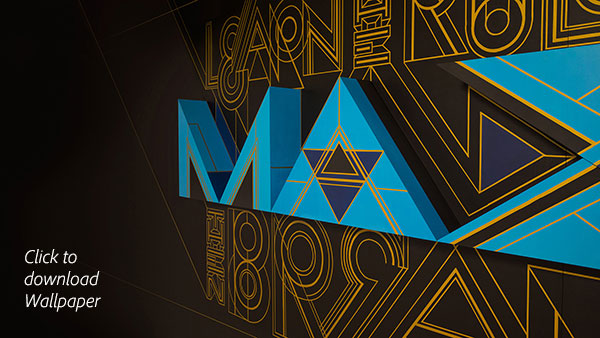 [UPDATE (Oct. 2022) – Watch over 200 new courses & tutorials from MAX 2022 – free!]
Did you make it to MAX this year? Adobe's Creativity Conference broke all records with 7,000 attendees coming together in Los Angeles earlier this month, up from 5,000 just a couple years ago… And that was despite an increase in the cost of a full conference pass to US$1,595.
For the price of that ticket, participants enjoyed major new product launches, inspirational key­notes from creative luminaries, hundreds of enriching training sessions, plentiful opportunities for networking with colleagues, access to the latest cool technology on the pavilion floor, meeting the Adobe product teams in person, the highly-anticipated "Sneak Peek" demos of jaw-dropping new features under development, and of course the famous MAX Bash party. And this year, all attendees also received a free year of Adobe Stock as well as a new FUJIFILM X-T10 camera.
But if you didn't make it, no worries – believe it or not, you can still tap into many of the best resources from the comfort of your own laptop, tablet, or phone!
The great news is that most of the courses were recorded on video and are now offered online – for free… In other words, pick your favorite Adobe tools and you can learn the latest tips, tricks and techniques from the best instructors in the field right from your desktop. There are six major tracks below (Creative Careers, Photography & Creative Imaging, Web & App Design, Digital Publishing, Graphic Design & Illustration, and Video) with many different topics; most classes are about an hour long and the complete collection of 173 videos runs to over 200 hours of training in total.
Special: Legally download dozens of free Adobe books for a limited time!

Experience the Creativity Conference – online. Adobe MAX gathers designers, developers, industry pros and visionaries to explore the latest technologies, techniques and strategies for delivering cutting edge creative work… Now available on-demand.
One really cool feature is you can download any of these presentations for later viewing offline on your computer… While watching your video online, just right-click on the playing window and select "Save video as…", and then specify a location to save the video locally to your hard drive. The video will be downloaded in H.264 format with a .MP4 file extension, and can then be played back with almost any media player without an Internet connection, or transferred to a smartphone/iPhone or tablet/iPad for anywhere-anytime viewing.
So if you couldn't make it to L.A. this year, or didn't have the $1,595 to needed to attend, didn't win our MAX ticket giveaway, or weren't able to catch everything you wanted there, then here are all the best new training and tutorials direct from the show, now free to watch… Totaling 201 hours in duration, that's 25 eight-hour days worth of content (for real) with unlimited access – exciting enough to keep you busy for a while!
The entire directory to all 173 recorded sessions is given below. What's more, you can already preregister at no cost to get a $500 discount savings on the next MAX conference, plus see how you can fly there for free!
MAX 2015 – Keynotes
Create with Impact – Welcome from Shantanu Narayen and Bryan Lamkin
Create with Impact – CreativeSync
Create with Impact – Graphic Design
Create with Impact – Web/UX Design
Create with Impact – Video
Create with Impact – Photography
Community Inspires Creativity – Welcome and Maira Kalman
Community Inspires Creativity – Brandon Stanton
Community Inspires Creativity – Elle Luna
Community Inspires Creativity – Baz Luhrmann
MAX 2015 – Creative Careers
3D Printing for Hollywood and Beyond
Adventures in Book Publishing
Change Leadership: An Adapt or Die Bootcamp for Creative Teams
Creating a Bulletproof Personal Brand to Stand Out from the Competition
Creating Unimaginable 3D Printed Art and Architecture
Creative Effectiveness in Latin America
The Stunning World of 6K: Creating Powerful Imagery Using RED Cameras
Learn from the Best: Meet Face Off Winner Rayce Bird and Compete for Prizes
Rethinking Your Career: The New Rules You Need to Know
Success Tips from the Top: How to Pursue your Dreams and Succeed
The Crazy Ones: How to Build a World-Class Career
The New Rules for Getting Creative Work Done
Future-Proofing Your Design Team: Three Lessons from an Overnight Rebrand
MAX 2015 – Digital Publishing
Advanced Workflow Possibilities with the Adobe DPS APIs
An EPUB That Goes with the Flow
Creating Content for Mobile Apps with Adobe Digital Publishing Solution
Designing Fixed Layout EPUBs with InDesign CC
Designing Killer Mobile App Experiences
DPS Sneaks!
Gotta Have It: Making the Move to Adobe DPS 2015
How to Smartly Utilize HTML in Adobe Digital Publishing Solution
Making the Leap to Adobe DPS 2015
Move It or Lose It: Interactivity Techniques, Tips and Tricks for Adobe DPS
No Code Required: Using Designer-Focused HTML Tools with Adobe DPS
Optimizing Your Interactive HTML Content for Adobe DPS
Panel: Driving Real-World Results with DPS
Proving Your App's Impact with Analytics
Pushing Mobile Boundaries with DPS
The Art of Mobile Apps: Handing Control to the Creatives
Using Collections for Navigation in Adobe DPS
MAX 2015 – Graphic Design & Illustration
25 Golden Tips, Tricks, Triumphs and Threats
Adobe Illustrator CC: Work Happy, Not Hard
Adobe InDesign CC Power Shortcuts
Beyond Infographics: The Future of Visual Communications
Color and Creative Cloud: From Instant Capture to Final Production
Creative Cloud for Designers: Everything You Need to Create Your Best Work
Creative Perseverance: Beyond the Payday
Do What I Say, Not What I Do
Evolving at the Speed of the Web
Exploring Your Creativity in InDesign CC
Express Yourself: Let's Talk About Type
From Bold Concepts to Fine Details with DKNG
How to Use Type to Seduce Your Reader
I Didn't Know Acrobat Could Do That
Illustrator CC: Don't Just Build…Draw!
InDesign CC: Tips and Tricks
Introduction to InDesign Animations
Just My Type: Commissioning Custom Typefaces
Mind the Gap: Becoming a Better Designer by Owning Your Blind Spots
You're Not the Boss of Me!
New Adobe Tools to Create a Killer Personal Website
You Do You: Everything Else Is Secondary
New Ways to Create with the Illustrator Family of Apps
Photoshop Shortcuts for Graphic Designers
Powering the Creative Cloud Ecosystem with the Adobe Creative SDK
Publish Online: Effortlessly Publish and Distribute InDesign CC Documents
Subtlety is Everything
Succeeding with Creativity in the Enterprise
The Delectable Design and Elegant Craftsmanship of Louise Fili
The Hidden Talents of Everyday Things
The Journey, Not the Destination
The Myth of the Dream Job
The New Design Workflow with Creative Cloud
The Very Real Power of the Connected Creative
Typography in the Leading Role: Creating a Type-Based Poster in Illustrator
What Print Designers Need to Know About Designing for Web
What's New in Illustrator CC
What's New in InDesign CC
MAX 2015 – Photography & Creative Imaging
Adobe Photoshop CC: Productivity Tips, Better Workflows and Fun
Awesome Retouching for the Rest of Us
Beyond Megapixels: Taking, Transferring and Tweaking Photos from Any Camera
Compositing and Digitally Coloring Handmade and Tablet-Drawn Elements
Compositing and Graphic Art
Create and Animate 3D Characters in Minutes
Creating a Successful Stock Photo Business
Creating Amazing Panoramas and HDR Images
Creating Beautiful Visual Stories
Creating Impossible Worlds
Creating Photo Real Characters and Creature Concepts in Photoshop
Creating Powerful Black-and-White Images
Creativity Wherever You Are
Enhance, Perfect and Share your Photos – Anywhere
Getting Started in 3D Printing with Photoshop CC
Using the Lightroom Develop Module to Reinforce the Visual Narrative
Igniting the Creative Spark
Lightroom for New Users
Optimizing Your Photographic Workflow
Photoshop Beginner's Roadmap: Learn the Essential Tools to Start Your Creative Journey
Photoshop CC Layer and Mask Fundamentals
Photoshop CC – Advanced Tips and Techniques
Photoshop for Photographers: When and How to Go Beyond Lightroom and ACR
What's New in Photoshop CC
Photoshop Goes to the Movies: How to Easily Create and Edit Stunning Videos in Photoshop
Photoshop in Agency Work: Making Images Work for Campaigns
Six Things Every Designer Should be Doing in Photoshop CC Right Now
Tips and Techniques for Creating Impressive Effects with Photoshop
Tips from the Photoshop Playbook
Tricks for Creating the Image to Tell your Story
Unveiling Photoshop Fix
How to Work Creatively with 3D in Photoshop
MAX 2015 – Video
Audio Is Half the Picture: Getting Great Mixes with Premiere Pro CC and Audition CC
Avoiding the Mistakes: Nine Errors in Production and Post-production
Work Faster, Be More Creative: Advanced Editing Techniques in Adobe Premiere Pro
Channel Your Inner Geppetto! Bringing Puppets to Life with Character Animator
Color Catastrophe: Fixing Common Color Problems with Adobe Premiere Pro
Color Tells a Story: Defeating Your Brain, Evaluating Shots and Making Great Grades
Voice Processing Tips and Tricks (with Adobe Audition CC)
Creating Music. Creating Video. Bringing It Together with Creative Cloud.
Entering 3D: After Effects and Cinema 4D
Exploding Your Social Media Channel with Video
From Sharks to Superheros: A Day in the Life of a Hollywood Editor
Going Mobile: How Adobe Apps Help You in Preproduction, Production and Post
More Pop, Less Static: Using After Effects to Make Presentations Pop
RocketJump: Tales of a YouTube Sensation
Power Tips in Post: Getting the Most out of the Video Tools in Creative Cloud
Video Compression in a Post YouTube World
Thousands of Frames: Video Color-correction Strategies for Photographers
Reinventing the Corporate Interview: Killer Tips for Loving the Task
On The Cheap! Getting That Big Interview on a Shoestring Budget
MAX 2015 – Web & App Design
13 Mistakes Designers Make During Client Presentations
Adobe Muse 101: Building a Website from Scratch
Adobe Muse Power User Tips and Tricks
Animating Nickelodeon's riDUCKulously awesome series Breadwinners with Flash CC
Animating SVG with Flash Professional CC
Animating with Fresh Styles: Techniques for TV with Flash Professional CC
Atomic Design: Crafting Interface Design Systems
Banish Your Inner Critic: How to Unblock Your Creativity
Beyond Measure
Beyond Pixels: Responsive Assets for the Modern Web
Crafting Delightful Products: Lessons From a Creative Collective
Crafting Interactivity: Improving User Experience
CSS3 and HTML for Responsive Web Design
Design Space (Preview): A New Photoshop Environment for Web, UI and App Design
Designing Better App Icons with Photoshop
Designing for Generation Z: How Kids are Rewriting the Rules of Their Own User Experiences
Designing Tools at Adobe: Make, Learn, Build
Designing with Beautiful Typography in Adobe Muse
Dismantling Your Responsive Web Design Workflow and Living to Tell the Story
Expand Your Creative Workflows in Dreamweaver with Assets from Photoshop & Illustrator
Five Ways to Master Responsive Design
Giving Flash Professional Another Look
How to Build, Preview and Inspect Web Content Across Multiple Devices
Integrating Blogs, Shopping Carts and More in Adobe Muse
Make It Happen
Making Rich Web Experiences
Making the Digital Physical with Material Design
Mobile App Redesign Case Study – Target Corporation
Modern iPhone App Design: Basic Practices and Modern Techniques
Must Have Mobile: Critical Tips for Small-Screen Design with Adobe Muse
Photoshop Shortcuts for Web and App Design
Practicing Iteration: Why a Designer's Job is Never Done
Responsive Design: From Photoshop to Dreamweaver to Everywhere Else
Seven Things Every Designer Should Be Doing Right Now
Style Tiles: The Visual Voice of Your Brand
Susan Kare's Iconic Life: Learnings from a Pioneer of Pixel Art
The Analog Desk
The Future Is Now: HTML5 Advertising with Flash Professional CC
The Path to Performance
The Pattern Library as a Web Design Tool
Typography on the Web
Website Innovation with Global Newspaper Le Monde
What's New in Dreamweaver CC
What's New in Flash Professional CC, the Animation Tool of the Future
Free Stock! Download 1,000,000+ premium assets from the new Adobe Stock Free Collection
See Also

Keep up with the latest on Adobe software — follow us on Facebook or Twitter, or subscribe to our RSS feed… You can also enter your email and have new articles sent directly to your Inbox. We are reader-supported; when you buy through links on our site, we may earn an affiliate commission.