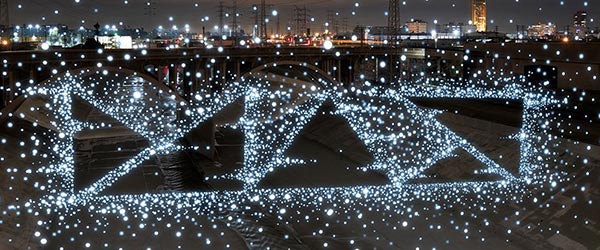 [UPDATE (Oct. 2022) – Watch over 200 new courses & tutorials from MAX 2022 – free!]
Did you make it to MAX this year? Adobe's Creativity Conference once again broke records with 14,000 attendees coming together in Los Angeles last week, a full doubling from 7,000 only 3 years ago… In fact, it was the largest gathering of talented creative professionals that there has ever been in one room, anytime in history!
Those who were there enjoyed major new product launches, inspirational key­notes from creative luminaries, hundreds of enriching training sessions, countless opportunities for networking with colleagues, access to the latest cool technology on the Pavilion floor, meeting the Adobe product teams in person, and the always-mind-blowing "Sneak Peek" demos of amazing new features under development.
But if you didn't make it, no worries – believe it or not, you can still tap into many of the best resources from the comfort of your own laptop, tablet, or phone!
The great news is that some of the courses were recorded on video and are now offered online – for free… In other words, pick your favorite Adobe tools and you can learn the latest tips, tricks and techniques from the best instructors in the field right from your desktop.
In addition to the Keynotes, there are five major tracks below (Creative Careers … Graphic, Web & UX Design … Illustration & Creative Imaging … Photography … and Video) covering numerous different topics, with significant overlap between categories. The classes average about one hour long, and the complete collection of 123 videos runs to about 132 hours of training all together.
Special: Legally download dozens of free Adobe books for a limited time!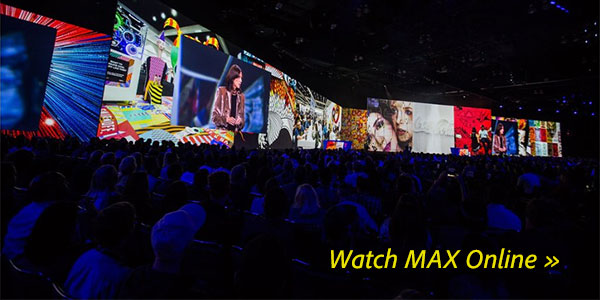 Experience the Creativity Conference – online. Adobe MAX gathers designers, developers, industry pros and visionaries to explore the latest technologies, techniques and strategies for delivering cutting edge creative work… Now available on-demand.
So if you couldn't make it to California this year, or didn't have the $1,595 entrance fee, didn't win our MAX ticket giveaway, or weren't able to catch everything you wanted there, then here are all the best new training and tutorials direct from the show, now free to watch… Totaling 132 hours in duration, that's over 16 eight-hour days worth of content (for real) with unlimited access – exciting enough to keep you busy for a while!
The entire directory to all 123 recorded sessions is given below. Next year, MAX will be returning to Los Angeles, California, on November 4–6, 2019 – and already you can save $500 by preregis­tering here (with no financial obligation or commitment).
MAX 2018 – Day One Keynotes
The Next Generation of Creativity – Welcome
The Next Generation of Creativity – Creative Cloud Updates
The Next Generation of Creativity – Experience Design
The Next Generation of Creativity – Photoshop on the iPad
The Next Generation of Creativity – Project Gemini
The Next Generation of Creativity – Photography
The Next Generation of Creativity – Video
The Next Generation of Creativity – Creative Cloud Update…
The Next Generation of Creativity – Augmented Reality
MAX 2018 – Day Two Keynotes
Community Inspires Creativity – Nicola Scott
Community Inspires Creativity – Albert Watson
Community Inspires Creativity – Questlove & Lilly Singh
Community Inspires Creativity – Ron Howard
MAX 2018 – Creative Careers
99% Invisible: Live
Building Connected Brands to Transform Businesses and Move Culture
Evolution of Work: How to Put Design at the Forefront of Company Culture
Finding Yourself, Over and Over Again
From A to Z: The Future of Creativity
Getting Sh*t Done (GSD) with Acrobat DC
Hack Your Creativity: Banish Your Inner Critic!
Hiring Next Gen Creators: Who They Are and What They're Creating
How Machine Learning Impacts the Products We Design and How We Design Them
How to Talk So Clients Will Listen and to Listen So Designers Will Talk
Love for the Uncertain: How Designers Wield Ambiguity
Making a Case for a Kinder, More Joyful, Heart-Centered Leadership Approach
Making Reviews a Slam Dunk at the Sacramento Kings
Marketing Your Side Hustle with Adobe Spark
Nordstrom: Connecting Creative and Marketing Teams for Better Results
Pull Up a Chair: How Creatives Can Take Their Place at the Strategic Table
Scaling Up: Lessons from Stitch Fix on Nailing Creative Delivery
Small Studio, Big Work — How to Collaborate to Spark Creativity
Talking About Feelings: Personal Work for Fun (!) and Profit (?)
The Designer-Founder: How Creatives Can Be Savvier Entrepreneurs
The Future of Mentorship: Hyperlocal, Mobile, and Real Time
The Future of Work: Trends That Will Impact Your Business and Career
The Gig Economy Is Getting "Gigger" by the Minute
The Top 10 Traits of the Best Creative Directors
What Nobody Told You About Making the Jump to Creative Director
Wise, Woke, Well: Designing a More Enlightened Way of Working
MAX 2018 – Graphic, Web, & UX Design
3DHope: Interdisciplinary STEAM Design for Accessibility and Social Impact
A Roadmap for Smart Device Experience Design Using Adobe XD
Adobe InDesign Jump Start
Adobe InDesign CC Deep Dive
Adobe Spark in the Classroom: Inject Creativity into Curricular Objectives
Adobe Spark: Your Secret Weapon for Designing Social Media Content
Aesthetics + Computation: When Design Goes Retro
Augmented Reality: The World Is Your Canvas
Can't Trust This: How UX Design Makes a More Trustable Internet of Things
Creating Products for Gen Z
Creating Stunning UI Experiences on Samsung Wearable & Mobile Devices
Creative Cloud Libraries and Bridge CC: Looking Back, Moving Forward
Defining Your Design Journey
Design Automation with Adobe InDesign
Design Systems Demystified
Design: Controlled Chaos
Designing a New Future for Your Brand
Designing for Humanity
Designing for the Real World in Augmented Reality
Designing Voice User Experiences – A Look at Headspace
Dreamweaver 101: Building the Best Sites for Any Browser or Device
Erik Spiekermann: Post-Digital Letterpress
Getting Started with XD Plugins
InDesign Power Shortcuts
Making Your Personal Story Pop with Creative Cloud
New Game, New Rules, New Toys: Escapades in Digital Printing
Prototyping UI Animation with Adobe XD
Solving Design Collaboration with Adobe XD
Supercharging Your Design Process with Illustrator CC
That's the Best Wireframe I've Ever Heard!
The Future of Experience Design: Beyond the Screen
The Future of Typography
The New Digital Workflow for Design Teams: The 3D Revolution
Typography Dilemma: Choosing Between Custom, Modified, and Library Type
Variable Fonts: The New Frontier
What's New in Adobe Animate
What's New in Adobe Dimension: A Designer's Journey into the World of 3D
What's New in InDesign CC
MAX 2018 – Illustration & Creative Imaging
Adobe Illustrator for Beginners
Adobe Illustrator Pro Tips and Techniques
Breaking Down the Perfect Composite
Creative Illustration: Techniques to Create Vibrant, Unique Portraits
From the Street to the Bank with Urban Artist Scape Martinez
Improvising with Adobe Illustrator
Into the Spider-Verse: The Making of Animated Spider-Man
Mapping Your Way to Total World Domination
Movie Poster Magic: How to Create Winning Looks
Photoshop Brush Magic
Reimagining Stock as a Creative Weapon
Russell Brown's Creativity Power Hour
What's New in Illustrator CC
MAX 2018 – Photography
A Photo Is Worth More than 1,000 Words
Advanced Lightroom Tips and Tricks
Breaking Bad…Photoshop Habits
Creating and Capturing Better Portraits
How to Create Sellable Stock Content
Making Photoshop Selections Work for You
Photography Essentials for Improving Your Photos
Photography for Social Media
Photoshop CC: Advanced Tips and Tricks
The Power of Mobile Photography—Tips for Great Photos with Your Phone
What's New In Photoshop CC
MAX 2018 – Video
Adobe Premiere Pro Power Tips to Become a Power User
Adobe Premiere Pro Tips and Tricks from a Hollywood Pro
After Effects Power Tips to Become a Power User
Audio Essentials: Things You Need to Know to Edit Audio Like a Pro
Beyond the Basics: Masterful Editing Techniques in Premiere Pro
Bringing Imagination to Life: Evolving the Immersive Media Toolset
Broadcast-Style Graphics for Every Type of Video
Cinematography: Ready… Film, Edit, Publish
Creating Professional and Immersive AR/VR Content
Getting Started with Color in Adobe Premiere Pro
How to Animate Logos and Icons for the Web in After Effects
Making Your Type Move Easily and Fluently in After Effects and Premiere Pro
Making Your Video Presentations Pop for Business
Making Your Videos Pop for Social Media
Multishot Mayhem: HDR, Panorama, and Time-lapse
Telling a Cinematic Narrative Through Montage with Adobe Premiere Pro
The Most Important Things in After Effects You Need to Know
Turn Long-Form Content into Customized Social Media Teasers Quickly
VICE Media: Disrupt Your Content and Better Communicate with Video
Video Tips Every Beginner Should Know
VR on a Budget: Getting Started Creating Immersive Content
Your Brand on Social Media with Video
Free Stock! Download 1,000,000+ premium assets from the new Adobe Stock Free Collection
See Also

Keep up with the latest on Adobe software — follow us on Facebook or Twitter, or subscribe to our RSS feed… You can also enter your email and have new articles sent directly to your Inbox. We are reader-supported; when you buy through links on our site, we may earn an affiliate commission.