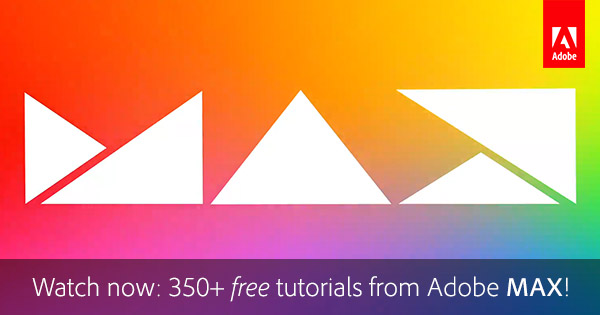 [UPDATE (Oct. 2022) – Watch over 200 new courses & tutorials from MAX 2022 – free!]
Well, MAX just wrapped up its first-ever all-virtual conference and Adobe broke all records with over half a million attendees tuning in from all over the world for three full days! But the best part is the majority of the sessions were captured on video and are being offered online – for free! In other words, pick your favorite Adobe tools and you can learn the latest tips, tricks, and techniques from the top instructors in the field from the comfort of your laptop, tablet, or phone.
That's right, you can now watch almost all of MAX on demand… With 350+ sessions and hundreds of inspiring speakers, MAX 2020 was an groundbreaking event. You can still experience this global celebration of creativity and watch the best of the tutorials, labs, and creativity workshops on demand at no cost. These recordings will only be available for a limited time, so don't miss out:
Here's our original post on the big show, and more details on the courses and content available:
Due to Covid-19, Adobe has cancelled this year's in-person MAX event and is now making MAX 2020 – the world's biggest creativity conference – a no-cost digital experience open to everyone worldwide! Sign up now for completely free MAX registration – and then tune in online on October 20-22 for a groundbreaking immersive event that stays true to the MAX spirit of mind-blowing creativity and inspiration.
The standard registration fee for the MAX conference last year was US$1,895, so this is a pretty terrific offer… This year, you can join in for three full days of luminary speakers, celebrity appear­ances, musical performances, global collaborative art projects, and 350+ sessions across 10 tracks – all at no cost.
So if you're ready for a jam-packed show with 56 hours of non-stop inspiration and learning – normally costing nearly $2,000 – then register now online, and start picking out your courses here:
"Adobe MAX is an experience unlike any other — an opportunity to learn from the experts and connect with thousands of the most influential designers, developers, and decision-makers in our industry."
This year's event will feature notable creative and celebrity speakers such as Conan O'Brien, Annie Leibovitz, Chelsea Handler, Gwyneth Paltrow, Stanley Tucci, Nick Offerman, Wes Anderson, Tyler the Creator, Ava DuVernay, Common, Miranda July, Zach Braff, and Taika Waititi; plus Keynotes, technology Sneak Peeks and presentations on the latest innovations across Creative Cloud; collaborative art projects and challenges; virtual networking opportunities for creatives across the globe; and of course, hundreds of live and on-demand learning sessions for all skill levels.
The session tracks are: 3D and AR, Business Productivity, Creativity and Design in Business, Education, Graphic Design, Illustration and Digital Painting, Photography, Social Media, UI and UX, and Video. Sessions will be offered in English with closed captioning available in English, French, German, and Japanese. Labs and workshops will be presented in English with English closed captioning.
It looks likely that Illustrator for iPad will be released, as there's a session entitled, Discovering Illustrator on the iPad: "Take your imagination to new places with new Illustrator on the iPad. See how the vector tools you rely on in Illustrator have been reimagined from the ground up to work with Apple Pencil and touch. Learn how you can create beautiful graphics, logos, and icons with Illustrator on your iPad or desktop."
All 2020 participants will also be automatically entered into a sweepstakes to win one of 10,000 free Adobe MAX T-shirts and matching masks (retail value $20).
Adobe's CEO Shantanu Narayen recently said:
"Adobe MAX, the world's largest creativity conference, will be hosted virtually in October. In addition to showcasing exciting new Creative Cloud products and services, our programming includes 56 hours of around-the-world content featuring incredible creators. We expect a record turnout and are thrilled to already have over 500,000 registrations. I hope you will attend MAX because we do intend to unveil the next generation of creative innovation there."
So what are you waiting for? Sign up now for a "uniquely-enriching and engaging digital experience, guaranteed to spark creativity from wherever you are"… In other words, get ready for the big show!
PS – In a new community initiative called "CoCreate," Adobe is hiring everyday creatives to help bring MAX 2020 to life… If you join, you'll create work that will be showcased all over MAX this year. And this gig is paid (🤑). You'll get money because it's not a design competition; it's a job posting.
The world's premiere creativity conference, MAX is an awe-inspiring mashup of over 15,000 of the world's top creatives and best in the business experts who come together to learn, share, create, connect and play. MAX offers over 300 sessions, labs and creativity workshops taught by industry leaders. It's the perfect blend of information, inspiration, practical knowledge and creative magic.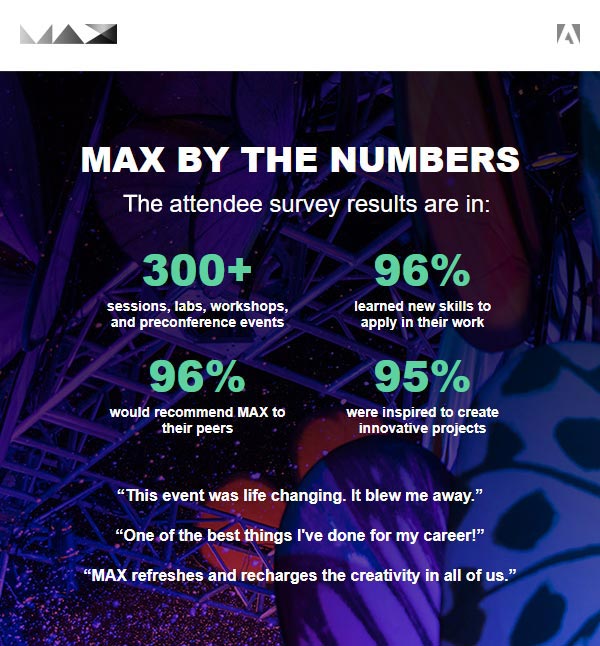 Watch the MAX 2020 Highlights and Keynote Address
Free Stock! Download 1,000,000+ premium assets from the new Adobe Stock Free Collection
See Also

Keep up with the latest on Adobe software — follow us on Facebook or Twitter, or subscribe to our RSS feed… You can also enter your email and have new articles sent directly to your Inbox. We are reader-supported; when you buy through links on our site, we may earn an affiliate commission.