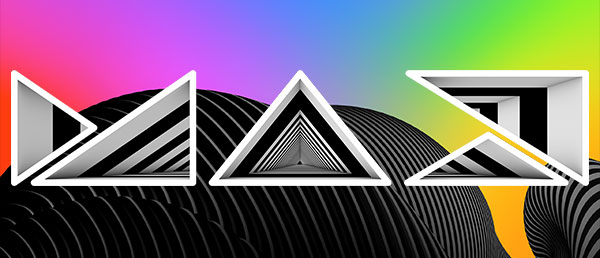 [UPDATE (Oct. 2022) – Watch over 200 new courses & tutorials from MAX 2022 – free!]
Just back from Adobe MAX 2019 and as in previous experiences, it's always the three most intense days of the year… It's wall-to-wall with larger-than-life presentations, keynotes with creative luminaries, diverse educational sessions, connecting with other leaders in the Adobe space, hands-on with the latest design tools, meeting the product teams, feeling the energy of the Pavilion floor, the buzz over mind-blowing "Sneak Peek" demos of cool new technology, and of course the fantastical MAX Bash party with 15,000 of your closest friends.
But perhaps the best part for those who weren't there is the majority of the sessions were captured on video and are now offered online – for free… In other words, pick your favorite Adobe tools and you can learn the latest tips, tricks, and techniques from the top instructors in the field from the comfort of your laptop, tablet, or phone.
In addition to the Keynote speakers, there are seven major tracks below – 3D & Immersive, Creativity & Design in Business, Drawing & Digital Painting, Graphic Design & Creative Imaging, Photography, UX & Web, and Video – covering scores of different topics, with significant overlap between categories. The classes average about one hour long, and the complete collection of 119 videos runs to about 120 hours of training all together.
Special: Legally download dozens of free Adobe books for a limited time!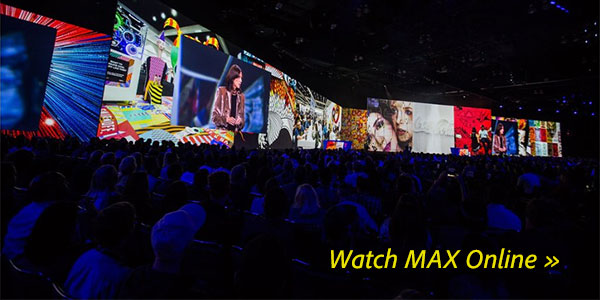 Experience the Creativity Conference – online. Adobe MAX gathers designers, developers, industry pros and visionaries to explore the latest technologies, techniques and strategies for delivering cutting edge creative work… Now available on-demand.
So if you couldn't make it to California this year, or didn't have the $1,895 registration fee, didn't win our MAX ticket giveaway, or weren't able to catch everything you wanted there, then here are all the best new training and tutorials direct from the show, now free to watch… You can search by session ID/title, presenter name, or product. Totaling over 120 hours in duration, that's 15 eight-hour days worth of content with unlimited access – exciting enough to keep you busy for a while!
The entire directory to all 119 recorded sessions is given below. Next year, MAX will be returning to Los Angeles, California, on October 19-21, 2020 – and already you can save $500-$700 by pre­regis­tering here (with no financial obligation or commitment).
MAX 2019 Sessions Now Available Online
Accelerating Your Creativity – Welcome
Accelerating Your Creativity – Creative Cloud Updates
Accelerating Your Creativity – Photoshop on the iPad
Accelerating Your Creativity – Adobe Fresco
Accelerating Your Creativity – Adobe Illustrator on iPad
Accelerating Your Creativity – Experience Design
Accelerating Your Creativity – Video
Accelerating Your Creativity – Content Authenticity
Accelerating Your Creativity – 3D & Immersive
Accelerating Your Creativity – Adobe Aero
Accelerating Your Creativity – Future of Creativity
Creativity is the Great Enabler – Welcome
Creativity is the Great Enabler – Shantell Martin
Creativity is the Great Enabler – David LaChapelle
Creativity is the Great Enabler – Billie Eilish and Takashi Murakami
Creativity is the Great Enabler – M. Night Shyamalan
Creativity is the Great Enabler – Dave Grohl
3D Painting for Designers: A 3D Artist's Process with Substance Painter
A Creator's Studio of the Future
A Sound Approach to Designing for Voice with Adobe XD
A Style of One: Finding Your Individual Voice
Adding Adobe Stock to Your Revenue Stream
Adobe Animate: Refreshed
Adobe Dimension: Enabling 2D Designers to Push the Boundaries of Creativity
Adobe Fresco Dojo: Japanese Blackbelt Illustrators Draw Live
Adobe Illustrator: New Features, Pro Tips, and Time-savers
Adobe InDesign: Pro-Level Secrets
Adobe Spark: Creating Thumb-Stopping Social Content in Minutes
Adobe XD Plugins: Supercharging Your Design Workflow
Adobe XD: Advanced Layout and Prototyping Techniques
Adobe XD: Tips, Tricks, and Techniques
Aerobatic Explorations: Getting Creative with Photoshop and Project Aero
After Effects Power Tips to Become a Power User
After Effects for Designers
After Effects for Video Editors: The Top Five Techniques You Need to Know
Animation for UX: Using Motion with Meaning in UI Design
Are We on the Same Page?
Audio Essentials: Things You Need to Know to Edit Audio Like a Pro
Automating in Photoshop: Tips for Working Faster and More Efficiently
Be the Hero: Five Ways You Can Save the Day with Fonts
Boosting Creativity In-House and Real Lessons on Creative Leadership
Brand Templating: How to Get More Output in Half the Time
Building Culture, Collaboration, and Trust Through Design
Colorist Techniques for the Video Editor
Create More. Tweak Less. Getting Back to Our Creative Core
Create Remarkable Photos with a New Retouching Workflow in Photoshop
Creating Iconic Cross-Cultural Designs for a Global Audience
Creating Photoshop Composites Wherever You Are
Creating Your Best Work: Training Your Eyes to Edit
Creating a Storytelling Composite
Creative Cloud Libraries: The Engine Accelerating Your Creative Workflow
Creative Cloud for Video: What to Use and When
Custom Type Design for Brands: The Past, Present, and Future
Design Systems and Creativity
Design in Motion: How to Enter the Field of Motion Design
Designing for Impact: Celebrating Sesame Street, the Longest Street in the World
Designing for Print: Visualizing Paper in Adobe Illustrator
Different Strokes: How Two Professional Illustrators Make Vector Magic
Exploring the Possibilities of Creative AI
From Idea to Ink with Dr. Woo
Full-time You: Designing a Dream Job Made Just for You
Hardware Solutions for Fueling Video Performance and Creativity
Healing Through Creating
How Adobe Is Building a Design System at Scale
How Design Is a Transformational Force for Business and Culture
How In-House Agencies Can Manage Volume and Velocity to Thrive in 2020
How Open Design Leads to Better Decisions and Products
How Switching to Adobe XD Transforms Digital Product and Workflow Pipelines
How to Build a Serious Career with Silly Work
How to Fuel Creativity and Collaboration
How to Increase Your Design Velocity with Adobe Spark and Creative Cloud
How to Nail and Scale Your Creative Process
Imagining the Future: How Do We Design for Good, Not Evil?
Increase Your Photoshop Productivity with Tips & Tricks from A to Z
Increase a Photograph's Impact: Lightroom Classic Advanced Tips and Tricks
Introduction to Photoshop on the iPad
Keep it Human: Building Real Trust & Authenticity With Your User Community
Learning to Paint Classical Portraits with Digital Tricks
Letter Design Master Class
Lightroom Essentials for Everyday Photography
Lightroom or Photoshop: When to Use Which
Living, Breathing Identities
Logo Animation and Design for Web Delivery
Making Comics: Collaborative Teamwork
Making Striking Composites with Photoshop on iPad
Map Making for Designers: It's Easier than You Think
Mastering Phone Photography
Next Gen Creators: Why You Need to Pay Attention to Them
Overview of Prototyping with Adobe XD
Photography for Social Media: Shooting, Editing and Sharing Dynamic Content
Photoshop Selections Magic
Pivoting and Taking Advantage of Change in the Workplace
Podcasting 101: Elevating Your Brand with On-Demand Audio
Premiere Pro Power Tips to Become a Power User
Professional Title Design in After Effects and Premiere Pro
Project Aero: Interaction Design for AR
Pushing the Boundaries of Creativity with Andrew Kramer
Quick Tips for Creating Videos for Social Media
ReDesign.School: The Future of Design Education
Real Talk: How to Revitalize Your Teams and Yourself
Reclaim Time for Creativity and Innovation with a Design System in Adobe XD
Repurposing Video for Different Social Media Platforms
Storytelling in AR: Building an Interactive Experience with Project Aero
Studio of the Future: Video Workflow Collaboration Using the Cloud
Taking Incredible People Photographs
Target: 3D and Immersive Experiences in Retail
The Art of the Interview: Talking Head Presentations
The Future of Voice Design: How China Is Leading the Way
The Journey from Graffiti Artist to Creative Placemaker
Transforming Your Photos Anywhere
Unraveling the Mysteries of Typography and Powering Up Your Type Skills
User-Friendly: The Hidden Story of an Idea That Shapes Our World
Using Color in Your Creative Work to Increase Effectiveness and Impact
Video in a Rush: Shooting and Editing on the Go
What's New in Adobe Illustrator
What's New in InDesign
What's New in Photoshop
Why Independent Agencies Matter in Today's Creative Reality
Working Efficiently in Adobe Premiere Pro
Free Stock! Download 1,000,000+ premium assets from the new Adobe Stock Free Collection
See Also

Keep up with the latest on Adobe software — follow us on Facebook or Twitter, or subscribe to our RSS feed… You can also enter your email and have new articles sent directly to your Inbox. We are reader-supported; when you buy through links on our site, we may earn an affiliate commission.