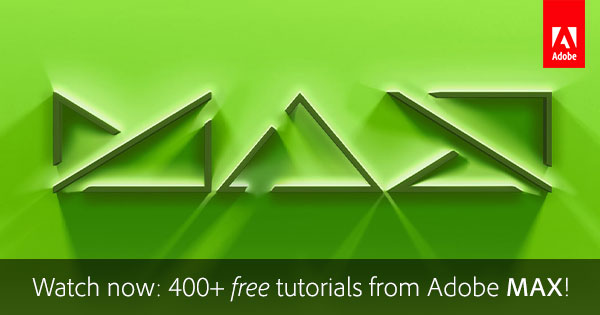 [UPDATE (Oct. 2022) – Watch over 200 new courses & tutorials from MAX 2022 – free!]
Last week, hundreds of thousands of creatives from over 200 countries came together to learn and be inspired at MAX, Adobe's global celebration of creativity. There is so much great content available to watch on demand (three full days worth!), so be sure to check out anything you may have missed below.
More than 500 speakers shared their expertise and engaging stories at MAX, and you can now check out their sessions for free. You can filter the sessions by track, speaker, product, technical level, and more.
That's right, you can now watch almost all of MAX on demand… You can still experience this groundbreaking event and watch the best of the tutorials, labs, keynotes, sneaks, and creativity workshops at no cost. These recordings will only be available for a limited time, so don't miss out:
Here's our original post on the big show, and more details on the courses and content available:
Just like last year, Adobe has announced they're going to make MAX 2021 – the world's biggest creativity conference – a no-cost digital experience open to everyone worldwide! There is now completely free MAX registration – so you can tune online on October 26-28 for a groundbreaking immersive event that stays true to the MAX spirit of mind-blowing creativity and inspiration.
The registration fee for the MAX conference is usually US$1,895, so this is a pretty great offer… You'll be able to participate in three full days of luminary speakers, celebrity appear­ances, musical performances, global collab­orative art projects, and more than 400 sessions on multiple tracks – all at no cost.
Last year broke all records with over 500,000 attendees tuning in from all over the planet. So if you're ready for a jam-packed show with hours of non-stop learning and inspiration – normally costing nearly $2,000 – then sign up for free to start building your MAX schedule today:
Adobe MAX is an experience unlike any other — an opportunity to learn from the experts and connect with thousands of the most influential designers, developers, and decision-makers in our industry. It's the perfect blend of information, inspiration, practical knowledge and creative magic.
This year's event will feature notable creative and celebrity speakers, keynotes, technology Sneak Peeks and presentations on all the latest tools and updates, collaborative art projects and challenges, virtual networking opportun­ities for creatives across the globe, and of course, hundreds of live and on-demand learning sessions for all skill levels.
MAX 2021 offers 11 different creative tracks: Graphic Design, Illustration and Digital Painting, Video, Photography, UI/UX, 3D and AR, Social Media, Creativity and Design in Business, Collaboration and Productivity, Education, and Meet the Teams. Sessions will be offered in English with closed captioning available in English, French, German, and Japanese. Labs and workshops will be presented in English with English closed captioning.
Save the date for a free MAX virtual conference on October 26–28, 2021! Join us for an amazing online event chock full of inspiring ideas, the latest apps, and practical tips and tricks to take your work to the next level – everything you need to fuel your creative fire. And while you're waiting, check out the valuable sessions from 2020.

Sign up and we'll share the lowdown on MAX, including the latest on speaker announcements, new sessions, and special guests:
So what are you waiting for? Join now to stay informed on a "uniquely-enriching and engaging digital experience, guaranteed to spark creativity and grow your skillset from wherever you are"… In other words, get ready for the big show!
Watch the MAX 2021 Highlights
Free Stock! Download 1,000,000+ premium assets from the new Adobe Stock Free Collection
See Also

Keep up with the latest on Adobe software — follow us on Facebook or Twitter, or subscribe to our RSS feed… You can also enter your email and have new articles sent directly to your Inbox. We are reader-supported; when you buy through links on our site, we may earn an affiliate commission.