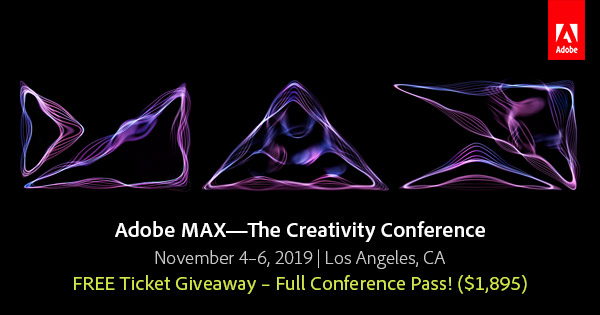 [UPDATE – Also see our new Holiday Creative Cloud 2024 Giveaway!]
MAX 2019 – the big annual conference intersecting creativity and Adobe technology – is happening this fall in Los Angeles, California… And continuing our longtime custom of free Adobe giveaways, we've got one free regular full conference pass (worth US$1,895) to give away, courtesy of our friends at Adobe Systems! Plus, an exclusive US$400-off MAX ticket discount code that's usable for everyone… (details below)
Adobe MAX 2019, The Creativity Conference – running from November 4-6 – will be chock full of expert keynotes and presentations, technical and how-to ses­sions, product announce­ments and sneak peeks, evening events and parties, networking and meeting the teams, and possibly some surprises… The show is an amazing experi­ence where they really take care of you from start to finish while you soak up all the growth and learning you can.
In fact, many of the best courses and tutorial sessions from the last MAX were recorded and are still available on-demand for free viewing, covering all Adobe applications.

As their website puts it, "MAX is a gathering of over 15,000 like-minded creatives who are as passionate about their work as you are. MAX is inspirational and iconic speakers; hands-on labs; time-saving tips and techniques; sneak peeks at new technologies; and strategies for delivering your best creative work. MAX is not to be missed."
What's more, we've got a ProDesignTools-exclusive savings of US$400 when you register using promotion code P19PDT. Using this MAX 2019 discount coupon code is open and available to all!
Or, if your primary residence is outside of Canada and the United States, then you can get an even bigger discount: you can save $500 simply by registering through the MAX International portal… Just make sure to use the international voucher code given there, and you'll get $500 off.
How valuable and "worth it" is MAX? Overall, 96% of MAX 2017 attendees learned new skills to apply in their work, 96% would recommend MAX to their peers, and 95% said they were inspired to create innovative projects! We can all use a boost of inspiration now and again.
Now back to our giveaway: We'll be awarding one free regular full confer­ence pass to the grand prize winner (retail value US$1,895). Any travel and lodging arrange­ments are the responsibility of the winner.
How to enter the MAX free ticket giveaway? Well, it's easy to gain up to four chances to win… This sweep­stakes is open worldwide – and to enter just do one (or more) of the following:
(1) Like our Facebook page «HERE» — and then also share this post by clicking the dark blue Facebook Share button to the left.
 = and/or =
(2) Follow us on Twitter «HERE» — and then also tweet this post by clicking the light blue Twitter Tweet button to the left.
 = and/or =
(3) Leave a comment here below telling us why you'd like to go to Adobe MAX, or if you've ever experienced it before.
 = and/or =
(4) Join 170,000+ readers below for our free monthly newsletter full of Adobe tips, tutorials, news and reviews, plus updates on new deals and exclusive coupon codes (current subscribers can just re-enter their address):
Subscribe Free + Download Dozens of Adobe eBooks
Special offer: Sign up for our popular newsletter now and we'll send you over 30 great books to learn all major Adobe tools at no cost! We won't share or spam your address, and you can unsubscribe at any time.
These digital books cover Creative Cloud (CC), Creative Suite (CS6 & older), Photoshop, Illustrator, InDesign, Acrobat, Dreamweaver, XD, Animate, Premiere, After Effects, Lightroom, Elements, and more...

Just enter your current email and get all the books for free: *
* A standard, free Adobe login is required to download some of the books. See our Privacy Policy for more details on how we safeguard your address and never share or sell our subscriber list.
That's it! Each of these actions counts as a single entry into the drawing – so if you do all four, you'll receive four different chances to win the prize. Be sure your email is correct so that we can contact you. One entry per reader for each method, but be sure to share and tell your friends and colleagues who'd like a chance as well.
Submissions are open until 11:59pm EDT on Friday, September 20th, 2019 (extended!). The winner will be drawn at random from all valid entries, and contacted via email or direct message – and we'll announce the lucky recipient (first name only) right here the following week. The prize is in the form of a special, unique voucher that will give one complimentary full conference attendance.
300+ sessions and labs
15,000 creative peers
100s of industry experts
Unlimited inspiration
And don't forget – you must be free and able to travel to L.A. from November 4-6 to win. Good luck and please spread the word!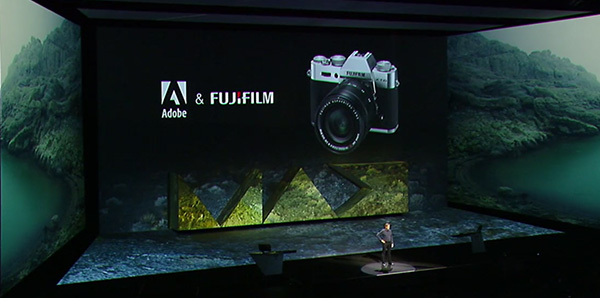 Adobe gives every MAX 2015 attendee a new high-end FUJIFILM X-T10 mirrorless camera.
Terms & Conditions
Offer valid through the close of Adobe MAX 2019 registration. Winner must be able to attend Conference to qualify. VOID WHERE PROHIBITED OR RESTRICTED BY LAW. Valid only for persons 18 and over with selection of one (1) full (three-day) Conference Pass to the Adobe MAX event occurring on November 4-6, 2019. Limit: one (1) discount per person; not available retroactively. To register and redeem the free full Conference Pass for MAX 2019 (reg. street price US$1,895), register at max.adobe.com (or register onsite at the event occurring on November 4-6, 2019) and provide the winning promotion code provided when prompted. Discount will be applied during checkout. Offer not valid with non-full (other than three-day) MAX passes, or for group, bundle, or volume purchases. Offer is subject to availability and may not be exchanged, sold, transferred; combined with any other discount or offer; or redeemed for cash or other goods and services.
Contest is open to residents of all countries worldwide with up to four entries per person as out­lined above. No purchase necessary to enter or win, and a purchase will not affect your chances of winning. By entering, all entrants agree to release prodesigntools.com (the Sponsor), and its employees from all liability and claims relating to participation in the contest. The sweepstakes winner will be determined at random from all valid entries submitted. The odds of winning depend on the number of eligible entries received.
The participant whose name is drawn must respond to email notification within 72 hours of being sent. If a selected winner cannot be contacted or is ineligible, his/her prize may be forfeited and an alternative winner selected. Sponsor is not responsible for any late, lost, or misdirected communi­cations due to spam, techno­logical, network, or email filtering issues. If a potential winner is a resident of Canada, then in order to be eligible to win the prize, he/she will also be required to correctly answer, unaided, a time-limited mathematical skill-testing question as posed by Sponsor. Noncompliance within this time period would result in disqualification and an alternate winner being selected. No substitu­tions or transfer of prizes or cash redemptions permitted by winner. Sponsor reserves the right, in its sole discre­tion, to cancel, suspend or alter the rules and parameters of the sweep­stakes. Sponsor also reserves the right to substitute a prize or prizes as Sponsor deems suitable in the event that any prize becomes unavail­able for any reason.
Participation constitutes entrant's full unconditional agreement and acceptance of these rules. All federal, state and local taxes, as well as any customs duties, other taxes, fees and/or sur­charges will be the sole responsibility of the prize winner. Employees, contractors, and directors of Sponsor, its affiliates, agencies, and the immediate family members and those living in the same household of such persons are not eligible to participate in the sweepstakes. By acceptance of prize, the winner agrees to release Sponsor from any and all liability claims or actions of any kind what­soever for damages. Offer void where prohibited, regu­lated or restricted by law in a manner inconsistent with the purposes and rules hereof. Facebook and Twitter have no association with or liability for this promotion in any way.
LIMITATION OF LIABILITY: By entering you agree to release and hold harmless the Sponsor and its subsidiaries, affiliates, partners, representatives, agents, successors, assigns, employees, officers and directors from any liability, illness, injury, death, loss, litigation, claim or damage that may occur, directly or indirectly, whether caused by negligence or not, from (i) such entrant's participation in the sweepstakes and/or his/her acceptance, possession, use, or misuse of any prize or any portion thereof, (ii) technical failures of any kind, including but not limited to the malfunctioning of any computer, cable, network, hardware or software; (iii) the unavailability or inaccessibility of any transmissions or telephone or Internet service; (iv) unauthorized human intervention in any part of the entry process or the promotion; (v) electronic or human error which may occur in the administration of the promotion or the processing of entries.