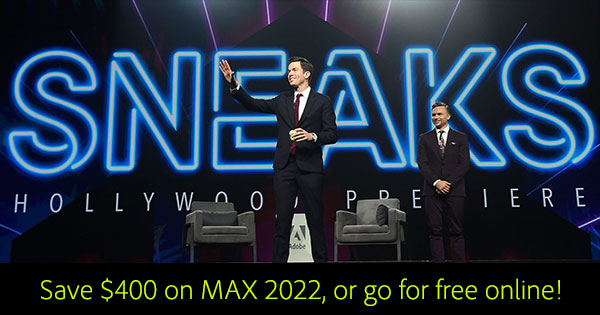 [UPDATE (Oct. 2022) – MAX 2022 has concluded, but over 200 new online sessions are now available for replay, for free!]
After two years of virtual-only conferences, Adobe MAX—The Creativity Conference is returning this year as a hybrid event with two options: an in-person experience or an online-only route. The in-person event happens for three days in Los Angeles from October 18-20, while the virtual-only option runs for two days from October 18-19.
Come to MAX to get inspired, expand your creative potential and give your career a boost. Learn new skills, discover the latest tools and innovations, and achieve your creative goals. MAX is the perfect combination of information and inspiration, practical knowledge and mind-blowing magic.
The in-person conference is priced at US$1,895 (government & non-profit $1,295, students $299), and will offer all the MAX greatness of the past: 200+ sessions and hands-on labs, mainstage presentations (keynotes and Sneaks), Luminary sessions, networking opportunities, Welcome Reception, Community Pavilion, Meet the Teams, meals and refreshments, and of course the famous MAX Bash. In-person attendance is limited, so act quickly.
The virtual MAX option will offer 200+ online sessions plus live broadcast of keynotes, Sneaks, and Luminary sessions. And just like the past two years, the virtual MAX is a global event and will remain free to attend worldwide.
If you register by August 31st, then you can save $400 on a full in-person conference pass. Pay just $1,495 with early bird pricing here:
Or, if your primary residence is outside of Canada and the United States, then you can get an even bigger discount: you'll save $500 simply by registering through the MAX International portal… Just make sure to use the international voucher code given there, and you'll get $500 off.
If you're a previous MAX attendee, then you'll be eligible to purchase a full conference pass to Adobe MAX 2022 for even less: $700 off.
To activate all Adobe MAX coupons mentioned above, you must enter a promotion code to apply the discount. Only one promotion discount can be applied per attendee registration. All discounts are applied to the full conference price of US$1,895.
If you can't join MAX in person, then you can still attend online for the amazing learning and inspiration of over 200 sessions, keynotes, and Sneaks, at no cost:
Related: Watch over 200 new courses & tutorials from MAX 2022 – free!
Hope to see you in California, where planning is underway to make the 2022 MAX experience the best one yet! "Join thousands of like-minded creatives from around the world for a week of sessions, labs, speakers, events, inspiration and fun — everything you need to keep you creative for the rest of the year. Can't wait to see what Adobe comes up with in L.A. for 2022!"
How to get there on the cheap? Well, if you'd like to travel to California for free this year (or anywhere actually), then we've got another great deal for you: sign up for a new credit card like this one and you can now receive 40,000 bonus frequent flyer miles – which is more than enough for a free roundtrip flight ticket anywhere within the USA & Canada (using a Saver Award on United Airlines)… And your intro annual fee is $0, completely waived. Hurry though, this special offer expires soon!

Special: Legally download dozens of free Adobe books for a limited time!
Adobe MAX is Oct. 18-20, 2022

Adobe MAX is an awe-inspiring experience unlike any other — your once-a-year opportunity to attend the premier event for designers, developers, and decision-makers. Connect with industry leaders, learn directly from the experts, preview new software, and hear success stories and best practices for creating rich experiences across multiple screens.

200+ sessions and labs
1000s of creative peers
100s of industry experts
Unlimited inspiration

Oct. 16-17, Preconference
Oct. 18-20, Conference


 
For our customers using Adobe technologies, MAX is often one of the most exciting times of the year since Adobe often launches new products and sneaks never seen before technology. MAX represents an excellent opportunity for our customers to learn about the latest development in Adobe technology, network with peers in the industry and connect with members of our development team. For development teams at Adobe, it is also a thrilling event as months and often years of hard work can be finally presented to our enthusiastic customers.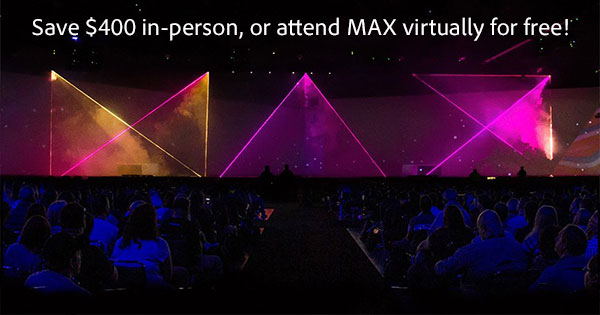 See Also

Keep up with the latest on Adobe software — follow us on Facebook or Twitter, or subscribe to our RSS feed… You can also enter your email and have new articles sent directly to your Inbox. We are reader-supported; when you buy through links on our site, we may earn an affiliate commission.