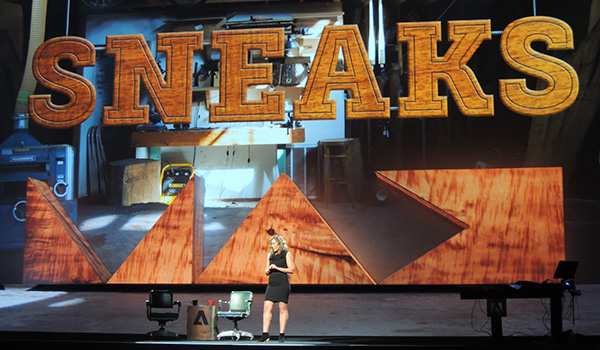 [UPDATE (Oct. 2022) – Check out the incredible new Sneaks from MAX 2022!]
SAN JOSE, Calif.—October 13, 2015—At the record-breaking MAX conference last week, Adobe revealed 11 sneak peeks of technol­ogies they are working on but haven't released yet. Some of these new features are absolutely mind-blowing and defy belief, yet the company did not web­cast the sneak peeks. But good news, you will find complete videos of each of them captured below!
Naturally, the Adobe says there aren't any guarantees for what will appear in a production release, or when: "See the coolest demos of what we're cooking up in the Adobe development labs, and be the first to get a peek at technologies that may (or may not) make it into future products and services." But never­the­less, major new product features very often appear in these previews before they make it into the real tools (cases in point: Content-Aware Fill, Perspective Warp, Image Deblurring, and Defog/Dehaze).
The curtain raised on this year's MAX Sneaks with host Nick Offerman, award-winning actor, writer and woodworker, and Kim Chambers, community manager with Adobe's Experience Design team, sharing almost a dozen projects crossing the creative spectrum of photography, design, 3D, audio/video, fonts, animation, and more.
Please Retweet the Ones You Like to Cast Your Vote!
The big question is how to get these to be an actual shipping features available in the production tools? The answer lies in social media… Adobe says they are counting all tweets and shares with the hashtag for each sneak.
So if you want to see these capabilities becoming a reality on your desktop, just tweet and share using the hashtags below to indicate your support and cast your vote… Voting does not close, so here they are!
The session kicked off with this unbelievable demonstration of Photoshop converting ordinary portrait photographs into full, printable 3D models with lifelike color and texture!
Project Louper allows you to search for images, using images. Instead of text, you can now use an image as your starting point, and add multiple images to quickly refine to exactly the one you want:
Magic! Instead of having to remove a photo's distracting elements one-by-one, Photoshop automati­cally identifies the unwanted artifacts and distractions – and then removes them all with one click:
A new smart font recognition system built into Photoshop (plus a mobile app) can automatically identify and match over 7,500 different typefaces from simple image grabs or snapshots:
Kick the animation learning curve! Create easy and expressive animations and motion graphics on a touch device using the simple and natural movement of your fingers:
Avoid the tedium of repeated placeholder items in your app and website designs by quickly populating your comps with real and realistic live data and images with a single click:
A new app to capture photos and make drawing in perspective very easy by recognizing key lines and vanishing points, and then syncing your work with Adobe Illustrator:
Vote for #PerspectiveDollhouse
Create your own custom fonts – you will not believe how easy it is with this new Faces app! Then export the text you designed as vector, bitmap, or a full new font for use anywhere:
Automatically regenerate a seamless version of your soundtrack music to match the different interesting change points in your video, while still sounding like a single continuous song:
Photoshop can now extract and preserve the detailed lighting and shading of a photograph to enable smooth and seamless editing of the image. Check out the amazing new Shading Layer:
Monument Mode analyzes the live camera feed and removes moving objects – such as unwanted tourists – live in the camera preview, so you can see them fade away and get a clean shot:
How to Get These Actually Shipping?
If you want to see these features coming in a future product on your desktop, then just tweet and share using the hashtags above to indicate your support and cast your vote! Adobe says they are counting all tweets and shares for each hashtag!
See Also

To follow this story going forward, subscribe to our RSS feed or like us on Facebook or Twitter… You can also enter your email and have new articles sent directly to your Inbox. We are reader-supported; when you buy through links on our site, we may earn an affiliate commission.