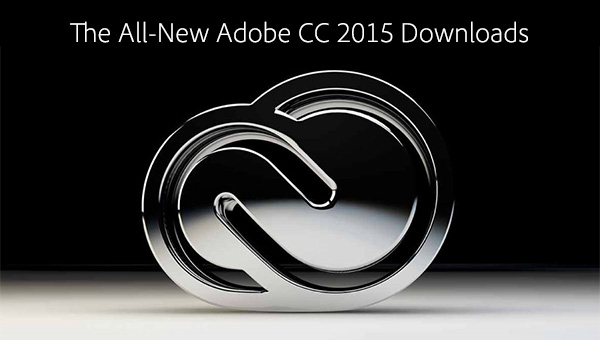 UPDATE – Some of these still work to download the original CC 2015 installers, but Adobe has recently taken down many links… However, you can also now get the all-new Creative Cloud 2023 Direct Download Links!
The new Adobe CC 2015 release was announced earlier today, including 15 upgraded desktop applications with new features across the board plus some big performance boosts… And there's no wait: the CC 2015 software is available immediately for worldwide download via the CC Desktop App… This means everyone gets either a free upgrade or a free trial – but some folks want or need to access the new tools directly without using Adobe's download/app manager.
So below we've curated a complete set of Adobe CC 2015 direct download links for all the new products on Windows and Mac OS, for instant access (plus the ability to use your own download manager) if you have any difficulty with what Adobe normally employs and want to get the tools or trials without it… These can also come in handy if you want offline standalone CC 2015 installers to use, store, or back up with (i.e., copy to USB flash/thumb drive, burn to DVD, etc).

Most people download the trials by signing up for the free level of CC membership and using the Creative Cloud Desktop app to select and download any or all of these products, although here on this page no membership is required to access the free trials. In other words, with these direct links you can try out any of the just-launched CC 2015 apps without the Creative Cloud.
Special: Legally download dozens of free Adobe books for a limited time!
Whether you're considering just a single-app subscription like Photoshop CC 2015 or getting the complete Creative Cloud, you can always use these free trials to install, run, and activate the new software on your system, without needing to reinstall. All of the CC 2015 tools will install and run together on the same computer(s) alongside any older Adobe versions such as CC 2014, CS6, CS5, CS4, and CS3.  These CC trials are fully functional for 30 7 free days (or possibly longer).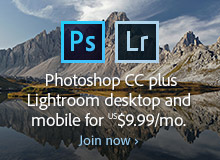 One big improvement with CC is Adobe no longer splits out files into different language sets – all languages are now included in a single multilingual download, including English, Western European (French, German, Dutch, Italian, Spanish, Portuguese, …), Eastern European (Russian, Polish, Hungarian, Czech, …), Middle Eastern (Hebrew, Arabic), and Asian (Japanese, Korean, Chinese). So if you need to install additional languages, just run the same installer again and choose another language.
Below is a table with direct links for all of the CC 2015 applications. These links go to the authentic and original files residing on Adobe's servers, are guaranteed genuine, safe, legal, and will not change. To shorten download times, Adobe no longer packages both the 64-bit and 32-bit Windows versions in the same installer – so choose the one that's right for your machine. If you're unsure, then see this Microsoft page for how to determine which type of system you have.
**** On Mac OS v. 10.12 "Sierra" (only), you need to follow these additional steps to install.
Free Stock! Download 1,000,000+ premium assets from the new Adobe Stock Free Collection
Note:
Very Important Instructions
In order to enable the direct links below, Adobe's servers must first set a special permissions cookie on your browser. If not, then you will receive an "access denied" message instead, and the connection will fail. So please follow these instructions carefully or the links will not work!
Adobe recommends temporarily turning off any surfing restrictions you might have running, like site or cookie blocking, filtering, firewalls or antivirus software.
Click «HERE» to visit this page first, before clicking any of the links in the table below –

this is critical!

If asked, sign in with your Adobe ID or take a minute to create one for yourself (free).
OK! Now you're logged in at Adobe with the browser cookie set, so you can instantly download any of the software below. Just make sure you have enough disk space.
Download the files either by clicking directly on the DDL links, or by right-clicking and choosing "Save Link As…" on the popup menu.
For Windows, the download is either an .exe file or a zip file (with a .7z or .zip extension). If not an .exe, then you can use a free utility like 7-Zip to extract the installer from the .7z or .zip file. For the Mac, it's always just a single, straight­forward .dmg file for each program. [Update: For Dreamweaver and Fuse only, please see this additional step.]
[UPDATE (Oct. 2022) – These links still work to download some original CC 2015 installers. If you're looking for direct links to the newest 2023 versions, then see this post.]
Creative Cloud 2015 – Adobe CC 2015 Download Links – ALL Languages


[ What do these different applications do? Check out the Creative Cloud Contents Guide. ]
These CC 2015 trials are supported on Mac OS X or Windows (32-bit x86 and 64-bit x64), with the exception of Flash Pro, After Effects, Premiere Pro, Audition, Prelude, Speed­Grade, Lightroom, Muse, Edge Animate, and Scout, which are 64-bit only. Photoshop, Illustrator, Bridge, InDesign, InCopy, and Dream­weaver include both 32-bit and native 64-bit Windows versions in the table above (see which you need). For more details, see the complete set of system requirements for Creative Cloud 2015, and make sure your machine meets the minimum specs for the product(s) you want.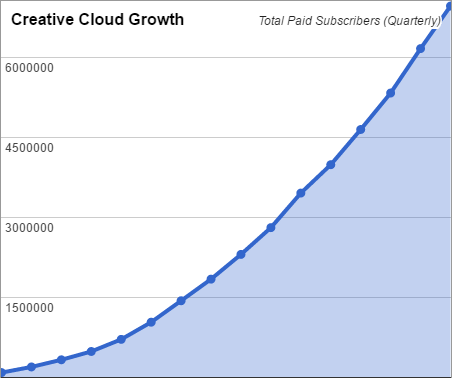 These are brand new builds of the products, not in-place updates – so they will install alongside any previous releases. You do not have to uninstall prior versions of Creative Cloud (CC) or Creative Suite, although you can if you want to. Some users prefer to keep the older, familiar version(s) around as they come up to speed with the new features, and there are customers who have CS3, CS4, CS5, CS6, and CC all on one computer.
We suggest using a browser other than Internet Explorer to download the files above. They can be quite large and IE has been known to drop the extension (like ".exe") from the Windows filename. If this happens and you can't open a file, then just rename it to add back the extension. But generally, using Firefox or Chrome will work better – and if you have any issues getting the downloads to work with one browser, then try another.
If you have a slow or limited Internet connection and the sizes of these files are just too much to successfully download online or would take far too long, then there is another solution: you can request a Creative Cloud DVD (disc media) from Adobe instead.
*** Note: If you have any problems getting the files to download or install, be sure to read the earlier comments on this page – as most questions have already been asked and answered below!
Adobe CC 2015 Extra Content
Adobe did not update the (optional) Extra Content – also called "Functional Content" – for the CC release, and says you can continue to download and use the CS6 Extra Content if you like – read more about this here.
The free additional content consists of media assets, templates, tutorials, documentation, fonts, footage, and sample files – and is not required to run the main products, but will improve your experience if you have the time to download and add it to your installation. It is most used in the Premiere Pro, After Effects, and Encore applications – and is displayed in the Library panel, title template, and template projects.
Adobe CC 2015 Updates
Many of the CC 2015 applications in the DDL table above have additional updates that apply on top of them… If you also want the direct download links for the individual product updates/patches (i.e., all the included upgrades for each tool since the initial base CC 2015 release above), we have complete sets available here:
See Also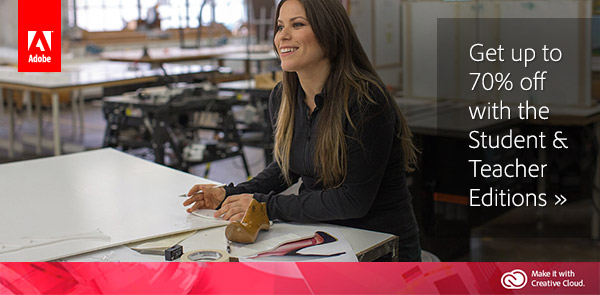 Did these links work for you? Hope they helped out; please let us know with a comment below…  Do you have any questions about CC? Just ask below and we'll get you answers fast!
Keep up with the latest on Adobe software — follow us on Facebook or Twitter, or subscribe to our RSS feed… You can also enter your email and have new articles sent directly to your Inbox. We are reader-supported; when you buy through links on our site, we may earn an affiliate commission.