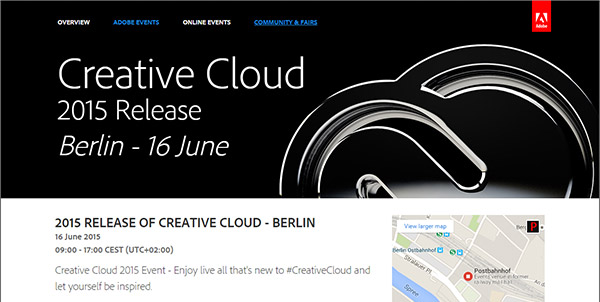 [UPDATE (June 16th) – Adobe CC 2015 is now shipping! You can instantly download it here.]
Thanks to some confirmed information from Europe, now know when Adobe will be launching the new CC 2015 release of creative tools:
2015 RELEASE OF CREATIVE CLOUD – BERLIN

16 June 2015 at 09:00 – 17:00 CEST (UTC +02:00)

The Creative Cloud 2015 Event – Enjoy live all that's new to #CreativeCloud and let yourself be inspired. It's a must for every creative: A whole day with inspiration, exciting news, first-class speakers and valuable tips! On to the big Adobe event in Berlin!

Those who can not be present here: We will stream and record live sessions. You can find more information about the webcast below.

Whether on-site or via live stream: Register now, mark the date and do not miss anything! #CCnext #Makeit #CreativeCloud #Berlin
The line-up of speakers and sessions is impressive and runs all day. The keynote address starts at 10:00 CEST / 8:00 GMT (see the hour in your timezone) , when Adobe vice president of engineering Winston Hendrickson together with Adobe Evangelists Rufus Deuchler and Michael Chaize will be unveiling the new Creative Cloud 2015 release.
Update: Here is the complete Adobe Keynote video for the release of CC 2015!
Importantly, you can choose whether the new CC 2015 applications will replace or overwrite any previous versions you have installed on your computer, or you can install and run them side-by-side with earlier software such as the current CC 2014, as well as any older CS release(s). Subscribers can decide when to upgrade, as well as when or if to uninstall any prior tools. Meanwhile, Adobe will keep the previous CC releases (as well as the older CS6 version) available in an online archive for all Creative Cloud members to access and use as/if needed.
So tune in to the free webcast of the keynote address and see what the next gener­ation of creative tools is all about! [Note the page is in German]
Special: Legally download dozens of free Adobe books for a limited time!
CC 2015 Sneak Peeks
From time to time, Adobe will also give sneak peeks of features in future tools prior to the public announce of the product. Now they are sneaking a new feature coming in Photoshop CC 2015 & Lightroom CC 2015 called Dehaze/Defog. It's a neat and easy-to-use technology that allows you to quickly add or remove haze from a photograph – check it out:
Also very cool and coming in Photoshop CC 2015 is a powerful new organizational feature: Artboards! This concept of course is also found in Illustrator. Here's a quick demo:
See Also

To follow this story going forward, follow us on Facebook or Twitter, or subscribe to our RSS feed… You can also enter your email and have new articles sent directly to your Inbox. We are reader-supported; when you buy through links on our site, we may earn an affiliate commission.