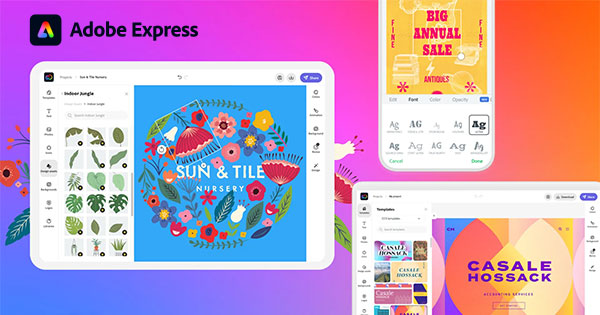 This week, Adobe is launching a new unified web and mobile product called Creative Cloud Express (CCX). This offering brings together a new level of simplicity and practicality with guided tools that make it easy to achieve beautiful results in just a few clicks. With this product, the company aims to allow everyone to participate in the Creator Economy – and be able to rapidly create impactful visual and multimedia content, no matter what your abilities.
Creative Cloud Express – also known as Adobe Express – is the natural evolution of Adobe Spark, in the stated goal of "Creativity for All"… Adobe Express has all the same easy-to-use features of Spark, and plus many new capabilities to quickly and easily create standout graphics, documents, videos and more, whenever and wherever you need them.
What is Creative Cloud Express?
Adobe Express is not a traditional desktop appli­cation. It's a web and mobile app that you can run and use from anywhere. It's a task-based, content-first experience that brings together Spark Post, Adobe Fonts, Adobe Stock images, on-trend templates, illustrations, icons, backgrounds, and features powered by Photoshop, Premiere and Acrobat.
With Creative Cloud Express, you can drag-and-drop your way to quickly create social graphics, flyers, posters, logos, short videos, animations, info­graphics, ads, PDFs, and more. Browse professionally-designed templates, edit your images, videos, and documents with Quick Actions, or produce marketing assets for diverse media platforms. Customize your designs with simple-to-apply effects, filters, and textures that can be used together and layered.
See what you can do with Creative Cloud Express.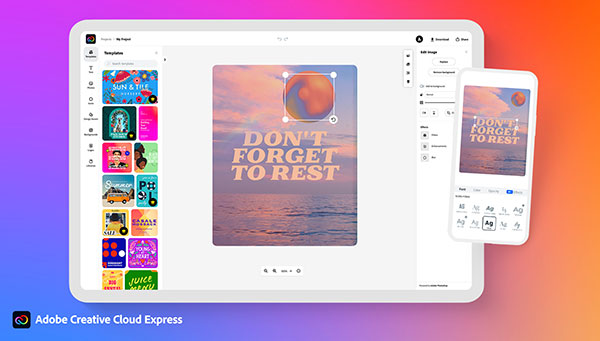 Is Creative Cloud Express free?
Adobe Express is free for anyone to use, and is built on a "freemium" model. Most of the functions and much of the content is no charge to use for all of your projects, for commercial use or otherwise. This starter version of Express is available today in 15 languages at express.adobe.com and in the Microsoft Store, Google Play Store and Apple App Store.
Free Express users get access to up to 1 million Adobe Stock images and other assets, thousands of templates, dozens of fonts, basic editing and photo effects, and 2 GB of online cloud storage.
Free users can even take advantage of Adobe's incredible new Generative AI capabilities… All users of the free version of Adobe Express regularly receive monthly Generative Credits to easily create your own stunning images or vector graphics, powered by Adobe Firefly. After 25 Generative Credits are used, you have the option to upgrade to a paid plan or wait until the credits reset the next month.
And it's free to use, forever. No credit card is required to access and download the free version of Adobe Express. All that you need is a free Adobe ID, if you don't already have one:
What does the Premium version include?
The premium version of Creative Cloud Express includes everything the free version does, plus: access to more than 175 million royalty-free Adobe Stock photos, 22,000+ Adobe Fonts, premium templates and design assets, custom branding, more editing features, integra­tion with Creative Cloud Libraries, Adobe Portfolio, 100 GB of cloud storage, and additional appli­cations like Photoshop Express and Premiere Rush (the full versions).
You also get the new Content Scheduler to take control of your social media posts all from one place. Plan content, find the right time to post for the most engagement, schedule and preview posts, and then publish to multiple platforms in one click.
Plus, you get 250 Generative AI credits per month to use in your creations. Adobe has built Generative AI (artificial intelligence) into tools like Express to enhance your creativity by producing amazing results from simple text prompts.
→ Here are all the differences between the Free and Premium versions of Adobe Express.
You can start with the free version of CCX and if desired, unlock all the premium features if you need or want them. Either way, it's easy to get started.
How much does Adobe Express Premium cost?
The upgrade to Express Premium is $9.99 per month or $99 per year, which is the same as what Adobe Spark Premium cost.
By comparison, this is lower than the entry price of Canva Pro, which is arguably Adobe's biggest competitor in this space.
It's also the same as what Premiere Rush premium used to cost by itself. The full version of Adobe Express now includes the full version of Rush.
As an introduction for everyone who would like to try it out, Adobe is currently offering a 30-day free trial of the premium product:
Is the Premium version a good deal?
There are a couple of additions that we are surprised to see in the Express Premium version. The first is access to the entire diverse, royalty-free Adobe Stock photo collection from within the Creative Cloud Express app. This gives you use (inside Express) of 175 million standard Adobe Stock images, which normally cost quite a bit more to license.
The second surprise is the inclusion of Photoshop Express (PSX) Premium, which usually runs $4.99/month by itself – as well as Premiere Rush Premium for fast, multi-platform video creation, which previously cost $9.99/month on its own. All of that comes with Express Premium.
So, there is a lot of value that the company is building in to the $9.99/month price point of Creative Cloud Express. And for folks who don't want or need to get into the full desktop versions of Creative Cloud apps, the Express edition is free and intuitive to try to quickly create the content you need.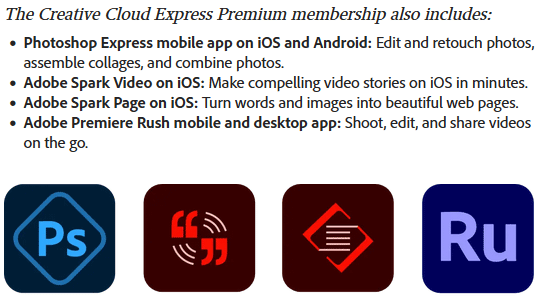 Do existing Creative Cloud subscribers get Adobe Express?
In most cases, yes. The premium version of Creative Cloud Express is included with Creative Cloud Single-App plans over $20/month and in the Creative Cloud "All Apps" plan. So these subscribers automatically receive access to all the premium features and content of Creative Cloud Express, Premiere Rush, and Photoshop Express.
Note that this does not extend to the Photography or Lightroom plans, which run $9.99/month by themselves. However, older Photography subscribers who previously had access to Spark Premium may request that Adobe reinstate Express premium in their plans at no extra cost.
What's the Difference Between Creative Cloud and Adobe Express?
The major distinction is that paid Creative Cloud members also receive access to the full desktop versions of flagship Adobe tools, such as Photoshop, Illustrator, InDesign, Acrobat Pro, Animate, Premiere Pro, and After Effects – whereas Creative Cloud Express customers do not.
Free Stock! Download 1,000,000+ premium assets from the new Adobe Stock Free Collection
What is Adobe Express for Education?
Formerly Adobe Spark for Education, this program offers Creative Cloud Express (the full Premium version, custom tuned for the classroom) completely free for K-12 schools and districts.
In fact, in just a short time, Adobe Express has already become the top creativity tool for education, reaching over 43 million K-12 students and teachers globally.
Learn more and apply here, and get your school up and running to create powerful graphics, videos, and presentations quickly with the Express tools.
Is Adobe Express free for non-profits?
As a matter of fact, yes! The company has just announced Adobe Express for Nonprofits, which "provides the premium version of Adobe Express for free to the over 10 million nonprofits worldwide to help changemakers around the world quickly and easily make standout content."
And if you need more than what Adobe Express provides, then TechSoup remains an excellent option to buy discounted Creative Cloud full subscriptions for charities, nonprofits, libraries, and foundations.
What does the future hold for Adobe Express?
Adobe has an ambitious product roadmap in store for 2022 and beyond, which includes support for multipage graphic capabilities, creating social videos, expanded PDF capabilities, connection with Adobe's other apps, Adobe Express for Enterprise and Teams, and more. Stay tuned; it should be interesting!
In a nutshell: Adobe executive quote
"Everyone has a story to tell and it's our mission to empower everyone to express their ideas," said Scott Belsky, chief product officer and executive vice president, Creative Cloud, Adobe. "In this unique time, where millions of people are building personal and professional brands and 40% of U.S. consumers are paying creators directly for their work through online platforms, we're excited to launch Creative Cloud Express as a simple, template-based tool that unifies the creation, collaboration and sharing process so anyone can create with ease."
Additional questions?
For more information and answers, see the Adobe Express FAQ – or check out the complete Express User Guide.
You can also ask a question in the comments below.
See Also

Do you have any questions about Creative Cloud Express? Just ask them below and we'll get you answers fast!
Keep up with the latest on Adobe software — follow us on Facebook or Twitter, or subscribe to our RSS feed… You can also enter your email and have new articles sent directly to your Inbox. We are reader-supported; when you buy through links on our site, we may earn an affiliate commission.