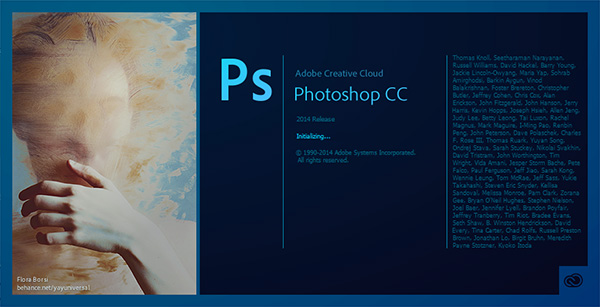 Some good news – because of the major new feature updates announced last week at the big annual MAX conference, Adobe informed us that they reset the 30-day free trial period for Photoshop CC 2014 on both Windows and Mac…
In other words, no matter which version of Photoshop you've used or tried in the past, everyone now gets a brand new free trial of the latest-and-greatest release of this core application. This will give all users a chance to check out the new Photoshop for themselves, at no cost.
Of course, if you are already a Creative Cloud member, then these latest updates have already come to you auto­matically or whenever (as soon as) you want.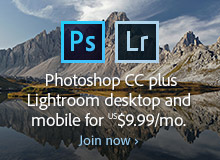 For the trial reset to work, first you need to have the current apps installed on your computer. To start, you can easily download which­ever tool(s) you like using our Adobe CC 2014 direct links.
Once you have your applications downloaded and installed (or if they're already on your system), just launch the Creative Cloud Desktop app (or select Help > Updates from within Photoshop), then click "Update" next to the desired tool, and when the update is finished downloading and applying itself, launch the new program.
Or, as Adobe says:
Try Photoshop free!

If you haven't updated to the Creative Cloud yet, starting today you can get 30 more days with Photoshop CC 2014 free! We are so excited about this release (version 2014.2), we have reset the Photoshop trial for you. So, even if you have already used up your Photoshop CC 2014 free trial period, you can give it another whirl.

For the full list of new features, check out the What's New in Photoshop CC page.
All CC trials are fully functional for thirty calendar days and can run side-by-side on your system with older CS programs, without interference. The Windows or Mac downloads can be installed on multiple computers if desired – and if and when you are ready to purchase, you can easily convert your trials to full versions without reinstalling the software. The full version of Photoshop is now available together with Lightroom for $9.99/month under the new CC Photography Plan.
Free Stock! Download 1,000,000+ premium assets from the new Adobe Stock Free Collection
So grab a free month, enjoy the upgrades, and then if you want to continue, you can easily sign up for as long as you want… Don't forget that even after purchase, all Adobe software comes with a further 30-day money back guarantee – meaning you really have a longer trial than you think – actually up to 60 days of time to fully utilize and finally decide before costing a cent:
A single CC license should entitle you to install and activate the software on two systems, including on both a Mac and a PC. You can also easily move the products between computers when/as necessary. No serial number nor credit card is needed to download or run the free tryouts. And importantly, even after the expiration of any free trial period, you can still keep and maintain the free level of Cloud membership with permanent benefits for life.
For further details refer to our extensive Creative Cloud FAQ, or just ask any question below and we'll get you answers fast!
Watch the rest of the Keynote and more great videos from MAX 2014 here, free.
See Also

Keep up with the latest on Adobe software — follow us on Facebook or Twitter, or subscribe to our RSS feed… You can also enter your email and have new articles sent directly to your Inbox. We are reader-supported; when you buy through links on our site, we may earn an affiliate commission.