It's that time of year. Early each fall, Adobe launches a new version of Photoshop Elements, and this year is no exception… Last week the company introduced Photoshop Elements 13 (with brand new free trials to download), and one of the common upgrade questions we see is what's new, what's different, and what's improved in version 13 compared to the previous Elements 12?  Or more essentially, what are the key new features in PSE 13, versus PSE 12 or 11?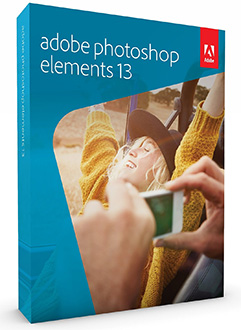 The bottom line is you probably want to know what's changed since the last release (or two) – but how about a version-by-version, feature-by-feature table? You'll find this down below (or take a shortcut here), but first let's take a quick look at some of the major additions.
First off, on two things folks often ask about:  Is Photoshop Elements 13 available a native 64-bit application on Windows (as Photoshop CC 2014 is), and does it offer improved 16-bit imaging function­ality compared to earlier versions?  The answers are: PSE 13 is now available for the first time in both 32-bit and 64-bit versions for Windows systems (and continues as 64-bit-only for Mac), and 16 bits-per-pixel image support is only slightly better than in PSE 12 – meaning you can open 16-bit files, convert to 16-bit color depth in ACR, do basic edits, but there is still no 16-bit support for layers, many artistic filters, and so on.
You'll see this reflected in the newly updated system requirements for Elements 13, which also brings welcomed support for high resolution Retina displays on Mac OS and HiDPI displays on Windows 7 & 8, while dropping all support for Windows XP and Vista.
So with those core items in mind, here's a fast punch list of what's new – and included/demoed in Adobe's PSE 13 feature reviews:
Native 64-bit support on Windows 7 and 8
High DPI and Retina Display support
Create photo remixes and mashups for all-new scenes
Choose your favorite composition from four different crop options Elements provides
Re-imagine B&W photos with pops of color and more
Nudge boundaries for easily adjusting selections
See five variations of each effect to get the look you want
Email sharing is a snap — send a link to a web gallery or attach photos
Put a cool twist on your Facebook page by blending your profile and cover photos
Create slideshows with multiple photos on each slide, and share them as movies
Those are some of the improve­ments in Photoshop Elements 13 – for more of what's new see the chart below and/or Adobe's official blog post.
Special: Legally download dozens of free Adobe books for a limited time!
Complete Version Comparison Chart
Over the subsequent years and releases, the increased power and new capabilities start to add up if you're using an older copy. Below you can see a comprehen­sive feature comparison between the last three versions of Photoshop Elements, for both Windows and Mac OS: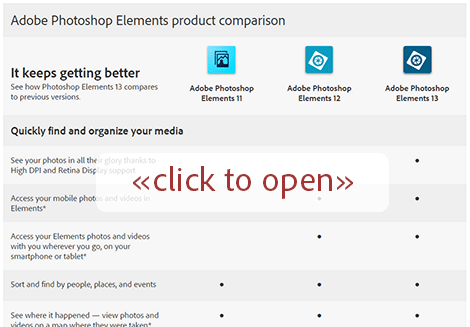 Importantly, Elements continues to be installable on up to two machines that you own. The fully-functional free trials are also now available and can install and run alongside any previous versions you may own, without interference (and the Organizer catalog will be automatically upgraded if you like). Adobe has also maintained the same discounted upgrade pricing that had briefly disappeared a while back.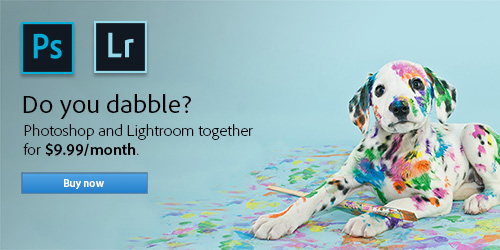 Do you have any questions about Photoshop Elements 13? Just ask them below and we'll get you answers fast!
Keep up with the latest on Adobe software — follow us on Facebook or Twitter, or subscribe to our RSS feed… You can also enter your email and have new articles sent directly to your Inbox. We are reader-supported; when you buy through links on our site, we may earn an affiliate commission.