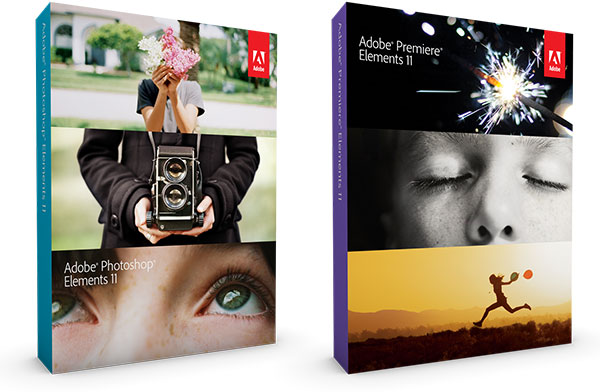 Yes – Adobe Photoshop Elements 11 and Premiere Elements 11 are just out and avail­able immediately! Pretty much on the timeframe we forecast, both products are available on both Windows and Mac with the same features across platforms… See what you can do with these tools now with the Elements family comparison. You can instantly download the free trials as well, and the new software will work side-by-side with any previous release(s) of Elements you may own. If do you have an earlier version installed, you can automatically import and convert your work.*
The prices remain US$99 for the full version of either PSE 11 (photos) or PRE 11 (videos), and $149 for the bundle package containing both complete products. Education customers can grab the Student and Teacher Edition for $119 for both applications (note that academic pricing is not offered for each one individually). The languages available today include English, French, German, Dutch, Spanish, Portuguese, Italian, Swedish, and Japanese.
Adobe is also continuing the upgrade discount for owners of any previous version of Elements. This briefly disappeared a while back, but by popular demand the lower pricing was restored worldwide. This means if you are an existing user of any previous version of Elements (Photoshop or Premiere, back to version 1), you get a lower price from Adobe when upgrading to this new release. In North America, these upgrade savings are available exclusively through the online Adobe Store.
[ Start learning right away with over three hours of free Photoshop Elements 11 training, over two hours of free Premiere Elements 11 tutorials, or nearly 200 pages of downloadable free Elements 11 e-books. ]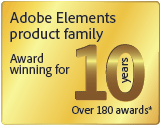 Photoshop & Premiere Elements 11 will run well on 32-bit or 64-bit systems, and are designed for Windows XP, Vista, Windows 7, Windows 8, or Mac OS v10.6 through v10.8 (see the full system requirements for PSE 11 on Windows/Mac; and PRE 11 on Windows/Mac). Premiere Elements 11 comes with a native 64-bit version for higher performance – in other words, the PRE Editor now runs native on both 32-bit and 64-bit operating systems. Photoshop Elements 11 continues as before, running native in 32-bit and compatibly on 64-bit systems.
For customers with both PCs and Macs, the Elements line is sold as multiplatform software, meaning your single purchase can be installed on either operating system… If you buy a boxed copy of Elements 11, you will get both the Windows and Mac OS versions of the application(s) and a cross-platform serial number. And similar to other Adobe products, you may be able to install the software on up to two computers.
[ Check out the new help pages, including the Photoshop Elements 11 keyboard shortcuts. ]
All Elements 11 download versions are available immediately (including 30-day free trials), and for a limited time you can get free shipping through the online Adobe Store in most countries. If you recently purchased Elements 10 (the prior release), then Adobe has set a grace period to give you a free upgrade to Elements 11.
All Elements 11 orders in North America will also receive a complimentary $20 gift card from Shutterfly.
What's new in Elements 11 – what are some key new features?
There's a lot here, much more than your usual Elements upgrade. One big focus of this release is the all-new intuitive editing environment including a reengineered Organizer that works for all user levels. This is covered in detail in our companion "what's new" review, but here are some quick highlights of the new features; see also the two videos below.
Choose from 3 different editing modes
Navigate with big, bold icons
View photos and videos on a map
New Actions Panel, access in one click
Sort and manage using Organizer views
Access new Guided Edits

Tilt-shift effects
Vignettes
High- and low-key effects

Apply new filters

Lens Blur
Comic
Graphic Novel
Pen & Ink

Edge Detection for complex selections
Import and apply effects and styles
Create with new templates

Printed photo keepsakes
Online albums

Updated Adobe Camera Raw engine
Choose from Quick or Expert editing modes
Add slow- or fast-motion effects
Use blend modes to enhance footage
Share video clips on Vimeo
Navigate with big, bold icons
View videos and photos on a map
New Actions Panel, access in one click
Sort and manage using Organizer views
Apply fave cinematic styles with FilmLooks

Old Film
Pandora
Red Noir

Access new special effects and transitions
Get fresh looks with new movie themes

Elements is already the #1 selling consumer photo- and video-editing software.† Powered by the same core engine as Adobe Photoshop, the industry standard for digital imaging, and with these new features on top of the Spot Healing Brush (Content-Aware Fill), Curved Text, Smart Object Search, Crop Guides, Layer Masks, and other additions in recent releases, this latest 11th-generation version of Elements is looking like a welcome upgrade.
---
*
Elements 11 will not overwrite earlier versions. If you install PSE 11 or PRE 11 on a computer with older Elements software, both versions will work independently and stay on your system until you remove one. For your photos and videos, you can
upgrade/convert a copy of your catalog
to move everything over the first time you launch Elements 11. That should happen automat­ically, but if it doesn't then you can force it using
File > Catalog > Convert
.
† Source: The NPD Group/Retail Tracking Service (April 2002 to March 2012) based on units sold in the Video and Photo Editing categories.
Do you have any questions about Photoshop/Premiere Elements 11? Just ask them below and we'll get you answers fast!
Keep up with the latest on Adobe software — follow us on Facebook or Twitter, or subscribe to our RSS feed… You can also enter your email and have new articles sent directly to your Inbox. We are reader-supported; when you buy through links on our site, we may earn an affiliate commission.