Just out and completely free! Download the new Adobe Photoshop Elements 11 Guide and Premiere Elements 11 Guide ebooks, together containing 22 chapters and 185 pages of visual tutorials and feature how-to's, and both 100% gratis for personal use…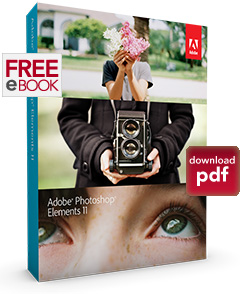 These e-books are great overviews and introductions to the Elements 11 tools, and cover a good deal of helpful material for getting started with the products or picking up more skills and techniques if you're already familiar. Each volume is a collection of techni­cal lessons for learning how to best use the popular programs.
The downloads are 7.5 MB (PSE) and 5.5 MB (PRE) in size, in PDF format (get the free and better Adobe Reader XI, if you haven't done so yet). All you need to do to activate the ebook downloads is sign in with your Adobe ID (which is easy to create if you haven't already got one).
If you don't yet own Elements 11, just download the fully-working trial from Adobe to run it for free for 30 days. Some of the training in the book will be relevant for older versions of Elements as well, although if you need them we've also got older ebooks for Elements 9/10.
See our Elements 11 Launch Review for more details on the new products and included features. If you currently have an older version of the software, check out this chart with the comparison of differences between Photoshop Elements 11 vs. 10 vs. 9 vs. 8 vs. 7.
Or, if you prefer to learn by video training instead, don't miss these three hours of free video tutorials for Photoshop Elements 11, or alternatively these free tuts for Photoshop Elements 10 & 9. There's also two hours of free how-to videos for Premiere Elements 11.
Here below are the tables of contents and the access links for the free books… enjoy!
And to continue learning, don't miss dozens more free books for many Adobe products, covering recent versions of all major applications.
---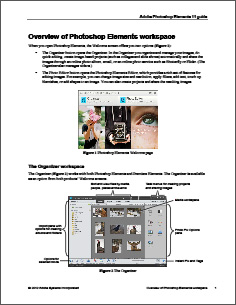 Adobe Photoshop Elements 11 Guide
Contents:
Overview of Photoshop Elements workspace
How to add and modify text
How to apply filters
How to create and share a slideshow
How to create collages and photo books
How to create shapes
How to draw
How to enhance a photo
How to export to print and web
How to make selections
How to retouch a photo
How to rotate, level, crop, and size a photo
How to use layers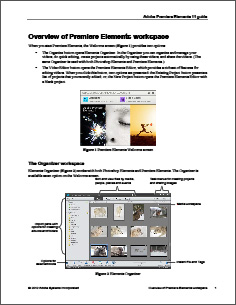 Adobe Premiere Elements 11 Guide
Contents:
Overview of Premiere Elements workspace
How to add titles
How to add transitions
How to add video effects
How to edit clips
How to import video
How to share video
How to work with audio
Podcasting
---
See Also

Do you have any questions about Photoshop/Premiere Elements? Just ask them below and we'll get you answers fast!
Keep up with the latest on Adobe software — follow us on Facebook or Twitter, or subscribe to our RSS feed… You can also enter your email and have new articles sent directly to your Inbox. We are reader-supported; when you buy through links on our site, we may earn an affiliate commission.