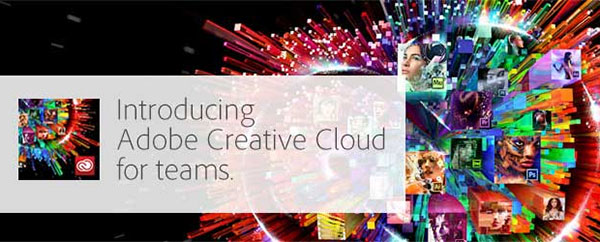 [UPDATE (December 11th) – As predicted, Creative Cloud for Teams is here now today!]
During a recent conference call with analysts, Adobe CEO Shantanu Narayan revealed some of the company's future plans surrounding new offerings for the Creative Cloud, in particular an upcoming solution for customers who need multiple licenses:
Response to the Creative Cloud has exceeded our expectations, and we expect adoption to accelerate as we deliver constant innovation exclusively to members. Our success thus far has been with individual users. Over the next few months, we will introduce new offerings for teams and enterprises which significantly expand the market opportunity for Creative Cloud.

In November, we will launch Creative Cloud for teams, which will enhance collaboration and simplify the setup, management and administration for creative workgroups.

Next year, we will also deliver an enterprise version of Creative Cloud targeted for compa­nies who wish to deploy and provision Creative Cloud across large organizations with a scale similar to the enterprise license agreements we have for Creative Suite today.

Creative Cloud for teams and enterprises will be made available through our channel partners as well as directly from Adobe.
A release window for Creative Cloud Team in November is closing fast – but there is a big event on the horizon where this product launch looks likely:
Create Now Live
December 11, 2012 at 10am PT (see the hour in your timezone)

See what's possible. Join creative leaders and explore what's next in Adobe Creative Cloud.

At Create Now Live, you'll:

Thousands of creative professionals have already signed up for this exciting free online event – join us!



Creative Cloud Team – Details & Pricing?
We already know the pricing of Creative Cloud for Teams – it's going to be US$69.99/month per user, based on an annual subscription. That's $20 higher than the standard Creative Cloud member­ship, and Adobe says the reason it will cost more is because the product will be delivering more.
So what should we expect in this new offering – what should Creative Cloud for Teams do to deserve the higher price and make life easier when working in groups, businesses, and schools? Here's our list for what we hope to see, and what makes good sense to have:
Start off with including everything you get in an individual Creative Cloud membership.
Easy license management with the ability to flexibly add, remove, or change user seats.
Centralized purchasing, license administration, and reporting.
Enhanced tools and features for workgroup sharing and collaboration.
Larger online storage space than the 20GB included in the standard Creative Cloud.
Extra availability of Adobe technical support as needed, dedicated to team customers.
Allow upgrades from individual Creative Cloud memberships to team memberships.
No minimum or maximum on number of seats you could purchase for your organization.
Offer a pricing discount for current or previous Creative Suite volume licensing customers.
Make it available directly through Adobe.com or via resellers.
So there you have it, our Top Ten Wishlist for Creative Cloud for teams – what would you like to see? Stay tuned for Adobe's announcement in December and let's hope they come through!
Free ebook: Download the Creative Cloud for Teams Getting Started Guide.
See Also

To follow this story going forward, subscribe to our RSS feed or like us on Facebook or Twitter… You can also enter your email and have new articles sent directly to your Inbox. We are reader-supported; when you buy through links on our site, we may earn an affiliate commission.