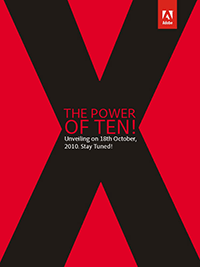 Adobe has just launched Acrobat X (Acrobat 10) and the first thing everybody wants to know is what's been added or improved in the new version… Fortunately we've been following the Acrobat 10 story for a long time, so we have the answers for you…
Adobe went back to fundamentals with Acrobat X and reimplemented much of the interface and functionality to make them better, faster, and smoother. They used their extensive Product Improvement Program with a dataset of hundreds of thousands of users to make things really work like you think they should and want them to, saving you time and helping you complete your work quickly and effectively.
Here are Adobe's overriding goals and themes for this release:
Increase efficiency of the document exchange and collaboration processes
Simplify, guide, and automate complex knowledge worker tasks
Empower users to create engaging, dynamic communications
Extend and optimize review and approval workflows
Make it easier to protect or redact sensitive information
Enable better content re-use and transfer between applications
Expand document access and workflows across devices
And with these in mind, here are the top 15 highlights for what's new in Adobe Acrobat X:
New, simplified and intuitive "Panels" user interface
New guided Actions ("macros" capability) for common tasks
Seamless export to Word, Excel, PowerPoint, and Access
Tight Microsoft SharePoint integration
Fully customizable PDF Portfolios with wide variety of file types
Much improved OCR accuracy and efficiency
Customizable Quick Tools area for frequently used commands
New PDF Portfolio Wizard and related content
Single, unified tool pane for commenting and markup access
New PDF Reading Mode (with "heads-up display")
Improved browser integration, loading, and viewing
Microsoft Office 2010 enabled, create PDFs in a single click
Adobe Reader Protected Mode Security (sandboxing)
Better enterprise deployment automation
New Acrobat X Suite for the complete picture
We're in the public Prerelease Program and have seen some of the demos, and Acrobat X Pro just makes working with information much simpler and more streamlined. The audience at a recent sneak preview was clapping and cheering after many of the feature demos like it was an Apple event. When the presenter showed a couple of complex but perfect PDF table exports to Microsoft Word and Excel, there were user comments like "miraculous" and "jaw-dropping"…
Bottom line, Adobe Acrobat X looks like a smooth and solid upgrade that will make your life easier, help you get more done, and save you a lot of time.