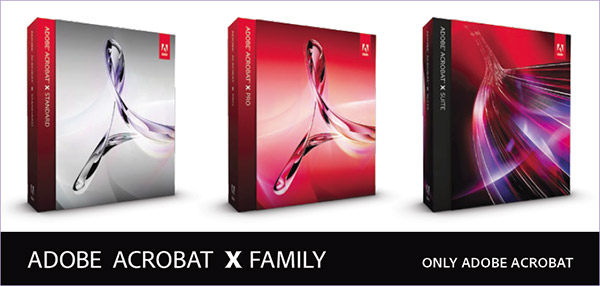 Yes – Adobe Acrobat X has just been announced with all the details… Pretty much on the timeframe we forecast, you can learn about and order any of the three new versions, or download the free trials. For this 10th generation of the PDF industry standard, Adobe is offering two versions – Standard and Pro – plus a brand new Acrobat X Suite Edition that features Acrobat X together with Photoshop, Captivate, and three other Adobe products.
As was announced last spring, the previous "Pro Extended" version which focused largely on 3D had its technologies transferred to two other companies for future development – but some of the other things that Extended did are picked up by the new Suite.
The very first version of Acrobat came out in 1993 and there have been 40 million total Acrobat units sold since then, Adobe's biggest product ever… Over 90% of Internet-connected computers have the Adobe Reader installed, and there are over 160 million PDF files on the Web. So what's new in Acrobat version 10?
There are plenty of new features, but Adobe really worked hard on this release to make it sleek and polished, giving it a new streamlined interface and making it faster and easier to use than previous versions. We've seen the demos and it shows – it really does some cool and amazing things. Overall we present some quick highlights here, but see our companion "what's new" article for more:
New PDF Portfolio Wizard, with all-new layouts, visual themes, and color palettes.
New Action Wizard to automate tasks ("macros") across one or many PDF documents.
Much improved scanning results (OCR) and exporting to Word, Excel, and PowerPoint.
Native, seamless integration with Microsoft SharePoint.
Streamlined commenting with all markup tools and comments on a single, unified pane.
New customizable Quick Tools area to quickly access the tools you use most.
New "heads-up display" to maximize and optimize PDF file presentation.
Improved web experience to open online PDF documents faster and easier.
Create PDF files with a single click from Microsoft Office 2010 applications.
Send large files or collect form data with easy-to-use services at Acrobat.com.
The Acrobat X free trials are now available – download yours today.
Pricing, Upgrades, Availability, and Requirements
The prices remain US$299 for the full version of Acrobat Standard, and $449 for Acrobat Pro. The upgrade prices go up a bit – to $139 for a Standard upgrade and $199 for an upgrade to Acrobat X Pro. While a price bump is never welcomed, the move to $199 actually brings the Acrobat Pro upgrade cost in line with other major Adobe products like Dreamweaver, Illus­trator, and InDesign. The discounted upgrade pricing is from three versions back, meaning Acrobat 7, 8, and 9 – however Adobe historically offers a grace period for purchases made after the announcement date, so if you upgrade now from the popular Adobe Acrobat 6, you may be eligible for a free upgrade to Acrobat X.

The new Acrobat X Suite is priced at $1,199, which is little more than the cost of Acrobat X Pro and Photoshop CS5 together ($449 + $699 = $1148), with a total package value in the suite of $2,447 (cost if purchased individually). There are also upgrade paths to the suite from many standalone Adobe products for $799.
Students and teach­ers can order the full education version of Acrobat X Pro for $119 (74% off).
All Acrobat X purchases made by December 20th will receive free Fedex shipping direct from Adobe. Acrobat X is currently orderable in English, French, and German and will eventually be available in 28 different languages.
Adobe Acrobat X will run well on 32-bit or 64-bit systems, and is designed for Windows XP, Vista, Windows 7, or Mac OS (see the full system requirements). And similar to other Adobe software, you may be able to install Acrobat X on up to two computers, subject to the terms of the software's license agreement.
See also the excellent FAQ, plus the free new 40-chapter online video tutorial series on The Acrobat X Channel, including the 5-minute overview, Getting Started in Acrobat X.