[UPDATE (April 11th) – Adobe CS5.5 is out! See also when CS6 is penciled.]
Last week Adobe held a private briefing for partners under non-disclosure agreement, where they gave "an overview of the upcoming Creative Suite release"… While we can't speak to what transpired within the presentation, the invitation itself is publicly available.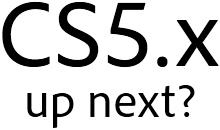 Given that the next release of Adobe Acrobat is due out within a matter of weeks (see why and when, or get a chance to win a free upgrade to Acrobat 10 Pro), and given the two year age of Acrobat 9, it's likely Adobe would be refreshing CS5 with the addition of the new Acrobat X. When Acrobat moved from version 7 to version 8, Adobe subsequently updated the Creative Suite and issued CS2.3 – and then once again when Acrobat revisioned from 8 to 9, Adobe incorporated the new version into CS3.3 in 2008. Acrobat 9 is still what we have today in CS5 – but since it's obviously way too early for CS6, it seems a safe bet we'll be seeing a point release (CS 5.3?) that would incorporate the new Acrobat 10.
But from reading the briefing invitation, it looks like there will be more in store for this next release than "just" integrating the new version Acrobat X Pro. It says, "… an overview of the upcoming CS release with a focus on InDesign and ePublishing…" Adobe has been hard at work on a new Digital Publishing Platform (you may have seen or read about the tablet editions of WIRED or The New Yorker magazines) that ties in with InDesign, and is (over)due to be made available on Adobe Labs. It seems logical that this would also be part of a CS5 point release, as it is a major deal for magazine and print publishers to deliver their content to the iPad, iPhone, Android, and other mobile devices, and has been quite successful thus far… But since the publishing tools haven't yet been released in beta form on the Labs, it could be a while longer before the final version of this new technology is ready for the world at large.
There are hints that other applications may be receiving updates as well – for example the Flex team has been slipping out sneak peek videos for the next version of Flash Builder, code­named "Burrito." There's also talk by Adobe of some future vector drawing improve­ments for Photoshop CS5 (for vector shapes and layer effects – strokes, gradients, etc.). And finally there's an unnamed "cool" new Adobe product in development that aims to improve the way visual people create for the Web.
Add it all up and it means we may not see a CS5.3 released at the same time Adobe Acrobat 10 ships, but rather a larger upgrade to more products (CS5.4 or CS5.5?) coming out a bit further down the road, perhaps sometime during the winter or spring… In the meantime, undoubtedly, we should expect that when AA10 arrives it will work well as a separate upgrade add-on to CS5, if desired.
[UPDATE (October 18th) — Confirmed! Adobe Acrobat X was just announced this morning and the following appears in Adobe's Acrobat X FAQ — "Q: When will Adobe CS5 include Acrobat X Pro? A: Because Adobe CS5 contains so many applications, it isn't always possible to update the entire suite edition when a single product release becomes available. Acrobat X Pro will be included in the next dot release of Creative Suite."]
One question: If you buy Creative Suite 5 now, what would an eventual point upgrade cost? (e.g., from CS5 to CS5.5) Well, the best yardstick we have is what it cost in previous years to move from CSx to CSx.3… The price was $159 in both cases for the suite upgrade, which is the same as the cost to upgrade just Acrobat Pro from one version to the next. Obviously we can't state what Adobe's future pricing will be, but if past history is any guide then it could be close to this. And of course, if you're happy with CS5 as it is and wouldn't need these updates, you wouldn't need to upgrade to CS5.x.
What would you like to see in a CS5 point release? Please share your thoughts below and/or at Adobe's official feature request "wishlist"…