There's a cool new art museum that's just opened, and it's available to anyone, anytime, anywhere, at no cost… It's the Adobe Museum of Digital Media, a first-of-its-kind, all-digital venue created to showcase all forms of digital art and media. As digital media is Adobe's business, we've been looking forward to this space opening its doors…
And the setting does not disappoint. You get the idea like you're at a museum of the future, with a stunning cityscape intro to the unique building and its exhibit hall. The striking structure was designed and modeled by an architect even though it exists only in cyberspace. Holo­graphic videos from the curator and a cyborg jellyfish (with a euro-diva voice) are your primary guides, and you have the feeling like you've snuck into your very own "night at the museum" with a cavernous, futuristic, even cinematic atmosphere.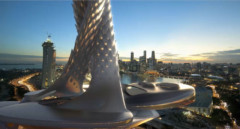 The details of the first major exhibition now open can be found here. The works are not static, and visitors to invited to explore the interactivity and possibilities of the (Flash-based) medium. Like physical museums, there will be rotating artists, new shows, and expanding collections – and this is a good thing since modern art can be hit or miss as to whether it speaks to you personally. Once you enter the building, you can sign up for a free charter member­ship with your email to receive advance notice and previews of future exhibits, access to seminars, and other exclusive events.
Anyway, it's all very slick and worth checking out for a peek into the future today. While it won't replace a physical visit to MoMA, with everything else moving online this is another sign of the digital times.
About the Museum

The mission of the new Adobe Museum of Digital Media is to showcase and preserve groundbreaking digital work and expert commentary to illustrate how digital media shapes and impacts today's society.

Open 365 days a year, 24 hours a day, and accessible anywhere, AMDM is a place to reflect on the importance and impact of digital media in our lives. The museum is an ever-chang­ing repository of eclectic exhibits. Shows will be curated by leaders in art, technology, and business to inspire fresh conversations about our constantly evolving digital landscape.