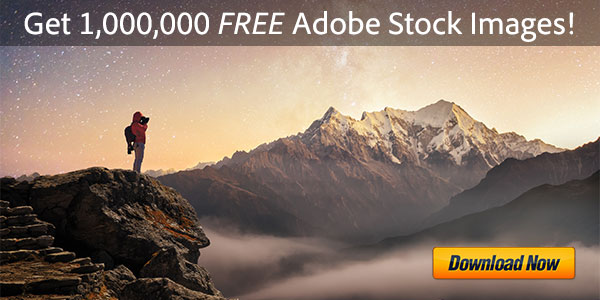 Over the years, we've put together a large collection of free Adobe books that we share with our readers here… This extensive set of helpful, no-cost books has now grown to over 30 different titles that you can legally download and use royalty-free, forever.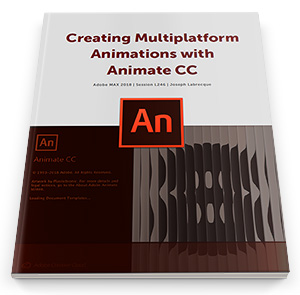 These digital books cover Creative Cloud, Creative Suite, Photoshop, Illustrator, InDesign, Acrobat, Dreamweaver, Muse, Lightroom and more – but until now, we haven't always had a good and recent offering for Adobe Animate CC (formerly Flash Professional).
Fortunately, this has changed with the publication of the new "Creating Multi­platform Animations with Animate CC" guidebook, which comes from award-winning Adobe Education Leader and longtime Animate guru Joseph Labrecque.
Mr. Labrecque conducted a paid Animate CC workshop at the Adobe MAX conference this month, and is now making the class's training materials available to the general public completely free of charge. This special offer includes the main 59-page course workbook together with 9 MB of sample working assets, all of which you can download for free here.
Here is the overview description of this course: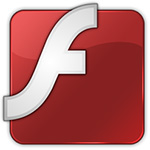 In continuing to provide the direct download links for major Adobe products such as Creative Cloud, CS6, Acrobat DC, Elements 15, and Lightroom 6/CC, below you'll find the DDL for the brand new just-released Adobe Flash Player 11.9 (the final version). This is important because the free Flash Player is the most widely-used and often-downloaded software in world, and some folks find it easier to access it quickly and directly, without a download manager (e.g., Akamai), or with their own DLM, and without additional products or toolbars included.
Check your current Adobe Flash Player: What version are you running now?
What's New in Flash Player 11?
Flash Player 11.9 contains dozens of sophisticated new features and enhancements over FP version 10, here are some of the major ones – for more, and more details, see the Official Release Notes:
Improved Security through Sandboxing Enhancements
Concurrency (ActionScript Background Workers)
Expanded Hardware and Driver Support
Full screen complete keyboard input
Low latency audio support (Sound API)
Protected Mode for Firefox
Mouse-Lock, 360-Rotation, and Infinite Scrolling
Added Support for Middle-Click & Right-Click
Automatic Background Updates (Windows & Mac)
Protected HTTP Dynamic Streaming (HDS)
Stage 3D Accelerated Graphics Rendering
Native 64-bit Support Available
H.264/AVC Software Encoding for Cameras
Asynchronous Bitmap Decoding
TLS Secure Sockets Support
Cubic Bezier Curves
Updated iOS native extensions
Native text input UI for Android
[UPDATE (May 6th) – The next release is announced! Learn more about new Adobe CC.]
In recent days Adobe has been slipping out little sneak peeks of new product versions (perhaps CS7?) entitled, "Early Views Into the Next Generations Of Dreamweaver and Flash Professional." These brief first looks show improvements centered on re-architecting the tools for performance, usability, and stability – as well as adding some new features and keeping on top of technological trends.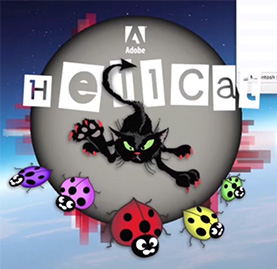 For the next release of Flash Pro (code-named "Hellcat"), there's a blazing new 64-bit archi­tecture, written in native cocoa – making the program modularized, much faster, and more reliable so you can be more efficient. For example, start time has been cut to just 2 seconds, 10X faster than CS6… There's also a new user interface with light and dark themes, plus support for HiDPI displays (e.g. MacBook Pro Retina) – read more details here.
For the upcoming version of Dreamweaver, you'll be getting a modernized, retooled and streamlined user interface with some old features deprecated, and new ones like the CSS Designer added for responsive web design. The CSS Designer is a visual interface to quickly and intuitively work with CSS properties like gradients, box shadows, and media queries to support web content presented in different-sized media. Adobe says this feature will be available later this year and you can find more information in this blog post.
[UPDATE (February 2013) – Adobe has just released a free software upgrade and everyone can now get Edge Animate 1.5 (still) for free! (download it here) They've also now made available for all users a free preview version of Edge Reflow, their new responsive-web design tool.]
Perhaps the biggest news from Adobe's Create the Web event earlier this week is how much they're giving away their new mobile-ready web development software… The new Edge Tools & Services collection includes some great products for free download and use, including the final official release of Edge Animate 1.0 – the full and permanent version at no charge (regularly US$499) – for creating interactive and animated web content.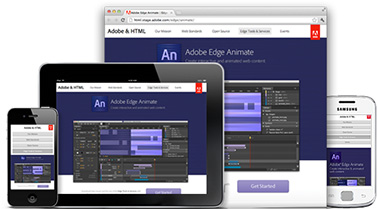 Edge Animate (formerly known as "Adobe Edge" during its long Preview period) is effectively Adobe's "Flash Pro for the HTML5/CSS3 world" – this new application works similarly to how Flash Professional does for creating rich media – but instead of generating Flash, it outputs standards-based HTML that can be viewed in browsers all across the web, on desktops and laptops as well as mobile devices and tablets.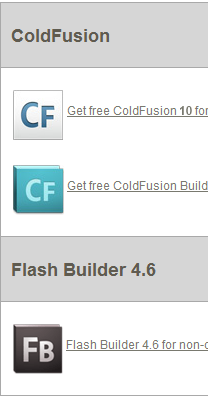 You may have heard of the recent releases of Flash Builder 4.6 (formerly Flex Builder, and part of CS6), plus ColdFusion 10 and ColdFusion Builder 2…
And we've written about this particular offer before, but it bears repeating now that we have these major product refreshes for both Flex and ColdFusion.
Adobe will give you full versions of these premium devel­opment tools (US$249 – $1,499 values) absolutely free world­wide if you qualify! And if you don't, you might know someone who does and could benefit…
Free copies of Adobe Flash Builder 4.6 Standard are given for non-commercial use to: (a) students, faculty and staff of eligible educational institutions, or (b) software devel­opers who are affected by the current economic conditions and currently unemployed.
The ColdFusion products are also available for free to educational customers, to use for learning purposes only and not for production purposes. Complimentary installation support is available, and if you are a teacher and would like ColdFusion 10 for multiple systems in your lab, you can request up to 30 education serial numbers.
[UPDATE (April 23rd) – Creative Suite 6 is out!]
Similar to how they did before the launch of CS5.5, Adobe has been quietly slipping out a bevy of "sneaks" (now numbering 16 videos including those for Photoshop CS6) for new features that may be in a forthcoming release of the Creative Suite…
"Check out what new technologies, features and innovations the Adobe product teams are working on behind the scenes. Stay tuned to get an early glimpse of what could be next from Adobe."
The latest CS6 products previewed include: Dreamweaver, InDesign (2), Premiere Pro, Audition, Flash Profes­sional, Illustrator (previously), and of course Photoshop.
The drumbeat has been getting louder with plenty of news lately about Creative Suite 6:
So things are starting to get a little exciting.
Here now are some of the significant new preview demos… For the complete set, please see the Adobe Technology Sneaks 2012 page.
If you'd like to learn how to use Adobe's Creative Suite tools to easily and portably create websites and apps for tablets, smartphones, and mobile devices there's a new 2¼-hour course you'll be interested in…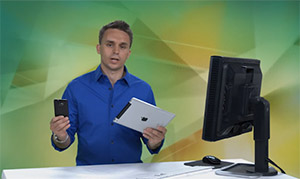 Guru Paul Trani teaches an extensive free class with 18 video chapters that will take you step-by-step on how to create portable content that will run on both Apple iOS and Google Android devices with a wide variety of screen sizes using a single code base. Basic usage of HTML5 and CSS3 is covered, as well as how to bring in Adobe's recent additions PhoneGap (for building fast, cross-platform mobile applica­tions) and Typekit (for delivering custom web fonts).
The first half of the video series employs Adobe Dreamweaver CS5.5 to develop both websites and apps, with steps on how to convert a website into a portable mobile app. The tutorials then move on to using Flash-based tools (with Adobe AIR) to build multi-platform mobile apps. We already know that Flash Professional CS5 can be used to build apps for the iPad and iPhone, but this takes it a step further. The videos guide you all the way through to how to publish your app to your device and to the Android Market (which shows immediately) or to the Apple App Store.
Many people have been making guesses on what's happening now that Flash Player for Mobile will not be further developed. There's a lot of talk and speculation out there, as folks try to figure out what it means… So take two dozen common questions on the subject, and here are the official answers Adobe sent to us: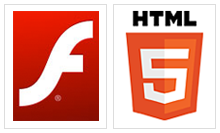 What is it that Adobe is announcing?
Adobe announced plans to increase its efforts on HTML5, and to focus Flash on mobile applications (packaged with AIR) and PC browsing with an emphasis on use cases not yet addressed by HTML5, including premium video and console-quality gaming. Adobe will no longer develop Flash Player for mobile web browsers. See the blog post for more details.
Does this mean that Adobe is no longer supporting content publishers focused on delivering content via a browser on a mobile device?
Adobe offers world-class tools and technologies including HTML5 tools like Adobe Edge that allow content publishers and developers to bring rich content and experiences across mobile web browsers using HTML5.
What does this mean for Flash Player support on desktops?
Adobe is fully committed to providing a great experience for use cases not yet well supported by HTML, including console-quality gaming and premium video. In fact, Flash Player 11 just introduced dozens of new features, including hardware accelerated 3D graphics for console-quality gaming and premium HD video with content protection. We are already working on Flash Player 12 and a new round of exciting features which we expect to again advance what is possible for delivering high definition entertainment experiences.
Adobe is dropping some hints about new and future creative tools coming on tablet devices and for HTML5 content creation. On a publicly-available conference call earlier this week, Adobe CEO Shantanu Narayen shared some guidance on the company's upcoming product roadmap and what to expect…
With a shifting landscape that favors HTML5-based content and application delivery, we are doubling down in our investment in this area. CS5.5 delivered enhanced HTML5 capabilities. We recently previewed Adobe Edge, a new HTML5 web motion and interaction design tool, which allows web designers to create cutting-edge animations for their websites. Interest in this tool far exceeded our expectations.

We also just introduced the beta release of a new product code-named Muse, which allows designers to create and publish HTML-based websites without writing complex HTML code. And we are contributing new innovations to WebKit to allow for a more expressive Web. These initiatives show our commitment to help drive the evolution of browsers and be the leading tools provider for HTML5, and this is only the beginning.
So what does this mean in terms of the next release of Creative Suite? Will we see Adobe Muse and Edge – or other new HTML5 tools – as part of CS6?
[U

PDATE

– Looking for a newer version? See the direct download links for Flash Player 11.]

In our tradition of providing the direct download links for major Adobe products such as Creative Cloud, CS6, Acrobat DC, Elements 15, and Lightroom 6/CC, below you'll find the DDL for the just-released new Adobe Flash Player 10.3 (final version). This is important because the free Flash Player is the most widely-used and often-downloaded software in world, and some folks find it easier to access offline without a download manager (Akamai or Adobe DLM), or with their own DLM, and without additional products or toolbars included.
Check your current Adobe Flash Player version: What version are you running now?
What's New in Flash Player 10.3?
Flash Player 10.3 improves stability, enhances security and user privacy protection, and provides new desktop video and audio capabilities for enterprises and developers.
Besides a dozen bug fixes, this release contains several new features and enhancements: