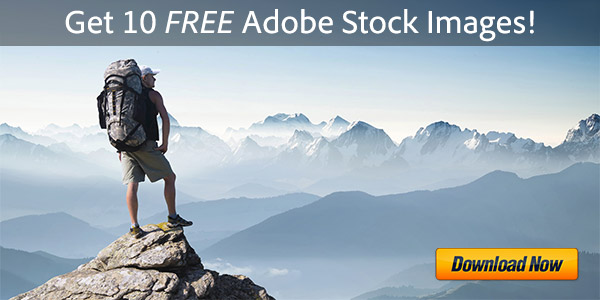 Over the next six weeks Adobe is launching a new series of in-depth online seminars to learn the best and get the most out of some top CS5 products, including InDesign, Illustrator, Premiere Pro, and Flash Professional…
The presentations are 90-minute live "deep dives" with Adobe product experts where you can get firsthand detailed information on the new features of these releases, see demonstrations, and get direct answers to your questions. All sessions are from 11:30 AM – 1:00 PM ET on upcoming Tuesdays, and will be presented in English: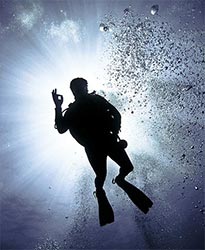 Deep Dive: Adobe Illustrator CS5
Tuesday, July 13, 11:30am – 1:00pm US/Eastern
Complimentary Registration
Deep Dive: Adobe InDesign CS5
Tuesday, July 27, 11:30am – 1:00pm US/Eastern
Complimentary Registration
Deep Dive: Adobe Flash Professional CS5
Tuesday, August 10, 11:30am – 1:00pm US/Eastern
Complimentary Registration
Deep Dive: Adobe Premiere Pro CS5
Tuesday, August 24, 11:30am – 1:00pm US/Eastern
Complimentary Registration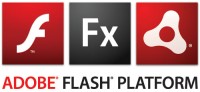 Adobe announced their second quarter financial results yesterday and during the accompany­ing conference call, Adobe CEO Shantanu Narayen spoke about their Flash technology and how it's doing given the recent contro­versy with Apple. The call transcript quotes Narayen as saying:
Enabling our customers to deliver engaging experiences across multiple devices remains a focus of the company. Today we announced availability of Flash Player 10.1 for mobile devices, which delivers on the promise of enabling access to the full web across desktops and devices. We expect millions of devices to ship with 10.1 in the second half of 2010.

Flash is strategic for Adobe because it delivers great value to our customers. Approxi­mately 3.5 million Flash designers and developers are working with Flash-based solutions today, and their ranks grew by 59 percent in 2009. The new release of Flash Player creates a whole new sandbox for these millions of designers and developers to create next-generation content, advertising, games, applications and experiences.

We've already seen that those who have been using the new Flash Player on Android phones love it; and as devices start to ship with Flash during the rest of the year, those that don't have Flash on their smartphones will wish they did.
With the final releases of new Flash Player 10.1 and AIR 2, Adobe is hosting a new series of free webinars introducing the new multi-screen web content and applications development capabilities of the Flash Platform. You will discover the exciting new features of Flash Player 10.1 and AIR 2 and learn the best practices from leading industry experts on how to create unique experiences and optimize web content, video, and applications across desktop and mobile. Here's the session list, with detailed descriptions available on the registration page:
Best practices in optimizing web content for Flash Player 10.1
Tuesday, June 22, 9AM–10AM PDT — Watch Free On-Demand
The quickest way to build cross-platform apps with AIR 2
Tuesday, June 22, 1PM–2PM PDT — Watch Free On-Demand
Rich Internet App development with Flash Builder 4 for Flash Player 10.1 and AIR 2
Wednesday, June 23, 9AM–10AM PDT — Watch Free On-Demand
Multi-screen web content development with Flash Pro CS5
Thursday, June 24, 9AM–10AM PDT — Watch Free On-Demand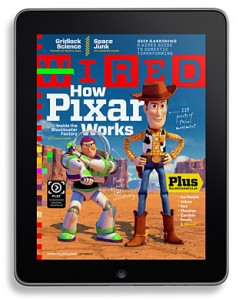 Back at the TED Conference in February, Adobe unveiled a prototype of a new digital magazine solution running on a tablet computer… The demo was built on the cross-platform (and Flash-based) Adobe AIR environment and illustrated the possibilities for magazine publishers to reach readers in new ways. The concept enabled — in digital form — the immersive content experience maga­zines are known for, and allowed new interactive features to stimulate reader engagement. The idea was that with the upcoming release of Creative Suite 5, publishers could use the new InDesign CS5 to create the rich media content for the new format, and then run the reader applications across a variety of device types because Adobe AIR is portable – including the iPhone and iPad through the new Packager for iPhone capa­bility included in Flash Professional CS5…
But then in early April, just before CS5 was launched, Apple made some changes to their SDK license restricting the technologies that developers can use for their products, including Adobe Flash software… So without Flash-derived apps being approved in Apple's App Store, would that mean the end of Adobe's new magazine publishing initiative on Apple devices?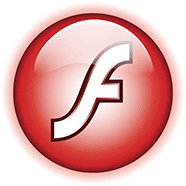 At a west coast investor conference Monday, Adobe Chief Financial Officer Mark Garrett said he doesn't see an impact to Creative Suite 5 adoption from the recent moves by Apple to restrict Flash development for the iPad and iPhone. And Adobe Investor Relations VP Mike Saviage asserted that HTML5 is still in its formative stages but Adobe will lead the pack for tools when it's ready.
Highlights from the 25-minute presentation are transcribed and excerpted here:
I'm sure you read the papers – there's a lot of press around Flash, but there's actually also a lot of momentum with Flash as well, moving from PC to non-PC devices. We've announced that Flash Player 10.1, which is shipping soon, will be supported by 19 out of the top 20 smartphone manufacturers, so we're going to be on virtually every smart­phone out there. We're very excited about Flash 10.1 and think it's going to be a great, compelling experience for customers and a big product launch here for Adobe.

There are roughly 1.3 billion devices in the world that already have Flash in some form on mobile handsets. We think there's 3.5 million Flash designers and developers in the world, a number that grew 59% last year over 2008. You're going to see Flash 10.1 first on Android devices, but we're working closely with companies like RIM for BlackBerry, Palm/HP, and others to bring that same capability to their devices.

Obviously the bar has been set by Apple with their devices, and everybody's racing to either hit that bar or to exceed it – and every one of them is using Adobe as a differen­tiation because of the prevalence of Flash in the world and how people use it to create rich, engaging experiences – video being only one aspect of why Flash is used in the world. We're on track to ship 10.1 imminently – you'll see it at Google I/O, and in the second half of this year you're going to start to see a lot of devices shipping with the code we're going to deliver to handset manufacturers in the coming weeks.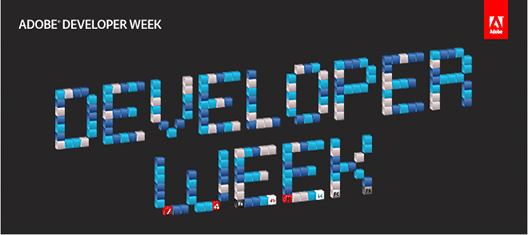 [UPDATE (May 17th) – All sessions were recorded & are now available for on-demand viewing.]
Adobe Developer Week 2010 begins today worldwide and will showcase Adobe end-to-end web devel­opment tool suites and solutions. This is your opportunity to learn about the Adobe Flash Platform, including Flash Professional CS5, Flex, Flash Builder, Flash Catalyst CS5, AIR, and other Adobe technologies for free, directly from Adobe evangelists and product managers. Speakers include Ben Forta, Ryan Stewart, and many others.
These technology experts will present live, online webinars and demos, with the oppor­tunity to ask questions during interactive Q&A sessions. There are twenty hour-long present­ations throughout the week and you can sign up for as many as you like, and you may be eligible to win cool prizes such as Flash Builder 4 and CS5 Web Premium.
Here's a preview of some of the topics to be covered this week:
Introduction to the Adobe Flash Platform
What's New in Adobe Flash Builder 4
Building Multi-Screen Applications with the Adobe Flash Platform
Adobe Flash Catalyst CS5 for Developers
New Features in Adobe Flash Player 10.1
Building Mobile Applications with Flash Pro CS5: Create a Game
Adobe ColdFusion 9 and Adobe Flash Catalyst CS5
Creating Sexy Applications with Flash: Designer-Developer Workflow
Flash Builder 4 for Dreamweaver CS5 Users
Building Desktop Applications with Adobe AIR 2.0
Advanced Features in Adobe Flex
Visit the Adobe Developer Week site for more details and to enroll for free.

Yes, CS5 is out! It looks like a phenomenal release, and we have full coverage – including new products, pricing, configurations, system reqs, videos, "what's new" feature lists, and more:
ALL CS5 products are immediately available for purchase and instant download, with free shipping on all Adobe orders over €500/£350 in Europe and the U.K. (no coupon or promo code is required)…
On Adobe's site: If you're considering upgrading from your current software, here's a helpful upgrade guide. Also new is an excellent FAQ covering purchasing policies and key product changes… The online documentation for all CS5 products also just went up.
Lastly and importantly, the CS5 free trial downloads and Student and Teacher Editions
(up to 80% off) are also now available!
[UPDATE (May 13th) – Adobe CS5 is now shipping and downloadable in 16 languages: English, French, German, Japanese, Spanish, Portuguese, Italian, Dutch, Danish, Swedish, Norwegian, Finnish, Czech, Polish, Russian, and Korean.]
Categories:
Tools
Adobe, after effects, CS5, dreamweaver, flash, illustrator, indesign, photoshop, premiere, suites, upgrade, videos
Late yesterday, in a post entitled, "CS5 Countdown is on…", Adobe Chief Technology Officer Kevin Lynch wrote about the recent decision by Apple to restrict which Software Development Kits can be employed to produce iPad and iPhone apps:
So, what's all the fuss about the Apple proposed revised SDK license?

Yesterday Apple released some proposed changes to their SDK license restricting the technologies that developers can use, including Adobe [Flash] software and others such as Unity and Titanium.

First of all, the ability to package an application for the iPhone or iPad is one feature in one product in Creative Suite. CS5 consists of 15 industry-leading applications, which contain hundreds of new capabilities and a ton of innovation. We intend to still deliver this capability in CS5 and it is up to Apple whether they choose to allow or disallow applications as their rules shift over time.

Secondly, multiscreen is growing beyond Apple's devices. This year we will see a wide range of excellent smartphones, tablets, smartbooks, televisions and more coming to market and we are continuing to work with partners across this whole range to enable your content and applications to be viewed, interacted with and purchased.

Tune In

Creative Suite 5 is a tremendous leap forward, and I encourage you to tune into the global webcast on Monday 8am PDT and find out all the details.
---
[UPDATE (April 29th) – Creative Suite 5 is now shipping!]
[UPDATE (April 16th) – We've put together new estimates on likely CS5 shipping timeframes, plus information on Adobe's "free upgrade" grace period for CS4.]
When will Adobe Creative Suite 5 be released? That seems to be a big question of the season… Now that it's March, let's take another look. If you search the Adobe site for CS5, you'll find some good tidbits, particularly about Flash Pro CS5 and Photoshop CS5, but little that's concrete on timing.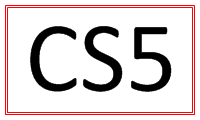 But if you look to coverage of a financial conference the CEO spoke at last week, the Wall Street Journal writes: "CS5 is slated for release in April, though Narayen wouldn't comment on a release time frame at the conference. Narayen said Adobe will ship its new version of Flash around the same time as CS5, in the first half of this year. 'Data points and reviews point to a really solid release' of CS5, he said."
So it sounds like at this point there is still no official date from the company, but the financial community (whose jobs depend on researching this type of info) is expecting it to be available in the mid-spring. And if it were to come three years after the CS3 release, and eighteen months after CS4, then it would be in the second half of April – so with any luck, not too much longer to wait…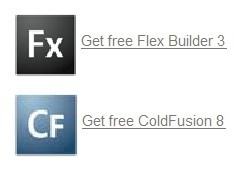 Adobe has just started a new program of giving away full versions of some of its premium development tools ($699 – $1,299 value) absolutely free if you qualify…
If you are an educational customer or an unemployed developer, Adobe would like to lend a hend. Simply certify you are a student, faculty or staff of an eligible education institution, or currently out of work – and the software is yours to download for non-commercial use.
Get your free products here.
UPDATE (August 28, 2012) – With the two new version releases out recently, the products now available for free at this site are ColdFusion 10, ColdFusion Builder 2, and Flash Builder (formerly Flex Builder) 4.6.