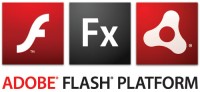 Adobe announced their second quarter financial results yesterday and during the accompany­ing conference call, Adobe CEO Shantanu Narayen spoke about their Flash technology and how it's doing given the recent contro­versy with Apple. The call transcript quotes Narayen as saying:
Enabling our customers to deliver engaging experiences across multiple devices remains a focus of the company. Today we announced availability of Flash Player 10.1 for mobile devices, which delivers on the promise of enabling access to the full web across desktops and devices. We expect millions of devices to ship with 10.1 in the second half of 2010.

Flash is strategic for Adobe because it delivers great value to our customers. Approxi­mately 3.5 million Flash designers and developers are working with Flash-based solutions today, and their ranks grew by 59 percent in 2009. The new release of Flash Player creates a whole new sandbox for these millions of designers and developers to create next-generation content, advertising, games, applications and experiences.

We've already seen that those who have been using the new Flash Player on Android phones love it; and as devices start to ship with Flash during the rest of the year, those that don't have Flash on their smartphones will wish they did.
During the subsequent Q&A session with analysts, the question came in, "are you seeing any impact on the Creative Suite business relative to the Flash and HTML5 debate?" Last month we reported here there would be "no impact," and yesterday the CEO confirmed:
No, we really have not seen any impact on our Flash authoring business. What we are finding frankly is that we're seeing more and more fragmented workflows as people have to author to different standards. And the demand actually on our authoring side, to be able to deal with all these disparate workflows is actually causing more attention being paid to the Creative Suite 5 features.

In fact, for CS5 products containing Flash authoring and output, we have a 22% increase in revenue over CS4 to date. And I think you'll see probably another ten tablet-style devices that come out with different resolutions between now and holiday season, which will increase the demand for that capability within our products.

And we've said this multiple times, both Flash and HTML are really going to be the solution for the web. Both of them have benefits. And Adobe has had a long history of supporting both existing formats; and when the formats don't exist, of inventing appropriate technology to enable people to deliver the kind of experience they want.

But if you think about sporting events that are happening or when you think about television, all of that's also being streamed on the internet and frankly all of that's in Flash. So for those who have been watching the soccer or golf, virtually all of that content is in Flash.
The press reviews of the new Flash Player 10.1 on mobile devices have been good and the demos impressive, and it's the #1 free download on Android. At today's Droid X launch in New York (see video interview below with Adobe, Google, Verizon, and Motorola), Google's mobile VP Andy Rubin shared that 160,000 Android phones are now activated each day, up from a prior estimate of 100,000/day just last month. As more and more Android devices come to market, along with planned support for Flash Player on RIM's Blackberry devices, Nokia's Symbian and MeeGo devices, Palm's WebOS devices, and future versions of Windows Phone, Flash's future on Android looks bright.