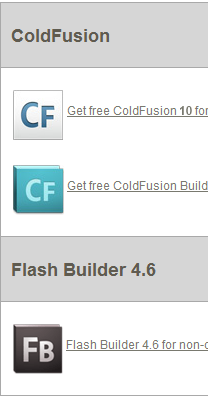 You may have heard of the recent releases of Flash Builder 4.6 (formerly Flex Builder, and part of CS6), plus ColdFusion 10 and ColdFusion Builder 2…
And we've written about this particular offer before, but it bears repeating now that we have these major product refreshes for both Flex and ColdFusion.
Adobe will give you full versions of these premium devel­opment tools (US$249 – $1,499 values) absolutely free world­wide if you qualify! And if you don't, you might know someone who does and could benefit…
Free copies of Adobe Flash Builder 4.6 Standard are given for non-commercial use to: (a) students, faculty and staff of eligible educational institutions, or (b) software devel­opers who are affected by the current economic conditions and currently unemployed.
The ColdFusion products are also available for free to educational customers, to use for learning purposes only and not for production purposes. Complimentary installation support is available, and if you are a teacher and would like ColdFusion 10 for multiple systems in your lab, you can request up to 30 education serial numbers.
So if you can qualify yourself for any of these categories, please go ahead and download your free professional software here:
See also these helpful free videos for getting started and learning the products on Adobe TV: the Flash Builder Channel and the ColdFusion Channel.