[UPDATE – See all of Adobe's current deals & discounts!]
Just out for the end of summer season, quite a rare occurrence – a new promotion code to save 10% storewide on Adobe products (full or upgrade) when your total purchase is US$375 and up. However, this new coupon isn't just for the USA – it's for all of North America plus most any­where in Europe as well, including the many countries listed below… The savings also extend to all orders for the recently released new Creative Suite 6.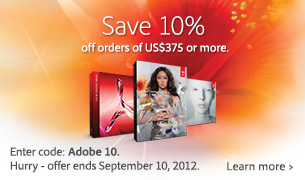 This Labor Day and Back-to-School Sale runs through Monday, September 10th in North America, and until Friday, August 31st everywhere else. It can be used for any products in the Commercial or Educa­tion Adobe Stores (Commercial-only intern­ationally), although it's not valid for sub­scription or volume licensing purchases. It's limited to one discount per customer and you must use the offer code linked here: Adobe10.
Here are the minimum purchase amounts (order size to qualify) by country:
USD $375: United States, Canada, and Mexico
GBP £350: United Kingdom
Euro €400: Ireland, Belgium, Luxembourg, Netherlands, France, Germany, Austria, Finland, Portugal, Italy, Spain, Poland, Czech Republic
CHF 650: Switzerland
DKK 3.300: Denmark
SEK 4.450: Sweden
NOK 3.650: Norway
USD $450: South Africa
Take a look at the CS6 price sheet for a few examples of how you can use the deal: You could save US$260 on the CS6 Master Collection full commercial version. $360 could buy you the full version of Dreamweaver CS6, and $338 could upgrade you to reach the CS6 Design & Web Premium suite. Or students & teachers can buy the full CS6 Production Premium suite for just $404. All of these suites include the widely-acclaimed Photoshop CS6 Extended, among many other applications. The lower prices will appear in your shopping cart when the promotion code is activated.
So if there's anything Adobe you've been looking to buy or upgrade, check it out soon to take advantage of this rare event!
See Also

To hear about future Adobe sales & deals, follow us on Facebook or Twitter, or subscribe to our RSS feed… You can also enter your email and have new articles sent directly to your Inbox. We are reader-supported; when you buy through links on our site, we may earn an affiliate commission.