[UPDATE – See all of Adobe's current deals & discounts!]
We have word of a new coupon code you can use to get an instant 10% off orders placed at the Adobe Store – for one week only…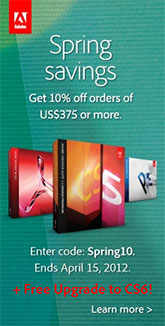 This is a really special promotion, and here's why: (1) You can use it to actually buy CS6 now at a discount, even before it has been released… (2) The offer is valid internationally, and, (3) It's also stackable with other current deals.
You will receive an immediate one-time savings of 10% off orders of $375/£350/€400 or more containing full or upgrade versions of any Adobe software. In order to redeem the 10% discount, you must have the special promotion code SPRING10 applied in your Adobe shopping cart.
And good news for students: the offer is valid for both commercial and education customers – meaning you can get an extra 10% off the already-discounted academic prices for orders at that level.
What's more, the coupon is stackable and may be used in conjunction with other deals – meaning you can combine it with the current $99 Lightroom 4 special worldwide, or whatever else is offered in your geography.
And most importantly, you can use it in combination with the special "grace period" offer previously announced where all buyers of the current version of Adobe software now (Creative Suite 5, either suite or individual, full or upgrade) will receive a free upgrade to CS6 when it comes out, with full support… This is already a savings for many people because with Adobe's longstanding Tiered Upgrade Pricing Policy, it's fewer steps and lower cost to upgrade to CS5.5 than to CS6.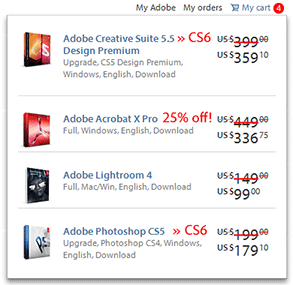 Note this includes buying Photoshop CS5 now with the savings, and then automatically getting the final version (not just the beta) of Photoshop CS6 at no additional charge.
For this 10% off bonus promotion, orders must be placed at the Adobe Store by Sunday, April 15th, 2012, at 11:59pm PDT. This offer is available to customers in North America, Europe, and South Africa*, with one discount per customer. It's not valid for Adobe Volume purchases, though you can still buy multiple copies and the sale will apply to everything in your cart.
This unlimited coupon and stackable discount for a future release is a first for Adobe – so if you want to score a discount on CS6 before it comes out at full price, now is the time… The company itself says, "If you wait instead until CS6 ships, you'll pay the price to upgrade to CS6, which may be higher than CS5."
So get tomorrow's brand new software at today's prices with both CS5.5 plus CS6 for 10% off:
As always, you can download and try out any product you like for free, and then convert the trial to a permanent version using this offer if you like.
See Also
— CS6 Grace Period! Buy CS5.5 Now + Get Free Upgrade to CS6 When It Ships
— Adobe: CS6 on Track for "Late in Q2" with Very Compelling New Features
— Sneak Previews of CS6: Dreamweaver, InDesign, Flash Pro, Illustrator & Premiere
— Win New Photoshop CS6 + Lightroom 4 FREE! ($1000 Giveaway)
— What's the Difference Between Photoshop CS6 vs. CS5 – What's New in Features?
To follow this story going forward, subscribe to our RSS feed or like us on Facebook or Twitter… You can also enter your email and have new articles sent directly to your Inbox. We are reader-supported; when you buy through links on our site, we may earn an affiliate commission.
---
* For one week only, with promotion code SPRING10 receive:
10% off $375 in the North America Commercial Store
10% off £350/€400 in the European Commercial and Education Stores
– Ireland, Belgium, Luxembourg, Netherlands, Finland, Portugal: 10% off orders of €400 or over.
– Denmark: 10% off orders of DKK 3,300 or over.
– Norway: 10% off orders of NOK 3,650 or over
– South Africa: 10% off orders of $450 or over. Use code: Adobe10
– France: 10% off orders of €400 or over.
– Switzerland (FR) 10% off orders of CHF 650 or over.
– Switzerland (DE): 10% off orders of CHF 650 or over.
– Germany/Austria: 10% off orders of €400 or over.
– Spain: 10% off orders of €400 or over.
– Sweden: 10% off orders of SEK 4 450 or over.
– Italy: 10% off orders of €400 or over.
– Poland: 10% off orders of €400 or over.
– Czech Republic: 10% off orders of €400 or over.
Offer available April 9th – April 15th. See complete Terms and Conditions.