[UPDATE – Also see our new Holiday Creative Cloud 2024 Giveaway!]
Creative Suite 6 is now available for instant download and direct shipping, and there are many important differences in this release compared to Creative Suite 5, including hundreds of new features added to the individual applications.
And after giving away CS6 Master Collection earlier this month, we now would like to focus especially on Adobe's popular lineup of Digital Imaging Products. In particular, we want to give brand new copies of Photoshop CS6, Lightroom 4, and Photoshop Elements 10 to three of you, our amazing readers!
There will be one winner for each of these products, which are the commercial English versions for either Windows or Mac OS. The three winners will receive them in prize packages also containing Adobe/CS6 tee-shirts, pens, and other goodies. 1st prize is Photoshop, 2nd prize is Lightroom, and 3rd prize is PSE – with a total estimated retail value for all prizes of US$1000.
Sound good? These are all brand new releases, so it may help to know what's new in Photoshop CS6, what's new in Lightroom 4, and what's new in Photoshop Elements 10.
How to enter? It's easy to gain up to four chances to win… The contest is open to residents of North America, U.K., Europe, Australia, New Zealand, and South Africa – and to enter just do one (or more) of the following:
(1) Like our Facebook page (see Like in "Subscribe" box at upper right) — and then also
Share this post by clicking the blue Share button just above.
 = and/or =
(2) Follow us on Twitter (can use Follow in the "Subscribe" box up top) — and then also
Tweet this post by clicking on the grey Tweet button just above.
 = and/or =
(3) Enter your email for our free exclusive Adobe Special Offers e-Newsletter in the sidebar to the lower right (with important news and coupon codes, never spam, and unsubscribe at any time)… Current subscribers can just re-enter their address.

 = and/or =
(4) Leave a comment below answering this question: "Where will Photoshop CS6 and Lightroom 4 take you?"
That's it! Each of these actions counts as a single entry into the drawing – so if you do all four, you would receive 4 different chances to win one of these software packages. Be sure your email is correct so that we can contact you. One entry per reader for each method, but please do share and tell your friends and colleagues who would like the software as well. Thanks also go out to our friends at Adobe for helping sponsor this giveaway!
Submissions are open until 11:59pm EDT on Friday, May 18th, 2012. The winners will be drawn at random from all valid entries, and contacted via email – and we'll announce the lucky recipients (first names only) right here the following week. If you're one of them, then you'll be receiving Photoshop CS6, Lightroom 4, or PSE 10 for free!
See Also

Best of luck and please spread the word!
---
Terms & Conditions
Contest is open to residents of USA, Canada, Mexico, Europe, United Kingdom, Australia, New Zealand, and South Africa, with up to four entries per person as outlined above. The sweepstakes winners will be determined at random from all valid entries. The participants whose names are drawn must respond to email notification within 72 hours after sending. Estimated maximum retail value of all prizes is US$1,000, which will include the full, upgrade, or education versions as appropriate. By entering, all entrants agree to release prodesigntools.com (the Sponsor), and its employees from all liability and claims relating to participation in the contest. Sponsor is not responsible for any late, lost, or misdirected commu­nications due to spam, technological, network, or email filtering issues. No substitu­tions or transfer of prizes or cash redemptions permitted by winners. Sponsor reserves the right, in its sole discretion, to cancel, suspend or alter the rules and parameters of the sweepstakes. Sponsor also reserves the right to substitute a prize or prizes as Sponsor deems suitable in the event that prizes become unavailable for any reason.
All federal, state and local taxes, as well as any customs duties, other taxes, fees and/or sur­charges will be the sole responsibility of the prize winners. Winners under the age of 18 (as of winner announcement date) must have their parents' and/or legal guardians' consent to accept prize. By acceptance of prizes, the winners agree to release prodesigntools.com from any and all liability claims or actions of any kind whatsoever for damages. Offer void where prohibited, regu­lated or restricted by law in a manner inconsistent with the purposes and rules hereof. This promotion is in no way associated or connected with Facebook or Twitter.
---
Winners
UPDATE – Announcing our giveaway winners! Congratulations to all three, who each win the products listed below as part of an Adobe prize package: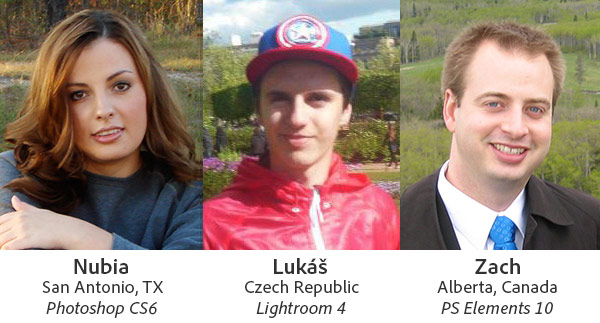 Thank you all for participating, and check out our new contest to win the free CS6 Design & Web Premium Suite!