Last week Adobe launched Creative Suite 6 and we took a high-level look at how CS6 is different from CS5.5 – and so now here we'll step through the significant new features at an individual product level, product-by-product…
The upgraded applications and their key new functionalities are detailed below. If you're coming from further back and would like to know the differences between older versions – like an upgrade from Adobe CS5.0 to CS6, from CS4 to CS6, or from CS3 to CS6 – the last section will also help.
Major Changes to the Creative Suite Products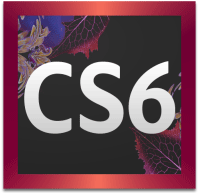 What's New in Photoshop CS6 (Standard & Extended)
The world's best digital imaging software gets even better with Photoshop CS6. Benefit from state-of-the-art imaging magic, exciting new creative options, and unprecedented performance. Correct, refine, and composite with groundbreaking new Content-Aware tools, an all-new Crop tool, and new skin tone–aware selections and masking. Design superior graphics as well as movies with new and reimagined tools and workflows. Count on a modern user interface to make your images pop, and edit at blazingly fast speeds with the new Mercury Graphics Engine. Create rich 3D artwork with a vastly simplified user interface in the Extended edition.
New features:
Content-Aware Patch, Move & Extend – Retouch images with astonishing ease & control
Mercury Graphics Engine – See near-instant results and a fluid feel as you work
New & revamped design tools – Type styles, custom vector strokes, layer search, more
Intuitive video creation – Use familiar PS tools to edit & create movies, in all versions
All-new Crop tool – Crop images faster and with greater precision, nondestructively
New Blur Gallery – Quickly create photographic blur effects with on-image controls
Preset migration and sharing – Easily transfer your presets, workspaces, and settings
Background Save and Auto-Recovery – No waiting and no re-dos! Work fast and secure
Adobe Camera Raw 7 plug-in – Reveal rich detail in both the highlights and shadows
Adaptive Wide Angle – Easily straighten objects that appear curved in wide-angle shots
Revolutionary erodible brushes – Draw more naturally & realistically with eroding tips
Completely reengineered 3D tools – [Extended] Enjoy huge leaps in 3D capabilities
…plus more that's new, or download the free trial
What's New in Illustrator CS6
Number 1 in Illustrator CS6 is the new Mercury Performance System that delivers native 64-bit support for both Mac OS and Windows. You can now work with precision, speed, and rock-solid stability on large, complex files. An updated interface streamlines daily tasks, and new creative options let you design and edit seamless patterns, leverage a new image-tracing engine, and apply gradients to strokes. Spend less time waiting and more time creating with Illustrator CS6, the industry's premier vector-drawing environment for creating graphics that scale across media.
New features:
Mercury Performance Engine – Work with speed & stability with native 64-bit support
Pattern creation tools – Easily make seamlessly-tiled repeating vector patterns
Image Trace – Completely new tracing engine converts raster images to editable vectors
Efficient, flexible interface – Streamlined to take fewer steps to accomplish daily tasks
Gradients on strokes – Apply gradients to your strokes with complete control
Many panel improve­ments – Get your work done more efficiently and precisely
Gaussian Blur enhancement – Do shadows, blurs & glows faster and more accurately
Dockable hidden tools – Tear off and dock hidden tools for an efficient workspace
Workspaces with rooms – Move fluidly between workspaces with support for rooms
True white canvas color – Fast color sampling when you quickly need a pure white
…plus more that's new, or download the free trial
What's New in InDesign CS6
InDesign CS6 introduces powerful features for print and digital workflows. New tools help you adapt layouts to multiple page sizes, orientations, and devices—without sacrificing pixel-perfect control over design and typography. Use the Content Collector tools to easily repurpose text and images in other files; link content across documents to help ensure consistency. Integrate with Adobe Digital Publishing Suite to publish InDesign layouts as tablet applications.
New features:
Liquid Layout – Automatically adapt content to different page sizes and orientations
Alternate Layout – Create and design multiple versions for all needs within a single file
Content Collector tools – Grab objects from existing layout, easily place in new one
PDF forms within InDesign – Create and order form fields before you export to PDF
Autosizing text frames – Grow & shrink frames automatically, using simple parameters
Split window – View two side-by-side layouts within the same document to compare
Grayscale preview & PDF export – Preview in grayscale, and export grayscale PDF
Enhanced split and span support – Keep lines together that split or span columns
Linked content – Live-link content within or across documents, changes applied to all
Middle Eastern language support – For easier localization and enhanced functionality
…plus more that's new, or download the free trial
What's New in Dreamweaver CS6
Dreamweaver CS6 introduces expanded support for creating clean, industry-standard HTML5 and CSS3 code. Check the rendering of HTML5 code with updated Live View and Multiscreen Preview. Use fluid grid layouts to design projects that are cross-platform and cross-browser compatible. Enhanced jQuery Mobile and PhoneGap Build support framework helps you develop projects for desktop screens, tablets, and smartphones. Faster FTP transfers let you work more efficiently.
New features:
Fluid grid layout – Construct complex web designs and layouts for different screen sizes
Improved FTP performance – Save time uploading with multi-threaded FTP transfer
Enhanced jQuery Mobile – Create native apps for iOS and Android with updated support
CSS3 transitions – Animate changes to CSS properties to bring web designs to life
Updated Live View – Test pages before publishing using updated Live View functionality
Updated PhoneGap Build – Build and package native mobile apps with updated support
Updated Multiscreen Preview panel – Now can check the rendering of HTML5 content
Business Catalyst integration – Integrated panel to edit sites you build with BC
…plus more that's new, or download the free trial
What's New in Fireworks CS6
Fireworks CS6 provides new screen layout tools to help you work faster and smarter. Jump-start your interactive designs for popular smartphone and tablet apps with new jQuery Mobile theme skinning, CSS sprites from comps, and extraction of industry-compliant CSS3 code. Blaze through your workflow with improved color swatches and greater precision. Boost productivity with better redraw performance for Mac OS and improved memory management for Windows 64-bit operating systems.
New features:
New CSS Properties panel – Extract CSS code and create CSS sprites and CSS effects
New jQuery mobile theme skinning support – Create, modify, or update jQuery themes
Improved performance on Windows & Mac OS – Plus better graphics optimization
Quicker access to color – Rapidly switch between colors and color effects
Opacity support for Fill and Stroke – Apply opacity control separately
API access – Access the API to generate extensions, use community extensions
…plus more that's new, or download the free trial
What's New in Flash Professional CS6
Flash Professional CS6 features new support for generating sprite sheets for improved game develop­ment and the ability to deliver apps with a prepackaged Adobe AIR captive runtime for a better user experience. Access device-specific capabilities with prebuilt native extensions, simulate common mobile application interactions, and reach devices that run on Android and iOS platforms by targeting the latest Adobe Flash Player and AIR runtimes.
New features:
Export as HTML5 content – Use CreateJS to make HTML5 from existing Flash content
Sprite sheet generation – Export symbols and animation sequences quickly for gaming
Wide platform & device support – Target the latest Flash Player & Adobe AIR runtimes
Prepackaged AIR application creation – Deliver applications with an AIR captive runtime
Platform- & device-specific access – Use prebuilt native extensions that provide access
Adobe AIR mobile simulation – Simulate common mobile interactions for testing
Stage 3D targeting – Turbocharge rendering performance via the Starling Framework
Multiple AIR SDK support – Add multiple Adobe AIR software development kits
…plus more that's new, or download the free trial
What's New in Premiere Pro CS6
Premiere Pro CS6 delivers a sleek, professional user interface; a powerful playback engine (see all supported graphics cards); and a host of fantastic creative features. Quickly stabilize shaky shots with Warp Stabilizer. Natively edit anything from low-resolution to RED EPIC 5K and ARRIRAW footage, finesse your work with dynamic timeline trimming, handle more multicam angles, and correct rolling shutter artifacts. Get flexible audio tracks, powerful color workflows, Adobe Prelude integration, and more.
New features:
Sleek, highly intuitive, and customizable user interface – Intelligently redesigned
Fluid editing workflow – Over 50 of the most requested editing enhance­ments
Dynamic timeline trimming – Edit with precision using powerful trimming tools
Warp Stabilizer effect – Correct jitter and rolling shutter artifacts, like AE
Expanded multicam editing – Easily edit footage from as many cameras as you have
Better 3-Way Color Corrector – More intuitively manage the color in your projects
New adjustment layers – Apply effects across multiple clips, easily create masks
Revamped Project panel workflows – View, sort, and arrange media faster
Uninterrupted playback – Make changes on the fly, adjust parameters & add effects
Enhanced, flexible audio tracks – New tools deliver greater audio flexibility
…plus more that's new, or download the free trial
What's New in After Effects CS6
After Effects CS6 lets you deliver cinematic visual effects and sophisticated motion graphics faster than ever before. Take 64-bit to a new level with Global Performance Cache. Extend your creativity with the 3D camera tracker, built-in text and shape extrusion, new mask feathering options, rolling shutter repair, and more built-in effects to make your final project look the way you intended.
New features:
Global Performance Cache – Revolution "under the hood" makes AE fast and responsive
3D camera tracker – Track & place 3D elements onto 2D footage with complete control
Ray-traced, extruded text & shapes – Extrude fully ray-traced text & shapes natively
Variable mask feathering – Precisely control mask feathering for the shape you want
Integration with Adobe Illustrator – Instantly convert, animate, or extrude vector art
Rolling shutter repair – Remove rolling shutter artifacts such as skew and wobble
New and updated effects – Enhance creativity with 90 new and updated built-in effects
Avid AAF and FCP 7 XML file import with Pro Import AE – Integrate your workflow
mocha for After Effects CS6 – Launch mocha for CS6, included directly within AE
Broadly-improved GPU acceleration for previews & rendering – Get work done faster
…plus more that's new, or download the free trial
What's New in Audition CS6
Audition CS6 offers high-performance, intuitive editing tools to help you produce audio efficiently. Powerful new features such as real-time clip stretching, pitch and speed control, write/latch/touch automation, control surface support, and automatic speech alignment help you deliver projects faster than ever. Many user-requested features have been added and improved, such as CD burning, clip grouping with group suspend, tone generation, and more.
New features:
Faster, more precise editing – Work faster with dozens of timesaving enhance­ments
Real-time clip stretching – Stretch nondestructively in real time, new varispeed mode
Automatic speech alignment – Quickly align & replace dialogue with studio recordings
EUCON and other control surface support – Work with myriad control surfaces
Parameter automation – Automate entire mixes with new parameter automation modes
Powerful pitch correction – Correct pitch problems automatically or with manual control
Tools for efficient session management – New Media Browser and Quick Search field
Clip grouping – Edit multiple clips simultaneously, new Suspend Groups feature
Expanded output options – More flexible delivery options including output to audio CD
HD video playback – Import and play back HD video without transcoding
…plus more that's new, or download the free trial
What's New in Encore CS6
Get rock-solid performance and stability with Encore CS6, now natively 64-bit. Open and save projects faster and send them from Premiere Pro CS6 directly to Encore CS6 software without intermediate rendering. Benefit from faster MPEG import, pixel aspect ratio correction in previews, and enhanced DVD, Blu-Ray Disc, and web DVD authoring.
New features:
Native 64-bit support – Speed up your authoring workflow with rock-solid performance
Faster MPEG import with asynchronous processing – Pull assets in the background
Pixel aspect ratio correction in previews – View the correct ratio when previewing
…plus more that's new, or download the free trial
What's New in Prelude CS6

Adobe Prelude CS6 is a video ingest and logging tool that can help you tag and transcode footage rapidly. Searchable temporal markers and comments entered in Adobe Prelude can help you find the footage you want, when you want it, at any point in production. Easy ingestion of nearly any file-based footage along with keyboard-driven creation of searchable metadata allows you to keep your eyes on the video and work faster, stay organized, and streamline production. Create rough cuts and associated metadata that will flow through the entire production process in Premiere Pro and with other NLEs. Leverage the XMP-based open platform capabilities of Adobe Prelude to integrate with third-party technologies and asset management systems.
New features:
Full or partial ingest – Get to work faster with easy ingest & tagging of file-based footage
Heads Up logging – Create metadata & subclips without taking your eyes off your footage
Transcode to many formats upon ingest – Transcode to your preferred format(s)
Searchable temporal markers – Add searchable markers & temporal metadata to clips
Rough cut creation – Jump-start your editing by adding clips & subclips to rough cuts
Thumbnail scrubbing – View clips as thumbnails in addition to hierarchies within folders
Success write confirmation – Get immediate confirmation your ingest was successful
Speech transcription notes – View transcription notes from Speech Analysis in Premiere
Customizable extensibility – Leverage the XMP-based open platform for integration
Customizable metadata import – Import event metadata from other sources
…plus more that's new, or download the free trial
What's New in SpeedGrade CS6

Adobe SpeedGrade CS6 is professional color grading software that brings state-of-the-art color science to your productions. Output to virtually any type of display, from handheld tablets to the big screen. Now part of the Adobe Creative Suite, SpeedGrade CS6 offers a new streamlined interface and the Lumetri Deep Color Engine, giving you confidence in your color decisions. Load projects from Premiere Pro and use professionally designed presets to get up and running fast. Native .Look file support in After Effects and Photoshop provides visual consistency across your productions.
New features:
Lumetri Deep Color Engine – Apply precision floating-point grading to all your shots
Powerful layer-based grading – Simplify complex color adjustments with layers
GPU-accelerated performance – Experience real-time feedback while you grade footage
Primary and secondary color correction – Apply to the whole frame in combination
Streamlined user experience – Organize logically & efficiently in one integrated workflow
Professionally designed .Look files – Explore a range of beautiful, predesigned .Look files
Perfectly balanced gamma – Adjust footage to compensate for irregularities and shifts
Camera and color space matching – Automatically match footage from different cameras
Automatic scene detection – Distinguish individual shots and make short work of projects
Adobe tool and workflow integration – Integrate with Premiere Pro, AE, Photoshop, more
…plus more that's new, or download the free trial
What's New in the CS6 Suite Editions
Adobe combined two CS5 suites into one – the new CS6 Design & Web Premium suite. So now there are four suite offerings in total, including CS6 Design Standard, CS6 Production Premium, and CS6 Master Collection. The different suite configurations remain similar to before except the applications you don't see above – notably Flash Catalyst, Contribute, OnLocation, and Device Central – are no longer included in Creative Suite 6. What's more, Flash Builder 4.6 is now bundled with Master Collection only.
Read more about how CS6 is different in other ways, or on other key launch details…
Differences from Older Versions (CS6 vs. CS5.0, CS4 or CS3)
What if you're not currently on CS5.5, but would like to compare from prior versions of Creative Suite? Like upgrading from CS3 to CS6, or from CS4 to CS6…
To answer that, check out the differences between Adobe CS6 vs. CS5.5 vs. CS5 vs. CS4 vs. CS3 – for the complete picture!
---
See the full CS6 System Requirements, the different CS6 Product Configurations, or the CS6 Price Sheet in major geographies.
Do you have any questions about CS6? Just ask them below and we'll get you answers fast!
Keep up with the latest on Adobe software — follow us on Facebook or Twitter, or subscribe to our RSS feed… You can also enter your email and have new articles sent directly to your Inbox. We are reader-supported; when you buy through links on our site, we may earn an affiliate commission.